Well it rained BUCKETS here last night! Honestly, we have had so much, and such heavy, rain over the past few weeks that I am about ready to build an ark!
But I digress. It is time for that weekly downloading of all that is in my head...
1
) Kate Moss Lipstick
I don't talk much about makeup, at least not since my NARS makeover (I keep waiting for Francois Nars to call to make me his new middle aged spokes model), but I bought a new lipstick this week and wanted to pass along the recommendation.
My daughter is 21 and is the case when one is 21, is a huge drugstore makeup aficionada. I think it is often not until our 40 or 50s that we suddenly have the wherewithal AND the need for more expensive (and better quality) makeup. She has especially become a bit of fan of the Rimmel London line.
Oh you know
Rimmel London
- the makeup line with the uber-cool Kate Moss as their spokes model...
My daughter has sensitive skin like myself, so when she recommends a product, I am always happy to give it a try. Her latest recommendation was the Kate Moss lipstick,
Lasting Finish Matte
:
I chose 107, which is a dark berry-ish red and is the colour at the very bottom of this flower palette.
I have worn it a couple of times and it really stays and it doesn't dry out my lips, which is a surprising thing, as EVERYTHING dries out my lips! I bought it on sale at Shoppers Drug Mart for $5.99. I can't remember the last time I paid that little for a lipstick but I will likely buy another shade or two in this line as I like the lipstick very much.
2) and speaking of Kate Moss...
When I was googling her this morning for 1), I came across a picture of her grabbing a Big Mac:
Oh damn you Kate. At 39, you can still eat a big mac and look like this...
In a recent interview, Kate has supposedly said she always dresses "chic" and would NEVER wear sweatpants or a twinset! I can't wait for
Fred
to weigh in on that one!
which got me thinking....
3) Why the hate for the twin set, Kate?
I think Kate actually slagged my beloved Christy Turlington recently for wearing twin sets.
While the photo below is not my definition of a twin set, it is hard to imagine describing Christy as anything less than spectacular in ANYTHING...
Obviously, J Crew still thinks that the twin set has legs:
But what do you think, are twin sets mumsy like Kate believes, or a classic and a nice alternative to the blazer/blouse?
4) Switzerland apologizes to Oprah
During a recent trip to Zurich, Oprah says she was mistreated, was in fact a victim of racism, when she was not treated respectfully at a luxury store when she asked to see a $38,000 Tom Ford handbag. The store has denied the claim, citing the clerk's discomfort at showing anyone a $38,000 handbag....Oh and there was the language barrier....
Here's what I thought: it
could
be racism or it could just be a snotty store clerk, who if they didn't recognize Oprah, or think she was dressed well enough, was condescending. I think we have all experienced that ourselves. Of course, the former is awful, the latter is pathetic.
Wonder how long it will be before the City of Zurich is
teaching its store clerks manners a la Paris
?
And I am frankly waiting for Luxembourg to apologize to me after I was stuck in a traffic jam there in 2008...
5) Beyoncé cuts her hair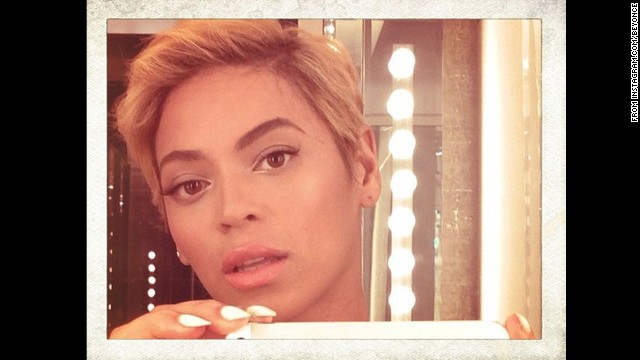 Never has so much been said about a star taking pair of scissors to their hair. Well, at least since old Miley Cyrus cut her hair off.
I'm not going make a big deal of this. She is a beautiful woman no matter what. Do I like it? Nope. And I like a good pixie cut:
But all hair grows out and frankly, if she likes it, then that's all that matters!
What are you thinking about today? Stay Safe out there!
Oh and PS - I see the ghostly Oprah in the preview pane, too. Yet she doesn't appear in the HTML code. Oh Oprah, you are everywhere, keeping an eye on all of us....