I have been cleaning out my closet since my return from down south.
I was tired of my heaviest woollens and they are cleaned and stored away. A few lightweight ones are standing by, for say, the blizzard we are having this week. I find Mother Nature a little hard to take this winter, but I suspect that if the thermometer hits +39 again this coming summer, I may miss the glories of snow and layering...
What's left in my closet are transition pieces that will get me through until mid to late May. What I realized as I was going through this process was that there were some things in my closet I loved, some I liked and some I was "meh" about.
If I am going to get by with less, I realized that my goal must now be to love what I have. Everything should be a pleasure to put on. No exceptions.
This adds an additional level of ruthlessness to the whole proceedings. And a word of caution.
For cleaning out can often result in permission to go shopping for things one does love.
This has been my blind corner in the past. The cupboard looks bare or the things in it that are only 'meh' taunt you, calling their siren song of "replace me - you know you want to..."
This is when one should turn one's attention to some other part of life and go crazy there instead - for me that will be writing, reading and baking - am on a scone thing right now - since shopping with an empty closet can simply mean replacing one poor or ill-fitting choice with another.
Case in point. Prior to my holiday, I ordered the J Crew Botanical skirt. Loved the colour and thought this might be a fun and inexpensive spring purchase. Here it is on our
Gigi
:
It fit. I liked the print okay. But that was the key. I
"liked"
the print. I did not "love" it when I saw it, so back it went.
When your pennies are limited and your desire is to pull all of the items out of your closet with a sense of satisfaction, "like" is simply not enough anymore. Plus, as we all know, something equally wonderful is ALWAYS just around the corner. As I work to build a small and satisfying wardrobe, like cannot be a part of it. I may never have a
Janet-sized
wardrobe, but I am sure heading in that direction. Right now there are only 25 things in my closet, plus a few tshirts.
During our trip to Florida we each had a small sum of "mad money" to spend as we liked. I held most of mine till we went to the mall. I wandered from store to store, admiring much, but loving little. It seems that when we shop with a budget and with the need to absolutely love something before it can come home with us, the bar is set much higher than the usual online kanoodling!
Not only that, I now carry a little homemade card in my wallet (goofy, I know, but it works) where I have written out my values and the kinds of emotions I want to experience through the choices I make from now on.
This is kind of personal, but since I pretty much tell you all everything, why not share this, since it may help someone else (and really, is there any other reason to blog if not to try to connect with one another?)
the values on my card say:
family
achievement
creativity/beauty
service
expansion/adventure
authenticity
spirituality/awakening
My emotions:
gratitude
joy
love
excitement
peace
curiosity
If I am spending more than my allocated budget, I am impacting my family, not being authentic, and certainly not finding peace.
On the other hand, if I have the money, and the item is beautiful (to me), feels like the me I want to project and makes me feel joyful, excited and a little in love, well, then I am good to go!
So most things didn't meet the card test.
Finally, in Bloomingdales, I found my love. A lovely silk shell by
Equipment
, replete with flowers, to add some transitional hurrah to my wardrobe:
A close-up of the print:
The silk is buttery soft and the shell looks wonderful paired with my white and red cardigans. It is simple and fun all at the same time.
I did see another
top
I liked at Brooks Brothers, a jersey top with chiffon detailing and will probably order it in the next couple of months: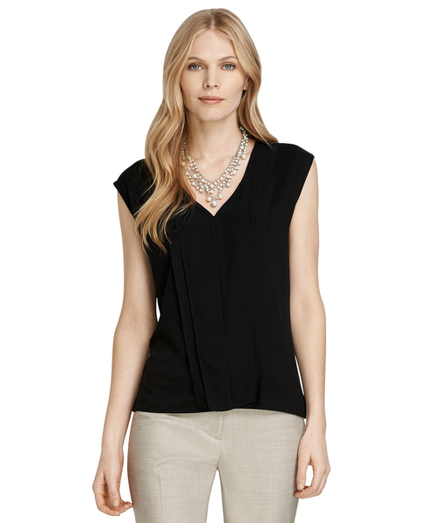 which I want to pair with a skirt like this from Nougat London:
I know - plain, but paired with some special pieces I already own and realizing what my life is
really
like (as opposed to my dream of tooting about Manhattan with Ema!), these are the kind of pieces that will get added this spring and summer.
Eventually, my closet will only have things I love in it. But that will take time and the same patience and commitment to rigour that I used in the mall.
As I boxed away items, I was more and more reminded that clothing is a wonderful thing, but really, how much do we really need? And why do we feel like we need it? And if we are forever switching it all out because we are dissatisfied (oh or because we've gained or lost weight which I had), then our choices are likely not as thoughtful as we would want them to be.
Those are questions for the psychologists in the room, not a mere sociologist like me!
I must tell you, having less money for clothing has been one of the greatest gifts! How's that for making lemonade out of lemons?
Now if the flowers could only bloom in real life...
Have an awesome Thursday and stay safe out there!