Well Lordy Lordy, another package arrived late yesterday with a little something-something from J Crew that I have decided to keep (I am now officially talking like Miss Maudie in To Kill A Mockingbird - go right over to the book club meeting at
Dani's
today and put in your two cents!)
Oh J Crew, you crazy kid, every time I think I'm out you pull me back in.... (Now I'm talking like Al Pacino). I wish I knew how to quit you...Cue Heath Ledger...
I love a men's-style (man's style? Which is grammatically correct?) shoe.
Well, whatever, I love them because I have flat feet. I no longer wear heels above 2". I admire the sexy height of a heel on others. Myself, I must derive all of my sexiness from an over-abundance of panache and a keen mind for the kind of useless information that makes one a Jeopardy! champion but serves no other real purpose in the real world. Still, I soldier on.
So anyhow, as you know, I ordered the Women's Wing Tip Oxfords: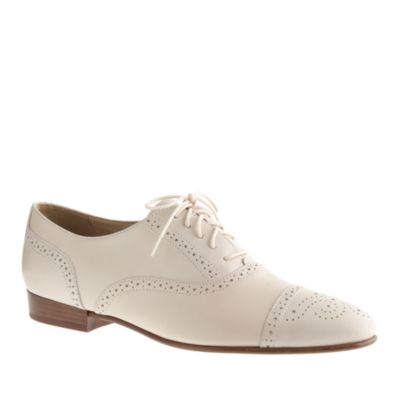 I was slightly nervous, since the monk's strap oxfords I'd ordered last fall were a dud. But not these. Oh, no, not these.
I pulled them out of the box just as I was enjoying a St-Germain cocktail.
The Official Cocktail of Wendy and Dani's Shenanigans (oh wait till the disco balls come out!)
They looked good through the gauzy glow of a genteel potable, and I am happy to report that in the cold light of day, they continue to wow!
Note the fancy-schmancy tying. I will need a lesson in that...
The fresh cream is just that, but more like if you added a teaspoon of vanilla to your cream. There is a science to colour and you can tell that it is not a science that I understand!
A side view.
Beside the seersucker eyelet dress:
Now really? How cute is that going to be? Cute I say!
Beside last summer's schoolboy blazer in ecru
I ran around and put these shoes beside every article of clothing in my closet, cooing with delight, but I spare you those photos...
And with today's outfit
I wanted to post on this ASAP as they are still on promo, plus 30% off that price) for anyone who might be interested. I plan to wear these with trousers, jeans, capris, skirts and dresses. I don't have a ton of any of those things, but these shoes are sure to be workhorses in my closet!
Really, I ought to send a note to Mickey and encourage him to keep this up! Quality Mr. Drexler, that is the key, old chap...
Have a rousing Saturday! I am off to make a Pavlova in honour of
Miss Jody's birthday
and because my friend Martine is coming over!
Stay Safe Out There!