"March is a month of considerable frustration - it is so near spring and yet across a great deal of the country the weather is still so violent and changeable that outdoor activity in our yards seems light years away."
- Thalassa Cruso
Thalassa Baby, you said a mouthful...
It's spring somewhere, but sure as hell not here. Here we are having another snow storm this morning even as I write this....
Oh Lord...
ON THE OTHER HAND...
IT IS SPRING
!
and I am a preternaturally optimistic individual and so can it be very long before we are looking at this again?
Well maybe about 3 months, but if you are avidly watching the updated version of
Cosmos
these days, hosted by the wonderful Neil deGrasse Tyson, whose brain is much bigger than mine, you know that 3 months is nothing on the old cosmic calendar. Yup, my flowers will be coming back soon enough.
And speaking of the cosmos, I read with great interest this week about the significant discovery by astrophysicists of gravitational waves. You can ask me to speak more on this but I won't, cause I literally can't. I am waiting for Neil deGrasse Tyson or CBC's Bob MacDonald to dumb it down for me.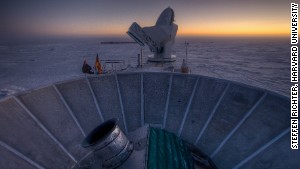 that's not a telescope mate, this is a telescope...
Of course the general public has to trust these folks on this, since 99.9% of us don't have a clue about it all, and I noted with no surprise that the creationists were out quite quickly to debunk the whole thing.
I'm not starting that debate here, as frankly this is a sweet little blog hosted by a sweet little person and I don't care to do that. Suffice to say, you can guess which camp I am in.
Apparently, these gravitational waves point to multiple dimensions of time and that makes me hopeful, since in one of those dimensions, it might not be snowing and I might be 20 pounds lighter.
However impressive gravitational waves are and what they probably prove, the big bang has never been a big deal for me. It's what preceded that big bang that has always got me humming.
Wendy abhors a vacuum and if I was there, I would have had to make something out of nothing too, if only to break the silence and get the party started. I find it imminently comforting to know that the universe is expanding, as it explains a lot to me and points me in the direction of some great intergalactic dance party at some future date. Yes, for those keeping track, I am a fan of Star Trek. However, I am not going out there till they clean up all the space junk and think I will pass if George C asks me for a date to the space station...
In keeping with this Virginia-esque stream of consciousness post, I flit now to what one must do when one is faced with a) a blizzard on the first day of spring and b) the reality that gravitational waves are probably the culprit of my expanding waistline and NOT my love of bread: One must find a spring dress.
As you know, I have been looking around and trying to be very picky about purchases, from both a sartorial and financial perspective. This seems especially wise to me now that I know I may be wearing the same thing in multiple dimensions at the same time.
I am still musing on the sandals, though they followed me to a poetry site this morning. Now it's just getting creepy, but perhaps they are in multiple universes as well and are just trying to break through to me? My god, could this be some kind of cosmic test that requires me to rescue them and bring them home to Earth?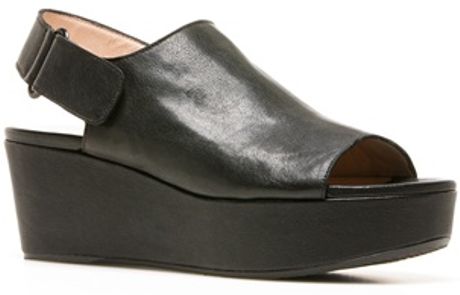 Offset Sandals, stay where you are! I'm coming for you!
Anyhoo, back to the shopping... So I have been watching for an eyelet dress, since for me, spring and summer is eyelet weather. The eyelet dress had to be simple, because spring/summer 2014 is being ruled by one question and one question alone: WWSW?
WHAT WOULD SOFIA WEAR?
Sofia favours simple looks, with some embellishments and pizazz here are there, and I am happy to report I have seen her in feathers, so she has some camp as well, so she is my perfect muse...
So as I have planned and thought and planned, I have cottoned on to simple lines and a simple colour palette for spring/summer, with the odd mad dash of colour so I can be happy. Gigi summed it all up for me in her comments about yesterday's post when she said she has to avoid looking mumsy. I resembled that remark, so Sofia it is!
J Crew had their big March rollout and I actually saw a few things I liked. This was a pleasant surprise. I have not sworn of the crew - in fact, I ordered a couple of tshirts recently to restock ones that had bitten the dust, but really, I have discovered that I can no longer afford to be trendy, psychically or financially. (I think I will get that made into a bumper sticker, what do you think?)
And lo and behold, there were a couple of eyelet dresses that caught my eye and which had potential to work on my body.
The seersucker eyelet shift dress in bungalow blue. (which bungalow?)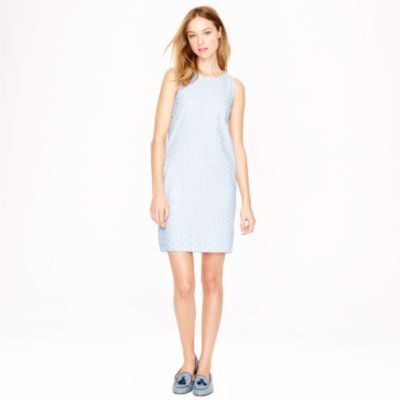 And the eyelet shirtdress in white: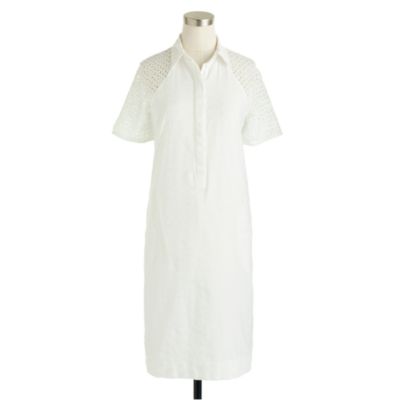 I ordered both with an eye to keeping one or none. We will see. Because as you know, it only stays now if a) I love it b) it's flattering c) I actually have a place to wear it.
right now, these dresses are fine for c), but the other two questions can only be answered in person.
I did throw the linen ribbed knit sweater in as a ride-along, and am hopeful about it as well, as a previous version is un-wearable this year after many years of good service.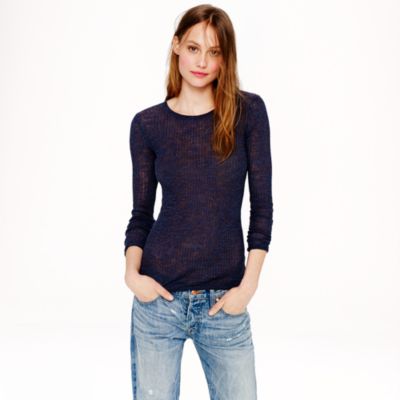 I will keep you posted on how this all works out and I am also waiting to see the prices of Emerson Fry's roll-out next week. There are a couple of pieces that may round out my spring-summer wardrobe:
this sweater:
or this dress if the eyelet above doesn't work:
But that is for another day...
Meanwhile, I have procrastinated enough this morning to try and avoid writing, so I will take the walk of shame back to my office now.
And finally, thanks for the nice wishes for my son! It was a successful day for him, I believe, and a happy one, which is all one can hope for one's birthday, isn't it?
His major present:
Once a Tolkien fan, always a Tolkien fan!
Hope you had fun rolling along with me this morning! Have a great day and stay safe out there!