Morning All!
Am getting this done earlier than anticipated as I am sending some things back later this afternoon and need your opinion. Or perhaps moral support!
My J Crew box arrived with the two dresses and a ride along thing or two.
Before I show what arrived thought I would share today's outfit, which is simple and designed to keep me warm - a lightweight merino v neck, beige cotton skirt and my black Pliner boots which are old and comfy, It is freezing after yesterday's blizzard, so I definitely needed the scarf!
Don't know why I took this - I have a thing for circles I guess.
I ordered the Linen Ribbed Knit sweater to try. On the site, it looks much darker: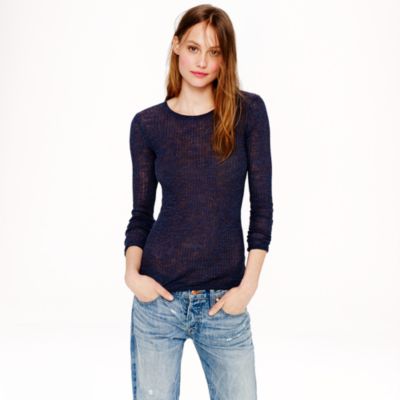 IRL, not so much, but I really liked it and have decided it is a nice sweater for spring and summer
Yes, that is my childhood teddy bear, who has had his eyes and most of his fur, loved off him..
I don't know why I ordered the linen tee below. I blame it on a moment of madness. Not that it horrible or anything, but it neither me nor the style I aspire to. Back it will go, but wanted to share in case someone else is curious..
Ah, here is where we get on the fence. The eyelet shirtdress in white:
I like it. My daughter loves it on me. I am dithering over white. I will not ever have a tan, so I despair of looking like Caspar the Ghost.
The one I know I am keeping for certain is the seersucker eyelet, which I really, really like.

Yes, those are club fairy shoes...
A close-up of the blue:
It is pale blue/ecru combo, which you can get a better sense of when I pair it with my cotton Clare cardigan in Champagne:
I kind of like the tie...
It goes well with my blue blazer:
And here it is paired with a few other shades:
This is staying for sure, given the comfort level and all of the things that it matches in my wardrobe as well as my spring shoe purchase which is en route: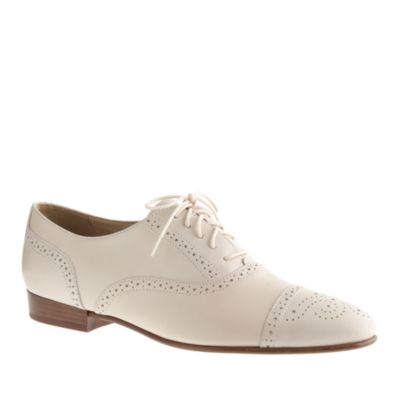 I have decided there is no sense purchasing sandals till end of May, but these I will be able to wear much sooner and have been on my wish list for quite awhile. Thanks Rose, for the gift card, which, when added to 30% off, put me over the edge!
So here's the thing. I believe I will send back the white dress. I do not really need two summer dresses. I am wondering if I will see something else in the next couple of months that I will like better. Or conversely, is this so fabulous on me that I ought to keep it? Thoughts?
Since it has been so long since I have bought and shown any clothing I am quite in a dither!
Thanks in advance and have a great day! Stay Safe out there!