We didn't do very much shopping whilst we were on our trip.
Mostly, we hit the gift shops of the museums we visited and picked up some things for for our kids. They each got a bag of goodies, which they were thrilled about; it turns out that when Mum and Dad go away, the kids do just about as well present-wise as when they go along, too!
As you know, I am really working hard at purging my wardrobe so that I am left almost exclusively with clothing that I love, clothing that is comfortable and fits well, and clothing that represents the image that I want to project at this point in my life.
I have also decided that the things that look best on me are simpler on the top and more streamlined, which accommodates both the "girls" and having broader shoulder and narrow hips, and things that have a bit of a luxe feel about them - thank you
A Well-Styled Life
... Knowing this is helping me make my choices and has enabled me to move some more things out of my closet. I am also forcing myself to wear things (weather permitting!) and if I chafe at doing so, it means that they must find a new home elsewhere.
One thing on my list for fall was another pair of Cole Haan penny loafers, this time in a lovely saddle colour. The black patent ones I bought two summers ago have been a mainstay in my fall/winter wardrobe, so I really wanted another pair. I was delighted to find a pair on sale in a Cole Haan shop during our travels. While in the store, I decided it would be lovely to find a matching purse (or a close facsimile to matching!). The women's purses were all on sale, but what really caught my eye was a very simple cross-body messenger bag in the men's section. No - it doesn't have all the bells and whistles of a larger hobo or satchel, but I love how streamlined it is and it will force me to buy a lovely little insert bag for my lipstick, etc. The leather feels divine and it is really good quality!
These two items will get a lot of airplay this fall and their simplicity may seem a little dull to some, but are wonderful to me!
Casual, but I can see wearing them with the odd skirt as well..
I did stop into the J Crew store in Portland, Maine as we flew by. The store was looking SAD. It kind of reminded me of the morning after a big party: all you are left with is colourful confetti, a bit of a hot mess and you are looking at stuff and thinking "why did that look so great last night?" Maybe it was me - it was 39C or 100F at the time!
However, as I came around the back, there was a monarch scarf! I yelled (in my head!)
"RUTH!"
and immediately grabbed it, as I have always admired her in that scarf (and you know we have gotten to see it in lots of iterations!). I managed to snag it for $12. Yup. $12. Worth every penny! :-) Ruth, this outfit is for you!
However, this photo is not really TTL for colour, the following one better captures the colour:
but you can see that it is a lousy photo...
Oh well - I am feeling all southern hemisphere chic now! What do you think, Ruth????
When I arrived home, an ebay purchase was waiting for me. I had ordered the Tory Burch Midori skirt, which arrives, as advertised, new with tags. What a lovely, classic skirt. I can see wearing this a lot this fall, with both shoes and boots and I am now stalking the same navy coloured Tory Burch cardigan on ebay, though I will be buying nothing now for the next month.
what do you think? I am thinking of styling it with a navy v neck or my flax or navy cashmere cardigans, but I would love ideas!
So yes, I am now officially buying for fall, now that the weather is +25... sigh....
And finally, we saw the baby: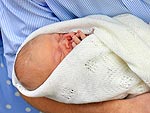 I thought all looked great, but heartfelt kudos to Kate, who proudly showed her post-partum belly (we have all been there but so many starlets hide until theirs are gone now). Good role-model, Miss Kate!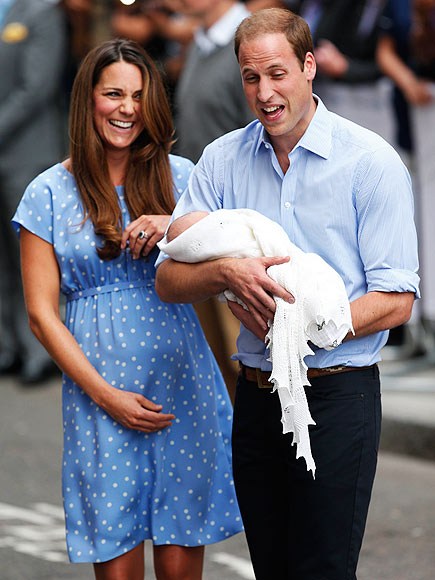 Having said that, i have the same belly 18 years after my last baby. Hmmm - should I be worried....
Have a great Wednesday and stay safe out there!