Hello All,
Lots of things to chat about this morning...
1) Anthony Weiner
I see our dear friend
Fred
has written a little piece on this unfortunate mayoral candidate.
I am not going to add to the whole thing. All I personally think is that New Yorkers deserve better than this candidate or candidate Eliot Spitzer for that matter, whose camp had the audacity to accuse Weiner of being a "bad husband" (huh?). I am unfamiliar with the other candidates, who have yet to have a sex scandal to my knowledge, but by all means, fill me in, folks...In the meantime, we have a potential candidate from Toronto for you that we would love to get rid of...
2) There is a reason I don't cut my hair...
I once had short hair, 21 years ago. No - I will not share photos, since it is very clear that the shape of my face is not meant to sport short hair. I will admit it was a bad haircut (shaved up the back - yikes!), but even so, I will never go shorter than my chin ever again.
I have to say that I was heartened to see pictures of Jennifer Aniston with a "do" that was less than flattering for the new movie she is filming. If she can look so much less attractive, then it only supports my case for keeping hair below my shoulders so that I appear to have a neck...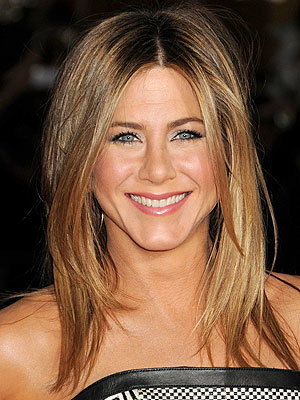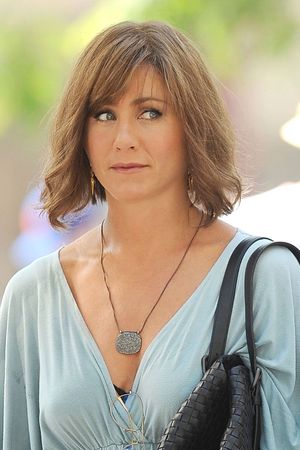 3) and speaking of hair....
There is a cruel thing being done to women of a certain age all over North America, and especially here where I live. When I got to the grocery store later this morning, at least half of the women over 60 will be sporting this abomination...
What is this thing? Giving older women the bad "Man Haircut". As opposed to the "Bad Man" haircut..
You know the one:
I don't blame the women - they want short and simple. I get that. They aren't sure what to do with their grey hair. I get that. But the hairdressers who do this to them ought to have their licenses taken away and be forced to get the same haircut and wear it for the rest of their lives...
Thank God we are seeing more and more elegant older women who are serving as positive role models for how one's hair can look as we age: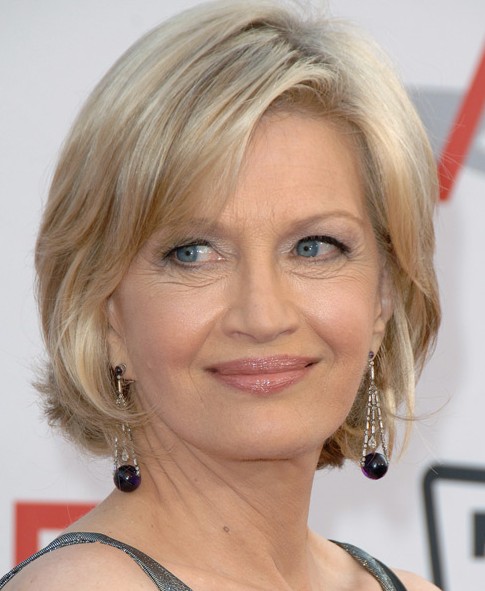 Hmmm - they are all blondes....
Phew - thank you Diane von Furstenburg
And has anyone been able to prove that Jaclyn Smith has a portrait in her attic????
Oh, I know she's had work. But not scary Joan Rivers' kind of work. She is 68 people! Those are good genes...
4) Dennis Farina Passed Away
Oh you know who he is - he played half the hard-boiled cops and half the hard-boiled criminals on TV and in the movies over the last couple of decades:
Most of us know him from Law and Order or the movie Get Shorty. He was a terrific and prolific actor and I am sorry that he died so young (69). Seems like we are losing a lot of our tough guy actors this year...
5) Pope Francis visits Brazil
Nope - I don't have a long story on this one, either politically or through a religious lens. All I want to note is that the Pope queued up like everyone else for the Alitalia flight and toted his own carry-on luggage. Very different from his predecessors, I think...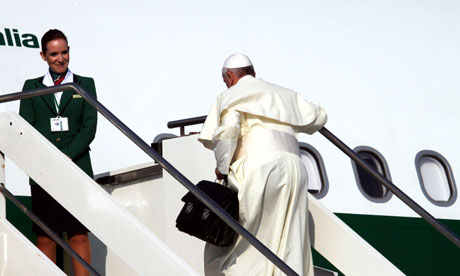 Do you think he went first class? :-)
6) And finally, a picture of how to really wear a hoodie...
I was wearing a hoodie the other day when taking a walk. It started to rain so of course I put up the hood. I love a hood. Maybe it's from my early love of Robin Hood?
No matter. I stumbled upon the image below and felt I should share with you. THIS is how to wear a hoodie:
They don't make 'em like Grace anymore....
Have a great day everyone and stay safe out there...