Hi everyone, I am back safe and sound in the nest!
Many thanks for all your kind words on Friday and Saturday.
Lots to chat about...
1) Like clouds they shape themselves and go...
It was a lovely and short service. It was also a brutally hot day - probably 90 degrees, but just before the service started a lovely breeze came up over the hill and cooled us off and drove away the friendly neighbourhood mosquitoes!
I bought two dozen pink and white roses, and besides the flowers we placed in the grave with my dad, we left my mother some lovely pink roses, my grandmother and grandfather some lovely white roses and a lone pink rose for my cousin Patty, who died very tragically when she was only 24 years old.
The evening was spent drinking red wine, having a bonfire and watching my son and nephew swim in the same river where my father and grandfather had swum when they were young boys. Those are full circle moments in one's life and I was lucky that I was fully present in the moment to enjoy it and know that it WAS a full circle moment.
We stayed at a Bed and Breakfast called the
Victorian Veranda.
I would highly recommend it if you are travelling around New Brunswick or en route to or from PEI.
This isn't my picture - haven't got mine up yet! The most interesting thing was that my uncle told me that my grandfather was married for the second time in this house, which was something I didn't know and which was neat.
2) I am not a marketing expert, but....
Last evening when I got home I had an email from J Crew announcing their new collaboration with E. Porselli:
Why did this strike me as odd? Well their website is also currently touting their new Kiki ballet flats, which has found a lot of love among some of us with picky taste and with picky feet. I think I fall into the latter category, though I wish I was in the former...
It seems odd to me that they would release two relatively similar ballet flats and promote them so close together, but perhaps that is just me? I certainly understand the cult following of the E. Porselli's, but it seems odd, especially since J Crew is marketing the Kiki as a "foot friendly" ballet shoe. Who knows the heart and mind of the J Crew team? Certainly not me. And luckily I am not in the market for $360 ballet flats. But if I were, these would be mine...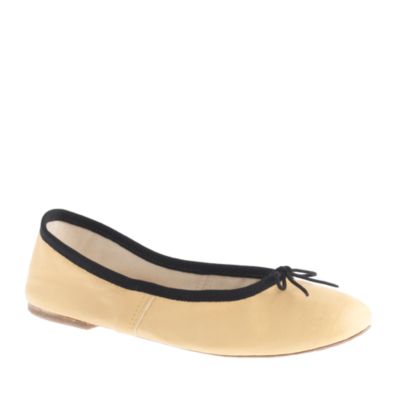 But I am not... phew...
3) Closet Update
Thanks to you all, things are really coming along as I work on my closet. I found a little roll-in cupboard and now all of my scarves and belts are stored neatly underneath my blouses. This may remind me that I HAVE scarves...
My sister-in-law took almost all of the clothes that I was going to give away; she has recently started a full-time professional job, so this was a great thing for her and for me to know that they are going where they were needed!
The next thing is to ACTUALLY do the clothing inventory list. Really. But not this week...This week I have a lot to do because Barry and I are going on a
4) Road Trip!
Friday morning, we are off on 8 days of travelling to Ontario and then Massachusetts. Barry has a meeting in Ontario one of those days; the rest of the time we will be seeing friends and sightseeing, including seeing Miss GetFresh and Miss Dani BP!
This will be the first time we have travelled without our kids, but the daughter is working and the son is looking for work. It will be fun and a bit different for us. One of the highlights of the trip for me, besides seeing friends, will be visiting Stockbridge, Massachusetts. My father was a huge Norman Rockwell fan and I am interested in going to see the Norman Rockwell museum and the quintessential American main street which he painted so lovingly. There are other art galleries in the town and lots of good classical and jazz music nearby, so this should be fun.
In the meantime, I need to clean, organize food for those who are staying home, pay bills, organize my packing, etc. Will be a busy week!
I am actually planning to blog most days along the trip, so you may feel like you are going with me!
5) Wimbledon
With everything going on this week, I have completely missed all of Wimbledon, but plan to watch the final between Andy Murray and Novak Djokovic this morning. I have a fresh pint of strawberries, will pour on the cream and perhaps pour a little rose...
I have not played tennis for 25 years. Truly, I was not very good at it, but always loved watching it. As a complete and utter Anglophile, The All England Club and the grass courts are just totally bespoke to me!
Do you think Pippa will be there? If she isn't, it could only be because Kate is in labour! Did any of you read Pippa's article on Wimbledon in the most recent issue of Vanity Fair, the magazine for which she is a new contributing editor?
Yup, she makes tennis whites look good too..
I will be rooting for Andy Murray this morning and I am sure Miss Tabitha will be rooting for him as well! Go Andy!!!!
Well folks, those are my Sunday ramblings! Hope you are having a great weekend and have a wonderful day! Stay safe out there!