Well it is Tuesday and I am still getting through stories of my trip - I still have a couple of posts left in me - so hang in there!! We have a play to discuss and I need an art lesson!
Last Sunday, I went to J Crew. I was excited and I went by myself, since I find it pretty tedious to touch everything with husband in tow. However, I realized when I arrived that I did not have my cell phone and so could not take pictures. Not good.... C'est la vie...
There were a LOT of shorts and tees in the Rock Centre store, which I did think was odd, considering it was -10 outside! The store did not have a lot of the new releases either, which was a bit of disappointment. Tees and shorts, but no linen blazers?
And where were the skunks? Send in the skunks! There ought to be skunks. Don't bother, they're here... God, I crack myself up sometime. I really must get out more...
What i saw that I really liked, but did not buy: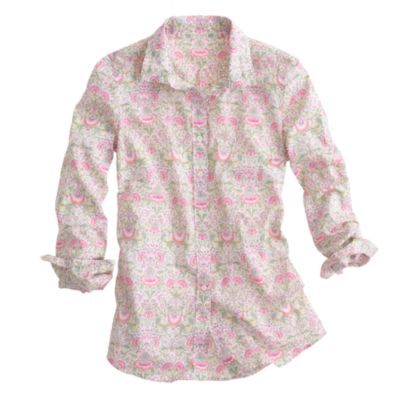 The
liberty perfect shirt in lodden paisley
. Oddly enough, most J Crew items are brighter or more intense IRL when compared with the website. This has a lovely pale sage/silvery green that grabs your attention. A very sweet shirt. But of course, I was bothered by the spelling. Shouldn't it be loden? Then I see that in the Urban Dictionary, Lodden is defined as:
Rural backwater in the south of Norfolk, where under 18 chavs seem to think it's good place to get pissed

(it's name is literately Saxon for "bad water")
Chris: hey Jo I heard you were going out tonight, where too?

Jo: Loddon

Chris: LOL
Oh that Tom Mora is a cheeky monkey. But really, it is a lovely blouse that IRL is as equally pale green as it is pink...
The
featherweight cashmere in vivid aqua
. When I saw this online I thought "this has neon AQUA written all over it. However, it is a lovely, more subtle, shade of aqua. I will wait until it goes on sale and see if it makes my summer list, but it is very pretty and a much nicer shade IMO compared with the Jackie colour, which seemed kind of lifeless to me, like it was a mint green that you would see on a hospital wall....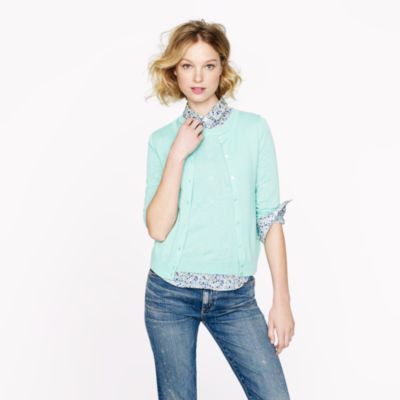 What I loved but was so sad that I could not buy: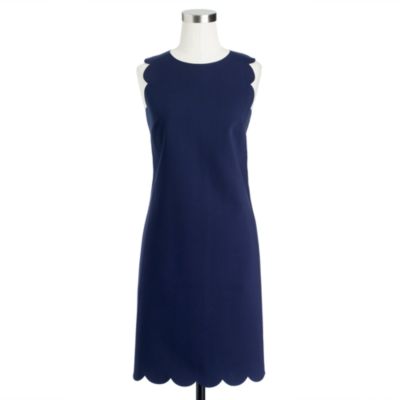 Ah the
Scalloped dress
. It was LOVELY!! Sadly it was a poly/rayon blend, but even that was not the deal breaker. The deal breaker was the arm holes. They were huge! You could see half of the bra along the side! The rest of the dress fit like a dream, was a lovely shade of navy. But nothing I could do would fix those darn armholes. I asked the saleperson about it and she mentioned that everyone was saying the same thing!! This might have been my dress if not for that! I did not see the yellow version, but the poppy version I saw in store looked remarkably like the neon rose colour of years past...
What I thought I would like but found very tacky IRL: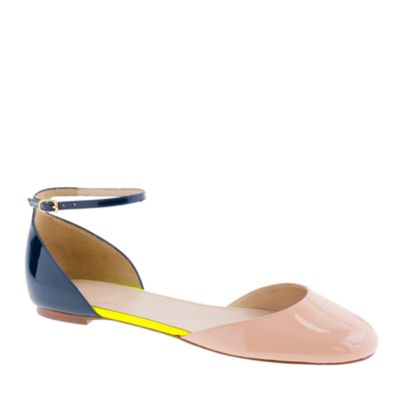 The
Coraline Patent Flats
. I dunno - I thought they would be cute. Not so much. They were hard and scary and cheap-looking...
So what did I buy?
A lovely dark sky blue/navy silk windowpane silk scarf. I just love this scarf and I can see wearing it year round:
I do not see another blue like it on the web site. Maybe the dark cove? It is not a byzantine blue for sure, but very, very nice. I don't know if it will be an in-store only item or will be released in the next rollout, but it is very nice and I plan to wear it later this week with my navy dress. No, not the one above, a Michael Kors I already have.
A green bracelet, the bold stone bracelet . And not just ANY green, a really vivid, almost glow-in-the-dark-swamp-thing kind of green. For some reason it just spoke to me. I felt like it was an emerald green, but not not a typical emerald green, but a glowing emerald green from the Wizard of Oz. I was wearing black at the time and it just shone against the black. For me, it is the equivalent of taking one of J Crew's colour trends but doing it in a more subtle way. How it appears on the J Crew website: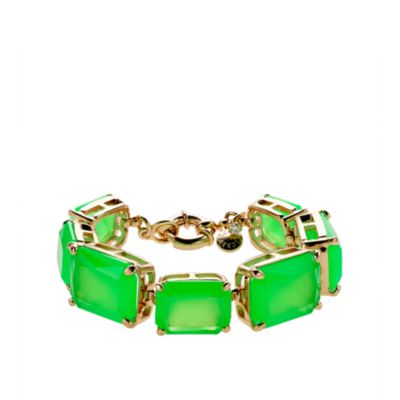 And IRL:
And beside my Wizard of Oz watch:
See what I mean about the glow???
And a close-up of my little watch:
Which reminds me: I did go see the Oz Movie and it is most definitely a children's movie, but good fun and if you are not expecting too much, you will find yourself enjoying it immensely. Kind of my motto for life these days!
Now for the NARS makeover part:
So I walked into the Sephora in Times Square. As per Fred's excellent advice, I was wary of all sales associates and headed immediately to the NARS counter, as I wanted to see the spring colours and I quite like their lip pencils. The NARS counter is right in front of the window and there were two little tables set up. A very lovely woman, not a sales associate, saw me staring at the array of product and asked if she could help.
Well, it turned out that I had arrived about an hour before Francois Nars himself was scheduled to pop in, set to launch the new spring palettes and to promote the NARSkin line. The woman was one of his 14 national and international makeup artists who represent the brand worldwide and was there to make sure that everything was ready for his arrival. Her name is Lucinda Barreto and you can read a bit about her
here
. Everything was all set up, so she asked me if I would like her to help me. Would I? Listen, this is a woman who travels the world for NARS, is an expert makeup artist and frankly, I was ready for a do-over. So I put myself in her hands for the next half-hour.
I must say, I was impressed. She spent a lot of time asking me questions and did not try to oversell anything. She just put things on and then let me see for myself.
What I bought: Oy vey - that is where I went a little crazy, but happily so. I had just finished my current moisturizer and purchased their luminous moisture cream.
It is much nicer than my current brand and now, after more than a week of use, I can say that my skin feels soft all day long and it has really fixed up my flaking!
NARS now has its own version of a tinted moisturizer with SPF and I really liked the one she tried on me: Alaska.
Because I have ruddy skin, Lucinda recommended avoiding pinky blushes and chose a blush in a different shade called madly:
On my eyes, she did pale greys and browns, which was quite lovely and on my lips, a new satin lipstick called Dressed to Kill:
All in all, Lucinda spent a good half hour with me and made me look quite stunning (this was the night of the Tom Hanks play, so she basically got me all ready!!!
And yes, I did buy it all, but I must say it looked great and has continued to make my skin feel great afterwards! It was a real treat to be made over by a real makeup artist and she was just lovely. She wanted me to hang around till Francois arrived, but I had miles to go before I slept so I thanked her profusely and went on my way!
Lucinda's handiwork, en route to the play, 4 hours later and still looking pretty good..
And similar makeup today, wearing my Tiffany heart and my Brora cashmere in honour of Miss Dani and her well-deserved recognition by Brora! The pants are the grey Paige Premiums I picked up before the trip if you recall with a store credit I had!
And a close-up so you can see I am wearing makeup! I think I could use false eyelashes! ;-)
Oh I hate closeups, but you can see, no ruddiness here! I will be anxious and hopeful that Louise does not tell me I have wasted my money on the moisturizer, as my face feels so great, but am
so
curious to hear your thoughts on NARS, Louise! You can probably just make out that I am wearing my Tiffany necklace.
So another day, another adventure. WHat plans do you have for Tuesday? Have the most happiest of days and stay safe out there!! And to you new folks who have recently joined us - welcome aboard, this is your place as much as mine, so by all means, join in the chatter!