Happy Saturday!
It appears that it is going to be a busy day here - and it is going to be awfully nice out - sunny and warm and you may see me out in the yard shovelling snow off the back deck! I will also be digging through for something nice to wear for easter dinner! But first the dreaded grocery store. And I need more flowers - can there ever be enough?
But as always, lots going on in my head:
1) Leaving the mint to the drinks (alcholic and otherwise)
Many thanks for helping with me your advice on minty fresh fashion. Sometimes, it is just a moment of needing something colourful to pep us up and then it is out of your system! I think I went and put on a lilac sweater that day and it helped! I am still contemplating the spearmint cashmere sweater, but have decided to follow my new rules and stick to less trendy items...
But I have had a hankering to order some inexpensive casual clothes, so I have ordered some things to try on from J Crew and Banana Republic! The latter are the easiest to try on as they cost nothing to return. The former, sigh....
What goodies have I ordered?
From J Crew:
The
Minnie Trouser in beechwood
. Know they fit, know I like them, know they are flattering. Nice neutral for spring.
The
Sera
silk top in dark cove: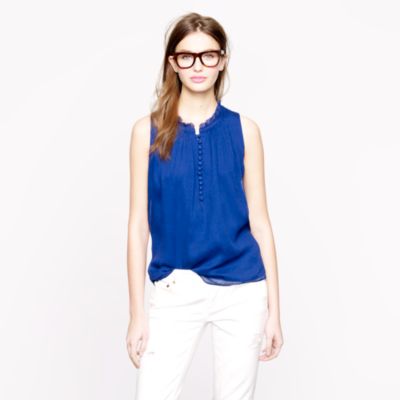 I love this colour and had been waiting for it to pop pack in my size. I plan to wear it with my white jeans, blue jeans, the pants above, skirts. The dealbreaker will be if the lining is poly, since i refuse to swish, swish, swish anymore.
And in case, it does, work, I ordered a little
summerwieght cardi
in the same colour: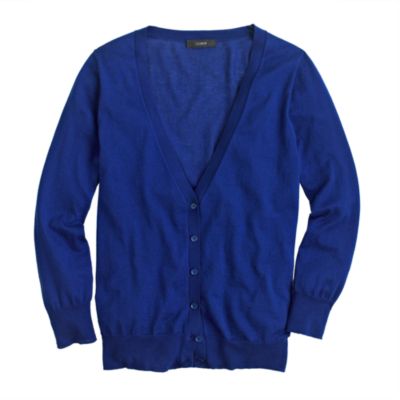 And in a purely whimsical vein, I have pre-ordered the
linen banana tank
top for summer: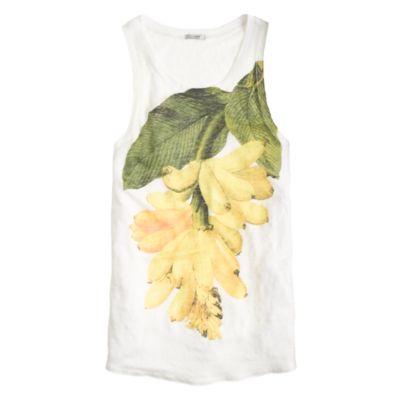 For $37, it was worth it to try and I think it will be quite fun if it works.
I also gandered over to Banana Republic and here is what I have ordered to give a try:
The
Textured Peplum top
. I wanted to try one on, and JC version are back-ordered to July (until next week when they may suddenly be available!). Will let you know what I think when it gets here!
And for some reason, the
heritage ikat skirt
below just spoke to me:
So. not sure what if any will actually stay with me besides the minnie trousers (I have given up on the cafe capris - I find them getting too baggy for my taste - I seem to do well with skinny trousers or very wide leg trousers, anything else just looks kind of odd on me I think), but will let you know when they finally arrive and I give them a whirl. The banana tee is back ordered until May, but it is J Crew, so you never know.
2) and speaking of J Crew...
When I looked in the pre-order section, I was instantly attracted to the Collection Fringe Linen Skirt below: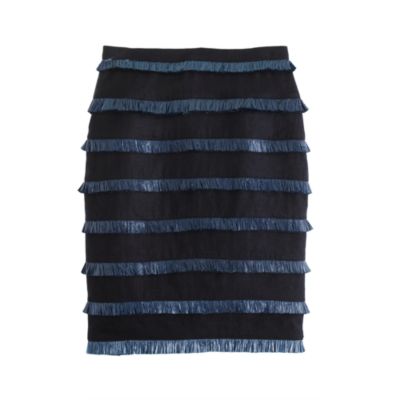 Oh it was expensive, $314 CDN, but it had that weird
je ne sais quoi
that I love so much. SO I clicked to see what sizes were available still for pre-order, but here's the thing: the sizes only go up to 6. While I think I could fit into a 6, I was shocked to see no sizes larger than this! You cannot convince me that everyone from a size 8 up have already ordered this skirt. Has anyone noticed J Crew doing this before? Having a lookbook item in only small sizes seems quite rude to me, but am I being overly sensitive?
3) My new crush
I started watching
The Voice
with my daughter this week. I prefer this show to
American Idol -
the format is more to my taste, plus I have a crush on Adam Levine and Blake Shelton and their bromance. But then I met Usher.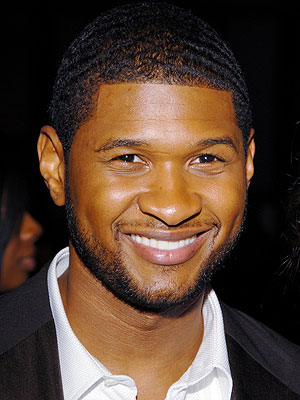 Oh, I know - you all know him. I know him. But I don't think I had paid any attention to Usher until this past week, when I got to see him smile for 2 nights in a row. Sigh... Yes, I have a crush. Don't tell me bad stuff about him please. There, I feel much better to have gotten this off my chest!
4) You know you live in a small place, when....
The second top story for the Maritime Provinces on Thursday night was about a wedding photographer from Prince Edward Island (PEI) who moved away to Alberta and took all the wedding photos with him. The first was about a house fire. This is a good place to live, and it is good to remind myself of that from time to time!
One of Canada's favourite comedy shows,
This Hour Has 22 Minutes
, did quite a nice spoof of this phenomenon, called "PEI Witness News", which is actually not only funny, but close to the truth of this place!
Have a wonderful day! Am off to get ready for Easter!!! Stay safe out there!