Happy Saturday Morning ALL! Which always means the same thing: stuff rattling around my brain!
1) What do you REALLY wear?
While I would have previously had no opinion whatsoever or sense at all about a casual wardrobe, since all of my money was spent on work clothes (along with clothes for events that I really was never going to be invited to and which I enjoy (NOT!) looking at unworn in my closet even now), I am now reviewing the sartorial aspect of my three month sabbatical and I can say that unequivocally, here is
What I (Mostly) Wore To The Winter Rest
:
1) black and grey Paige Premium Ponte Pants, 1 pair skinny Joe Fresh jeans, 1 pair Joe Fresh boyfriend jeans
2) long sleeve black, grey and white tshirts (did I mention that I am now in the market for a new long sleeve black tshirt, having gotten bleach on my nice jersey t? Amateur error for sure and I cannot for the life of me figure out how I did it, but I did!), Gap Paris tshirt, james perse grey tank, james perse white tank. White Gap Button-up
3) Brora blue cashmere cardigan, black cashmere cardigan, heather flax cashmere cardigan, navy tippi cardigan, grey tippi cardigan, pagoda blue cashmere
4) black leopard print blazer
4) lots of scarves and jewelry
5) Nougat London print dress and Alice and Olivia Dress, but only now and then.
Oh there were other odds and sods that I wore now and then, but in the main, this was it. About
20
items. There were other things in the closet that I could have picked, but I kept going for the comfortable pieces that fit well and made me feel chic. They were almost all neutrals it turned out, and I got my colour from my scarves. There were many other items that sat in my closet and simply looked at me. I think my J Crew Cashmere crewneck sweaters each got worn once - i realized i like layering best and that cardigan over a t shirt or 2 are most comfortable and flattering for me. At the end of the season, when I go to pack up my woollens, there will be some decisions to make....
So now I know that on a go-forward basis, following
A Well Styled Life's
great advice, next year I will need to replace the tees with the best quality I can afford, and begin to replace some of those cardigans with Brora ones, as I can already see that my Navy Tippi is lagging, and my black cashmere, new last season, is looking worn and pilly and already has a tear at the wrist. The Brora on the other hand, has nary a pill and still looks new. I would like a warm dress or really comfy skirt to wear around the house. I have many winter skirts, but none feel comfortable - they were were fine for work, but they were not great for wearing around the house.
And I hate to say this, but I found that the more expensive things that I had - the paige pants, the Brora cardigan, the ill-fated Michael Kors long black t (it's okay - it was 5 years old) were things I chose over and over again as they were so well constructed and felt most comfortable. So the old dictum: "buy the best you can afford and buy less to be able to afford them" proved true for me for my winter seasonable wardrobe.
It is good to remember that this was "dead of winter" dressing. Soon it will be April and I will need to determine my spring casual wardrobe and perhaps my spring work wardrobe. I'll get back to you on that one!
2) Michelle Obama on Vogue
I read Vogue now and then, less and less than I used to, but I will probably take a look at this one, what with Mrs. O on the cover.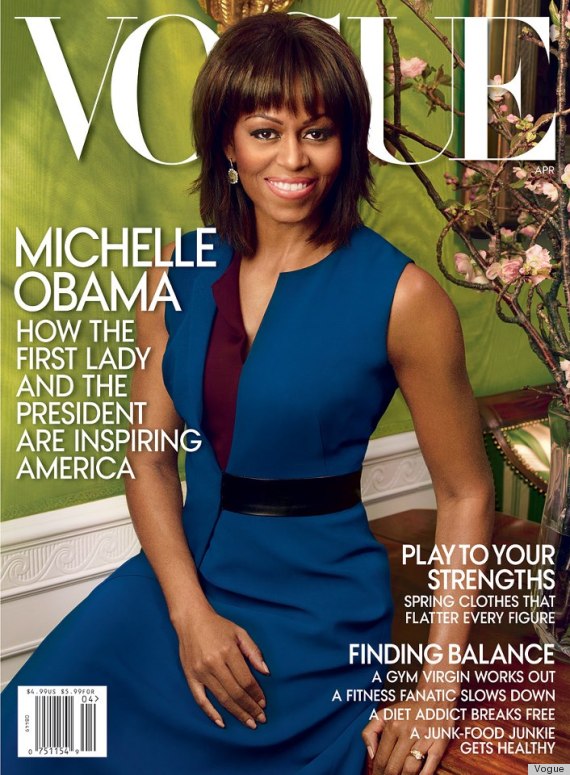 Just love that blue against that fabulous green wall. Ever since I saw the green velvet wall in the Tory Burch wall, I have continued to be obsessed!!!!
But my favourite picture that I have seen on line has got to be this one:
Oh My, that is glamour.
What did you think of the pictures and of Mrs. O being back on Vogue?
3) Pinterest
For some reason, I am having technical difficulties with Polyvore on my computer, but my IPad and I are obsessed with pinterest. I am getting lots of inspiration these days, especially as it relates to home decor and gardening. If you are a visual person, like I am, it is a delight! I seem to like pictures of clothes, gardens and bohemian interiors. I make it a point to NEVER repin exercise pins. NEVER.
Do you like Pinterest? I know Dani and FFM do, as I follow them, but am wondering if any of the rest of you wonderful folks are also on? I never cease to be delighted by the visual treat that is there!
4) Risotto
We like our Risotto, Chez WMM. We are having friends over to dinner tonight and are planning a very simple menu:
First Course: Curry Squash Soup (my own recipe)
Second Course: a pear/spinach salad with a maple vinaigrette
Main Course: Wild Mushroom Risotto
Dessert: Cupcakes
Cheese and Maple Ice Wine
Very simple and not a lot of work, which I always like and these are are our oldest friends, so there is no pressure anyway!
Our favourite Risotto recipe is one by Ina Garten. You know I love all Inas (Hey Ina!) and this recipe is the best one I have ever made. Give it a try and let me know what you think!
Wild Mushroom Risotto
Ingredients
1-ounce dried morel mushrooms
1/2 pound fresh porcini or cremini mushrooms
4 cups chicken stock, preferably homemade
6 tablespoons (3/4 stick) unsalted butter
2 ounces pancetta, diced
1/2 cup chopped shallots (3 shallots)
1 1/2 cups Arborio rice
1/2 cup dry white wine
1/2 teaspoon saffron threads
1 teaspoon kosher salt
1/2 teaspoon freshly ground black pepper
2/3 cup freshly grated Parmesan cheese, plus extra for serving
Directions
Place the dried morels in a bowl and pour 2 cups boiling water over them. Set aside for 30 minutes. Scoop the morels from the water with a slotted spoon, reserving the liquid. You should have 2 cups; if not, add water to make 2 cups. Drain the morels and rinse once more. If some of the mushrooms are large, cut into 2 or 3 pieces. Pour the mushroom liquid through a coffee filter or paper towel, discarding the gritty solids. Set the mushrooms and the liquid aside separately.


Meanwhile, remove and discard the stems of the porcini and rub any dirt off the caps with a damp paper towel. Dont rinse them! Slice thickly and set aside.


In a small saucepan, heat the chicken stock with the 2 cups of reserved mushroom liquid and bring to a simmer.


In a heavy-bottomed pot or Dutch oven, melt the butter and saute the pancetta and shallots over medium-low heat for 5 minutes. Add the morels and porcini and saute for another 5 minutes. Add the rice and stir to coat the grains with butter. Add the wine and cook for 2 minutes. Add 2 full ladles of the chicken stock mixture to the rice plus the saffron, salt, and pepper. Stir and simmer over low heat until the stock is absorbed, 5 to 10 minutes. Continue to add the stock mixture, 2 ladles at a time, stirring every few minutes. Each time, cook until the mixture seems a little dry before adding more of the stock mixture. Continue until the rice is cooked through, but still al dente, about 25 to 30 minutes total. When done, the risotto should be thick and creamy and not at all dry. Off the heat, stir in the Parmesan cheese. Serve hot in bowls with extra cheese.
Wendy's note
: I have done it without the dired morels, using fresh ones and it is still as good. I often substitute proscuitto for the pancetta, as for some reason Barry and my daughter prefer that. It is good with that as well and it is good without the meat. It is just good!
5) Sherlock
I am always about 2 years behind the rest of the world, but we just discovered the British series Sherlock on Netflix. It is wonderful. I know, you have all already seen it, but I can't help but mention it anyway! I don't watch much TV, and it is always exciting for me to find something worth watching!
And of course the nice segue here is vis-a-vis Martin Freeman, who plays Dr. Watson in the series, but who is of course also Bilbo Baggins in the
The Hobbit
, which comes out on DVD Tuesday. I know this fact, because my son, who is a huge Tolkien fan, turns 18 on Tuesday and wants to see this sitting in a gift bag at the supper table that night!
Have a happy Saturday! Anything big on the schedule? Stay Safe Out There!