I am pretty sure Spring is on the way....
Why just last week, I saw a Robin. Oh sure, it was in Madison Park in New York City, a 12 hour drive south of here, but I know it is coming my way and I have decided to walk out to meet it...
Except that: I NEED WALKING SHOES!!!
If you recall, I wore sensible shoes and boots in NYC, shoes that were wide at the toes, well-fitting, etc, etc, etc... And still, I got a nasty couple of blisters. I thought of taking pictures, but I don't think our relationship has progressed that far yet and frankly, I dream of having more people visit here, not less (my husband is less than enthusiastic about my feet and he has been with me for 28 years, what could I expect of you all, so kind and unsuspecting as you are to drop in and say hey, only to be faced with -cue scary organ music - THEM?????)
Your mission, should you wish to accept it, is to help your dear hostess find good walking shoes for spring. Husband is willing to buy them. We must not pass up such offers of generosity, they are rare and I am on a budget.
But, as with EVERYTHING related to me (roll eyes) this has some complications:
1) I have flat feet. Regular sneakers KILL my feet
2) I would prefer they not be ugly
3) the only thing that has never hurt my feet for walking are Crocs.
WAIT!!!!!!
DID SHE SAY CROCS?????
Yup - when they first came out and everyone around here was buying a pair, I tried them. And they felt
good
. But you can't wear them out of the house or even around the house and I am no Mario Batali, so I have no way to manage this. But since you are the Sherlock Holmes to my witless fool on this one, I feel you must know the one thing that is comfy on me....
HAS SHE NO VANITY???? Well no, don't you remember the picture of me in the jcrew sweater that fit like hell before Christmas? With the beading? The one that looked so fabulous of Ema afterwards? No? Well don't look up that picture! Forget I mentioned it!
I also find my Uggs comfy...
Could I be ready for Wallabees? OH MY GOD!
My dear departed Mum wore Wallabees in the 1980s. sigh. Is THIS where I am heading????? Oh no!!! I don't think I can make them look chic....On my 21 year old daughter they would be ironically chic. But on 50 year old me????? ARRGGHH!
So I need your help - what do
you
like to wear???? What do you recommend?
Husband wants me to get a pair of
Blundstones
(he owns two pairs) and they are okay I guess, but still worried about comfort...
Have any of you worn them?
All advice greatly appreciated and may be of help to some other poor sod who visits here besides myself!!!
And for Miss Ina - a picture of the swamo thing bracelet on me:
For information purposes, I measured the smallest part of my wrist for you - it is 5 1/2 inches around the smallest part. I reckon the bracelet is about 6 1/2 inches long. Hope this helps! Even looking at it now, I think they should have named it The Kryptonite Bracelet! Maybe I have a Superman thing?
So thanks in advance for your always excellent help!
Now to change subjects wildly!
Dorthy Parker!
Darn that Kate Spade. It's like the Mafia. Every time I think I'm out, they pull me back in...
Today they sent me an email. I know - I shouldn't accept random emails from retailers as it can lead to the syndrome I like to call "Wendy's Gimmes" - this has been know to strike at any time and must be guarded against at all times.
Today's email shared with me their latest totes. And those latest totes have the best Dorothy Parker quotes: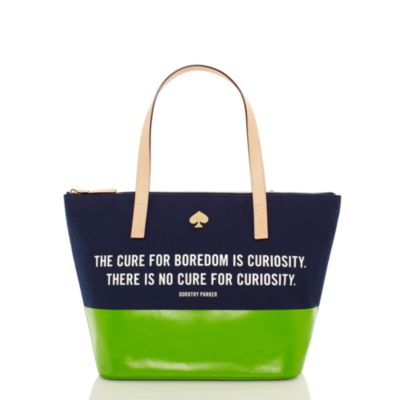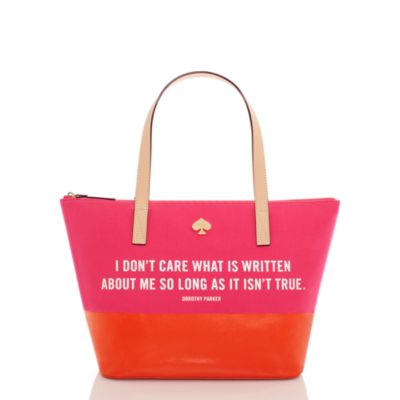 There are also iphone cases with the quotes above and this additional one: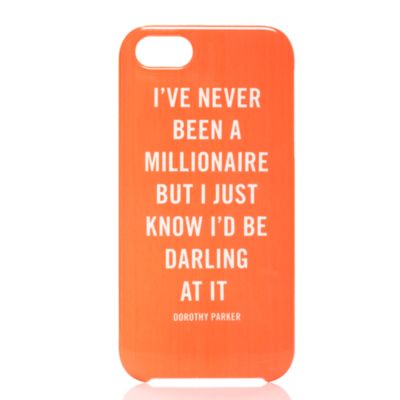 I love Dorothy Parker - she was an excellent writer, a woman who could drink with the best of them, and one of the quickest wits ever. Whenever I am in NYC and happen to walk by the Algonquin Hotel, I always stop and salute.
Given my current circumstances, I am quite drawn to the second tote. However, they would have had my order already if they had used one of my two favourite quotes, neither of which can be put on a tote and paraded around in polite company:
1) If all the girls at Vassar were laid end to end I wouldn't be surprised.
and my most favourite:
2) When playing a word game, Parker was asked to use horticulture in a sentence and replied "you can lead a horticulture, but you can't make her think."
I don't need a tote for summer. And I certainly don't need a $278 tote this summer. But still...as Dorothy might say:
"One more drink, and I'd be the owner of that tote."
I really must unsubscribe to things, I really must. I have no business finding this stuff. It just gets me going!
Have a most happy Wednesday and stay safe out there!