This is a quiet weekend, Chez WMM - after a busy couple of weeks of entertaining and travelling, we are planning on burrowing into our little Hobbit Hole and relaxing and reading and watching a movie or two. But of course, I do have some jumbly thoughts rumbling around in my head.
1) Voyager 1 and 2 Leave the Solar System Forever
(and then we find out they are just out on the highway...)
This story reminds me of when my brother once threatened to run away from home, but it turns out no one would give him a drive to really do so. The big story this week was that after 33 years, these spacecrafts had finally left our solar system. Frankly, I was excited; it's not every day that humanity slips the ties that bind us to our sun. In fact, this was the first day. Only then it wasn't. It turns out they are hanging about on the
magentic highway
, a special place right on the edge of our solar system and interstellar space, filled with highly charged particles. Oh they'll leave for deeper space all right, they just haven't left
yet
. I assume if the magnetic highway is anything like the highway on the way out of the small town that I lived in growing up, they could be there for awhile...Damn those intergalactic drinking holes - Voyager 1 and 2 probably stopped in for a bathroom break and a Tim Hortons run and are now finding themselves gambling and drinking cheap beer..
2) Talbots
Earlier this week, I did a mini review of things I have liked (or not) from various retailers' spring releases. As you know from my earlier posts, this spring's releases have left me a little cold, due in part perhaps that I am unsure as to whether or not I need dressy outfits or no outfits or very casual outfits..Or it could just be one of those years.. We all have them!
However, the lovely Paula suggested that I go back and take a look at Talbots. I must make a confession: I had forgotten all about Talbots. A few years ago, Talbots made a bold move and attempted to broaden their clientele with more streamlined and trendy cuts. There were some very nice pieces, but it seemed they could satisfy no one: the streamlining wasn't streamlined enough and were accused of being matronly, the trendy cuts were accused of moving outside the typical Talbots customer's comfort zone.
However, the universe being what it is, within one hour of reading Paula's comments, my husband arrived home with the mail, which included a Talbots catalogue. There were the regular suspects, but there were some nice pieces and I would be remiss not to point them out for those like me who are looking for simple cotton dresses. They also have a 25% off sale going on right now.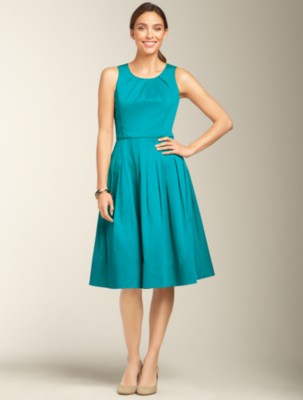 The very simple
fit and flare dress
and it comes in many colours, including navy, which I would really like. It is $149, less the 25%.
The Silk d0upioni dress is very similar in print to the Elie Tahari skirt I liked: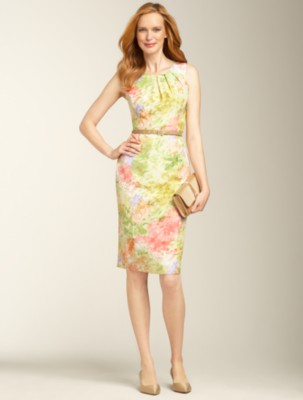 For those who like critters, there is a
charm bracelet
: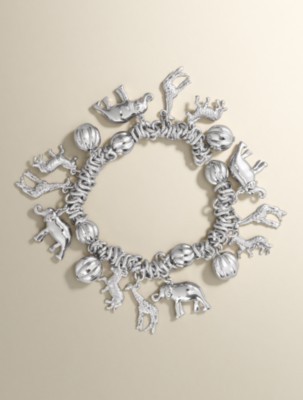 And a very pretty
dragonfly scarf
. I love dragonflies - we have them all over our property in the summer.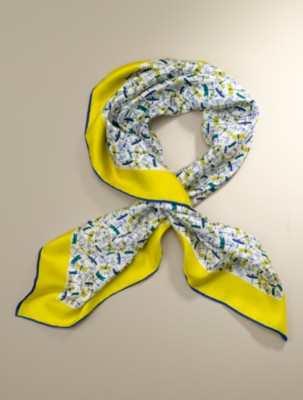 In general however, I think Talbots would be my go-to spot for finding a tasteful mother or grandmother of the bride dress. I know that sounds worse than I mean it to sound! There are some really lovely things, but I still do find the cuts a bit matronly. But I know that there are many who like that looser fit, and even my beloved Ralph Lauren's Lauren label veers in that direction from time to time. So I will not forget Talbots in the future, as that dress above in navy would be the perfect little dress for running errands this summer!
3) Someone else is 50 too...
I forgot during all of the shenanigans going on in my own life that someone else had a very big 50th this year as well! The Beatles released their first record,
Please Please Me
in 1963. I am sure i was listening to that in my cradle!
The soundtrack of the first 50 years of my life would have the Beatles on it for sure and though there is the ongoing (and to me tedious) debate as to whether the Beatles or the Stones were the greatest band of the 1960s (I happen to love them both and refuse to be drawn into this - and I am talking to my son here! Oh wait, he doesn't read my blog - good thing). This album stands the test of time. Everyone has a favourite Beatles song (or maybe not?) and I have a list as long as my arm but
Get Back
has a special place in my heart
,
as I remember listening to it on a 45 in my bedroom on our little yellow record player when I was 6 years old with my 8 year old sister. I still giggle when I hear the line "JoJo was a man who thought he was a woman" because we NO idea what that meant at the time! We played it over and over again and then flipped it over and played the B side,
Don't Bring me Down,
over and over again! What Beatles songs do you love?
And I don't care what you say, this man is one of the sexiest men ever: I would take him and the car!
So those are my random musings of things I heard about this week. How about you? Anything exciting going on? I have decided that next year, I am going to tag along with some of you on your warm winter vacations - the winters are too long!!!
Have a great Saturday!!! Stay Safe Out There!