Happy Thursday!
Ah - you know it is not spring where I live. In fact, we got a dump of 35 cm of snow over night. Sigh...
But in other parts of the world, Spring has well and truly sprung and the retailers want us to embrace
their
vision of spring and hop to it please.
Many of the online retailers have released their new things, some of which have caught my eye, others of which have scared me with their lack of quality materials and pricing. Lots of pictures in this post, but not a lot of love or hope, save a few items which I assume will be of good quality.
J Crew:
I still love to take a gander at the new j crew releases. Old Habits die hard and J Crew does have the best of the web sites to whip one into a fury, I think!
Some things caught my eye:
The
Dree Dress in Stripe
:
This dress looks promising, but it is silk (and you know how I fare with silk) and it is expensive and I have had lousy luck with the placement of the waists on most J Crew dresses in the last few years. They seem to be vying with my breasts for placement!
I also really liked the
melon jacquard dress
below. This would be aspirational dressing at its worst, as I cannot think where I would wear it, but you know I do love me some bling! I could do a Kathy and wear my jean jacket with it. And I do love the melon colour! But...
There were other things to like, but what I
really
liked was just too darn expensive (see further down!), so here is what I am actually thinking about because of the sale:
Lightweight Bermuda Shorts
I love the lighter cotton of these and the length and am looking at navy for summer. I would normally not consider buying shorts in March, but they are on sale for a good price and I find that the classic colours almost never go on sale later or are all gone in my size:
The other thing I am contemplating is the
Downtown Field Jacket
in Navy. I need a new spring coat for bouncing around - all of my coats are dressy for spring. I know some of you have it and would like your thoughts, since it is on sale for $125, which I consider to be a good price!
What I was most disappointed about was the prices. Even with the 25% -30% off, J Crew has just gotten crazy expensive. All of the really nice prints are in the $400-500 range.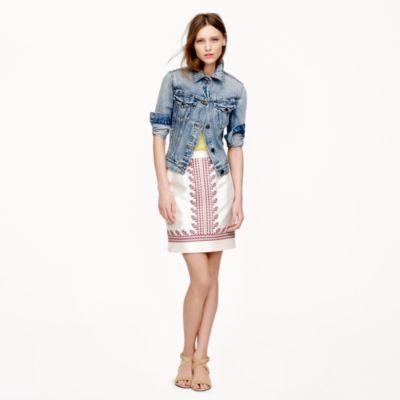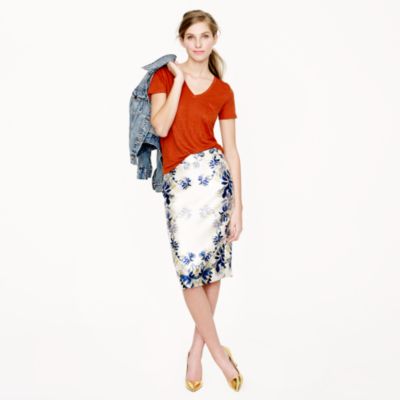 I always compare these to my dream skirt that got away, the 2008 Giverny, which was silk, lined in cotton I believe and $150. The skirt on the left is $400, the skirt on the right is $576. Again, at these prices, I will buy better quality elsewhere, but how disappointing.
A
cotton dress
for $430 Jcrew? Really? It is lovely, but what am I missing?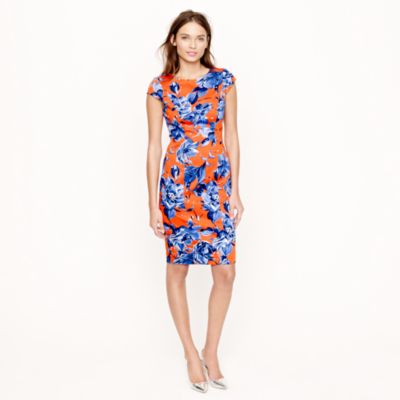 Banana Republic:
Oh Gosh, I wish they would get a nicer website. Is it just me? Banana Republic suffers from the exact opposite problem from J Crew, whereby the clothes on the website seem uninspiring, but look much better in person. They also use too much polyester, which may be fine in the spring, but when things get humid around here, watch out!
Still a couple of items look promising:
If I could wear orange on top I would buy this
cotton shift
in a heartbeat!
The Monogram Belted White Sheath:
Kate Spade
Kate Spade has gone too trendy (or maybe I have gone less trendy?). Nothing in the new releases would work for me, save a white linen-tencel dress and I already have a white linen dress. sigh...
Tory Burch
The only thing which really caught my eye was the
Gene
dress:
Brora
Saving my cheddah if I buy due to exchange rate, but...
Linen-Cotton Cardigan in
Kingfisher
Washed Linen Shift Dress
Herringbone Linen Skirt
Lands End
I really liked the
skirt
below, but at 100% poly, it is likely not going to work for me...I am noticing a LOT of poly everwhere this year!
Eileen Fisher
Love this flowy, short
skirt
in ink:
This dress doesn't appear to have been released yet, but I think it would be the perfect summer dress for me:
Garnet Hill
I have yet to order from Garnet Hill but do like some of their things quite a lot, like the
retro cap-sleeve dress
:
One of these
essential summer sundresses
: I amthinking the green would be lovely!
Or this
Eileen Fisher Dress
:
Nougat London:
How about a lovely
blue dress
with embroidery? Even the lining is cotton!
Or a
silk cotton blouse
?
Brooks Brothers
Brooks Brothers spring items impressed, more so than their winter offerings, which are a little too preppy for my taste:
Sleeveless Shift Dress
:
Okay - absolutely classic!
And how about this
silk rose print
dress? I might wear it to the races, darling!
How about a gorgeous
pale gold dress
to the wear to the royal christening this summer?
and
hat,
natch...
If I had to give a prize, I would say the Brooks Brothers has won my heart in the new releases lottery...
Oh I know - all very dressy, but one can't get over the habit of thinking one will be invited to VERY important events all at once...
THING I HAVE NO BUSINESS EVEN THINKING ABOUT BUT AM THINKING ABOUT ANYWAY
Like, for instance, this Elie Tahari
skirt
:
So how about you? Any of the new releases from any of the companies catching
your
fancy? Or are you like me and wondering why some of the clothing is just getting so darn expensive and of such cheap or man-made material? And I highly recommend that for those of you who live near a JC Penney, that you get yourself there ASAP if you like trendy little items, as Joe Fresh is absolutely ripping off J Crew, but with much better quality IMO!
SO as of this moment, I am contemplating the downtown jacket on sale and maybe a pair of shorts and that is it. That would be April's budget blown, but could be worth it if the quality was good!
Sorry for the long post - once I started looking I had to share my thoughts. Am I the only one not absolutely mad over this spring's pickings?
Have a happy Thursday and Stay Safe Out There!