First - a brief update on yesterday's shenanigans!
Abby, you lost a diamond earring at the restaurant and they would like you to pick it up before you check out.
GetFresh - Mumford and Son's enjoyed your impromtu getting up on stage to sing with them and have left their business cards for you.
I am still waiting for confirmation as to whether Tabitha has indeed decamped to Los Angeles with her own bungalow at the Beverly Hills Hotel, locked in with bourbon and food for a week and phone numbers of certain actors and musicians...And I suspect Nigel is with her.
The rumours of me hitting on Elvis Costello are viscious lies. Or maybe half-truths? Dani and Lane - would appreciate if you would call Diana and send my apologies.
And Kathy, tell your mother she is a hoot!
Now wasn't it fun to get away???? We should do it more often!
And Louise, I did try the blue eyeliner:
It was a light hand as you can only see the faintest trace of blue as my eyes are so deepset. I think I could have gone further and they did sparkle more IRL! Not like the gold i wore with the Hummingbird Dress last night, but they did sparkle!
**********************
Did I tell you I am trying to learn to meditate?
Well I am and it is not easy!
My journey towards meditation began on Christmas Day, when my children gave me the following book: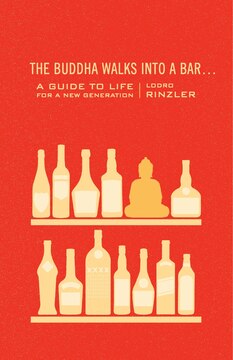 I am still making my way through the book (which you can get
here
) - and it is quite funny and really interesting. It is described thusly:
This isn't your grandmother's book on meditation. It's about integrating that "spiritual practice" thing into a life that includes beer, sex, and a boss who doesn't understand you. It's about making a difference in yourself and making a difference in your world-whether you've got everything figured out yet or not. Lodro Rinzler is a bright and funny young teacher with a knack for showing how the Buddhist teachings can have a positive impact on every little nook and cranny of your life-whether you're interested in being a Buddhist or not.
Now here's the thing: you know you are working too hard and your engine is revving too hard when your children give you a book on meditation as a present. There were many signposts on the road to me taking a few months off, and this has got to be in the top 5.
So I started taking baby steps. I did not want to join a local meditation group at present for a few reasons related to privacy, but I will probably do so in the future. In the interim, I got some "mail" a few weeks ago from Oprah Winfrey, inviting me to take a 21 day meditation challenge with her and Deepak Chopra, to learn to meditate. I typically ignore these kinds of emails, because usually they invite me to go shopping and I am trying really hard not to do that these days! But I was having a bit of a hard time getting going on the meditation and thought "why not, maybe this will kick start me!"
Indeed it is has and i am grateful that in this case I ignored my typical approach to deleting these spam-y emails (I decided to sort of a George Costanza thing - remember when he did everything the opposite of what he would normally do and became so successful?"). The 21 day challenge is really "meditation lite", but frankly for folks like me, whose minds are racing constantly, this has been the perfect way to dip my toes into the world of meditation and when the 21 days are over, I feel as though I have a launch pad now to begin more intensive meditation. Even though we are into day 14, you can begin anytime during the 21 day period, so if any on of you are interested feel free to check it out
here
.
I have always avoided meditation in the past as my mind has always gone a mile a minute. I didn't have time to be still. I was the ultimate multi-tasker. And I was the person who was constantly reviewing the past and worrying about the future. Some of the most recent research about multi-tasking indicates that it can reduce our productivity by up to 40%, since we are causing our brains to constantly shift gears and we end up not really paying attention to anything. The worst offender of this in the workplace is of course email, where people are checking their email constantly throughout the day, including during meetings. I felt like I was getting the attention span of a gnat. Am I the only one? I don't think so - you can read this thoughtful article
here
for a more in-depth analysis of this phenomenon.
What I want to be is to fully present in my life and in each activity. I don't mean this as navel-gazing in the extreme, but I want to notice the trees when I walk the dog, truly hear the conversations I am having, feel what I am feeling in the moment. Prior to my break, I had felt a bit like an automaton; I was always rushing through things to get to the next thing. And then I was surprised that I couldn't remember things I was doing!
For me, meditation is hard. There I am meditating away, doing my mantra and it is SOOOO hard to stay on track. Suddenly I think about the need to vaccum behind the oven. I think of some obscure movie I saw in the 1970s, I think about a conversation I need to have with someone. I take a breath and continue on with the mantra, keep trying to stay on task. I liken it in my mind to the scene in the "Wizard of Oz" when all of the images are popping in front of Dorothy when she is up in the Tornado. So I am trying to close my eyes and not think about the witch or those guys going byy in the rowboat!
After two weeks, I am becoming more mindful and more present. I am trying very hard to be present, really present at whatever i am doing, whether it is walking the dog, cleaning the toilets or cooking supper. Because I am more present, and paying more attention, I am doing a much better job at the things I am doing. This mindfulness will accompany when I begin to work again. I read a quote by Alexandra Stoddard over the weekend that really resonated with me:
"When we're mindful of what we love, where we most love to be, who we love to be with, how we enjoy spending our time, we have the key to living wisely."
Choosing Happiness
Right now, I have cheap grocery store bouquets of flowers all over my house: carnations, daffodils, tulips, daisies, and they are keeping me going until my own garden comes alive again. And I am taking the time to look, really look at them and enjoy their beauty, however fleeting it might be. Being present is hard - we all have worries and concerns and things we must attend to, but taking a break and clearing your mind of the clutter is as important as cleaning out the junk drawer in the kitchen. (which is one of this week's tasks!)
Do you meditate? How do you find your ways to "go placidly amidst the noise and haste"?
As a little gift to you all for coming by, here is a picture I took of my lovely tulip bouquet yesterday afternoon. I would send one to all of you if I could!
The great thing is that the tulips can tell that Spring is coming soon - like me, they are straining to the light. Have a great day, take time for yourselves and stay safe out there!