Oh I have been very good, sticking to my budget, actually making a budget for that matter. And then, you start seeing "stuff". Stuff you think you would like to have in your life.
It is truth universally acknowledged that
a) when you have no money, there is a disproportionate number of items you would suddenly like to acquire
b) when you actually have money, money for the specific purpose of buying something, anything, it appears there is nothing to buy. nowhere.
The world is a cruel place sometimes...
Besides the wallpaper I mentioned yesterday and which I have absolutely no spot for (oh darn, wait, I just had a good idea...), here are some other things that have caught my fancy lately and will remain just that, a fancy. I am not yet at the higher plane, able to live those immortal words of Sinead O'Connor,
I do not want what I have not
got
. It seems not she may not have wanted some of those things as she was high, but see, my budget doesn't even allow for THAT these days!
Red Coral Ballet Flats from Aerin.com:
And from the same web site, an expensive little bauble , called the Tiger Cowry Shell, for my desk...Why would I need this???? Why not?
Aurora Enamal Charger/Plates/Dessert Plates from
MacKenzie-Childs
: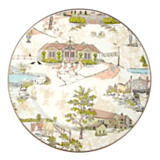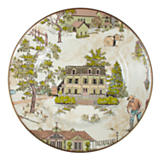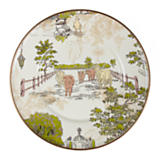 I do not need these. But oh my gosh, I would love to see them on my dining room table!
An outdoor chesterfield:

Isn't that divine? I love a chesterfield, I love sitting outdoors. Wait, I love NAPPING outdoors.... I just see a lot of good things coming from that Chesterfield...There doesn't appear a great hope of this however, since the website does not list prices and you know what that means.
I am also jonesing for the
Careen Metallic Loafer
that was not yet in stock at the Tory Burch shop I visited in NYC:
They look so retro cool to me. Tory is so helpful and has even show me how to wear it:
There, I feel much better, having gotten all of my gimmees off my chest. It could be spring fever again.. We are scheduled to get a whollop of storm today! I need to get out in the garden to clear my head. In the interim, I am going to paint today.
And I would be remiss if I did not acknowledge that today is the 18th birthday of one of the lights of my life, my son, who was born exactly 18 years ago at 4:16 pm weighing 10lb 6 oz. Both of my children are pisces; my daughter is the pisces who goes with the flow. My son is the pisces who has been swimming upstream since the day he was born and life will never be easy for him, but it will always be interesting.
About 2 hours after he was born, the doctor came in to see us to see how things were going. My son was laying there with his head on my chest. When he heard the doctor speak, he lifted his head up and turned and looked at him. The Dr. was flabbergasted and said he had never seen a newborn do that in his entire career. That my friends, is called stubborn will.
So how about you? Any gimmees these days or are you being blissfully good? I am being good, but perhaps not blissfully! Have a happy Tuesday and stay safe out there!