Sorry i have been pretty much incommunicado for the last couple of days. We had quite the storm here and we lost our power for 24 hours. It was cold and miserable, but I couldn't complain - I kept thinking of all of the poor folks who lost their houses and power during Sandy and it certainly provided perspective!
Happily it is now Thursday and I start some well-deserved vacation time! Tomorrow, I will finish my Christmas shopping and wrapping. I also hope to get some grocery shopping in as well and begin some baking! Oh, and did I mention that my daughter is having a bunch of people over for dinner tomorrow night? and so begins the happy christmas season!
All of these J Crew sales have been quite amazing in the last two weeks. As you know, I purchased the cashmere tshirt in pagoda blue earlier this fall. I really loved the colour. Recently, the cardigan went on sale, and then further on sale and then 30% off that then $25 in rewards $ of that.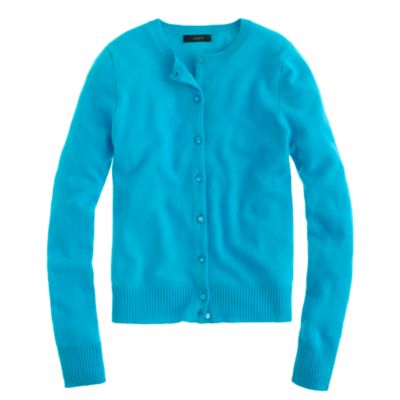 Suddenly it was very inexpensive and given that it is now cold and snowy, a twin set seemed to be in order!
Yesterday morning I paired it with a marc cain knit skirt I purchased last year. This is a very comfortable skirt and quite flattering in my opinion.
I am glad I purchased the cardigan as I think it will be very versatile and frankly, more so than simply the tshirt alone. sorry the picture is not better.
How are your preparations for Christmas coming? Are you feeling ready, or like me, are you feeling slightly behind schedule and hoping for some divine inspiration?
Have a great evening! More tomorrow!