"Life is like a box of crayons. Most people are the 8-color boxes, but what you're really looking for are the 64-color boxes with the sharpeners on the back. I fancy myself to be a 64-color box, though I've got a few missing. It's ok though, because I've got some more vibrant colors like periwinkle at my disposal."
John Mayer (he of the smallish ego)
Now, while John Mayer - bad/cad/hasn't learned that some truths ought to be just left in your head musician- is talking about how he is so much more special than most of the girls he meets (!), I can definitely say that I do have some more vibrants colours like periwinkle at my disposal, because
THEY ARE HERE!!!!
Yes, beloved pals, my
Collection jeweled T-strap ballet flats arrived today!!!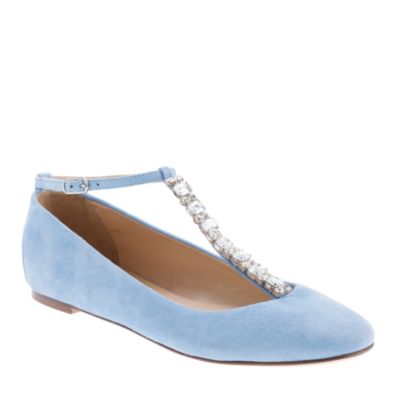 get your peri twinkle toes here
 I wanted to get my review up ASAP, given the sale and that these puppies would be 30% off!
Do I love them?
Does John Mayer like a nice blonde? Does Coco love Ice? (I don't know actually, but given the name of the show I assume yes!) Does Santa Love Rudolph (well actually, I think it is an abusive relationship that never quites get resolved...), but I digress...
YES!!! I love them!
Okay, so first I ran right up and put them on with my playclothes - my saturday pants, my jackie vest and my dream cardigan. I think this high/low look is something that Jenna and Gayle would so embrace!!! You wait, tomorrow, the description will read:
"We're loving these periwinkle fairy shoes so much, w're pairing them with our laidback saturday pants for a sweaty-sparkly combination. Perfect for watching your dog have a drink or wearing out for drink Mickey after a hard day at the office!"
And then a closer look:
I know. You are asking yourself: "If I recall, she took ballet lessons for 8 saturdays over the hardware store in 1972." You would be correct and I believe that this shot shows how much I have retained and blows Malcolm Gladwell's 10,000 hours theory right out the window..
And even closer....
Yes, a little toe cleavage and an awkward angle as I was stooped over taking this photo! They are a size 6.5 and fit perfectly. You could wear tights I guess if you want to and I might try them with grey tights, but mostly I will barefoot it!
They are well worth the wait and I love, love, love them! So much better than the zebra shoes!!!
I recommend them if you are the kind of person who likes to sparkle, loves blue and is looking for a "different" party shoe (hello Tiffany Rose...) Rynetta - you might really like these as well as I know you love your ballets! Julie - size up half a size for comfort!
Changing the subject dramatically, a wee note about my outfit today!
My ill-fated Banana Republic cranberry concoctions are gone, but I dug through my closet and found two old Talbots pieces, a full silky skirt and a raspberry red cashmere audrey sweater from a couple of years back. I don't wear them much and I am not sure either are flattering. That is a sign, isn't it.
This picture is terrible, but I am showing it as I want to show you something else... (how convoluted is that? stay with me!)
You can't really see it, but I am wearing an old poinsettia pin of my mum's which I love:
It is about 60 years old and I love it!!! I will wear it a lot this month as i love the craftsmanship and it makes me think happy thoughts of christmases with my mum when she was alive! Do you have any nice christmas pins you love to wear?
Since it will be Friday soon, I think this is about the time I need to consider Miller Time. Dani went shopping in Toronto on Thursday - I hope she got lots and I hope she stocked the larder before everyone gets there! You know what I will be bringing - yup - peppermint kahlua and periwinkle fairy shoes!!! Dig out the Brenda Lee Dani, we will be rockin' around the Christmas tree!!!
Have an awesome Friday and stay safe out there!