Well yesterday, you all gave me such great advice! I truly love all of your thoughts and advice and the two cents people chip in. I often feel like I am very blessed to have a wee corner where I can chatter and natter and get some help, and give some help and share some laughs and joy and sadness and I cannot thank you all enough!!
But today, today is inpsired by Miss
A Bigger Closet
, she of the willowy figure and lovely heart, who thank goodness is back blogging more regularly (and we all love that!!!)
Her most recent blog has the most delightful train featured in it. You can see it and read about her new fancy pants
here
. Doesn't she look swell in those pants?
But more importantly: I WANT A TRAIN!!!
Yes, you heard me correctly. I am a nearly 50 year old woman and I WANT A TRAIN!!!!
I have always wanted a train. And while I love ABC's little train, in my heart of hearts, I would want a train that would run along the walls just like you know who's: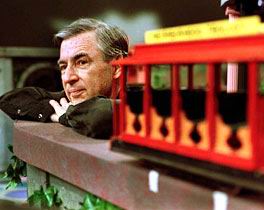 Okay - let's take a moment, shall we? This is the face of a good man. I could weep.
****** (emblematic of moment of silence and that theme song!)
Okay, I am all good now.
Wouldn't you love a trolley that you could watch run along your walls?
Or maybe, you would like to have a whole train village:
What fun we would have! I would put a Starbucks in the centre of town, a J Crew, a Kate Spade, a high end wine shoppe (this is my little town after all!), a really good shoe shoppe, a few great restaurants, probably the Waldorf Astoria, maybe a castle or two, an organic farm on the outskirts of town, a REALLY big book shoppe (but not a chain, a book shoppe run by a man who looks remarkably like Hugh Grant in Notting Hill and who sells a lot of good literature, home decor and cookery books, some magazines and always has a sympathetic ear..), I would have a Brora so I could try on the sweaters for size and for those of you who like some fine scottish woollens (and who doesn't?? Well I am not sure about the sheep..). Probably a small intimate club that will be known as "the" spot to launch a new album and test materials and where Paul McCartney and Bruce Springsteen will come by well, just because. Oh I may have an opera house and for sure a good movie theatre. I am going to need a lot of train track!
So this also got me thinking about toys. So today is a trip down memory lane where you can share your favourite Christmas toy memories.
Since I never got a train set, I will go first with some of my faves:
1) the 1970 Barbie camper.

OMG! I wanted this!!! I begged! Look at the pop out side! The colour (is it any wonder I am the way I am now????), the little camp stool. This was the same Christmas my brother got a Big Jim. There were rumours about Barbie and Big Jim in the camper, but they are just that and have never been substantiated. When santa left this for me under the tree i was in heaven!! My best friend Lisa also got one that Christmas and there were a lot of camping trips! And Barbie could carry a lot of shoes in that sucker! Tabs - you must click on the site as there is a whole video on the Malibu Barbie camper - I always think of you as our Malibu Tabitha! I bet you could put that awesome frondy wallpaper inside!
2) An air hockey game
Okay, it is Christmas, 1974. I have asked for an air hockey game. Don't ask why, just go with it! I am 11 years old. I go downstairs and there is a big pile of gifts from Santa on the left side of the tree (my sister's side - she was a lefty - go figure). There was a big pile of presents in the middle in front of the tree (my brother). On my side, the right side, there was about 4 things. I gulped. I tried to smile (God - who am I kidding, I was probably hyperventilating by then!) and I oohed and aahed over my books, my stocking, the few other small toysthat were there and I tried to admire my brother and sister's loot. And I tried to figure out what the hell happened. And then my dad (yes, think Darren McGavin in
A Christmas Story
) said "Wendy, I saw something behind the dining room door." and there it was:
You know, I only played with that toy for a couple of years, but I have never forgotten that moment! And I have done it a few times with my kids as well and you know, I think I might do it again this Christmas...And yes, I sure know I had great parents.
There are lots more great toys I remember and many happy Christmases, but now it is your turn: what were your favourite Christmas toys growing up and if you could, what toy (and I do mean a
toy
! No Jimmy Choos or Mustangs!) would you love to get under the tree this year?
Anyone want to come live in my town with me?
Have a wonderful day out there!!!