They say that imitation is the sincerest form of flattery!
Folks I am living proof!!!
We all have our fashion muses. The queens whose style we admire. You know I love Miss Rita Wilson:
I love Rita because well
a) she seems like she would be a good time at a party
b) she has boobs. They look kind of real. I have nothing to base this assumption on except that I think they are real. Go figure
c) she is married to that lovely man
d) sometimes she makes fashion mistakes. This makes me think that she dresses herself and is not always styled. Again, no proof to support that whatsoever!
Her style is also accessible to me, because while she looks thin and fit to me, she does not appear to be teeny tiny. It is inaccessible to me as I believe that she has a significantly larger clothing budget than I do!
For some of us, it is hard if the only fashion muses you love are waifs, since much as I love a good waif-y look, I am not necessarily waif-like: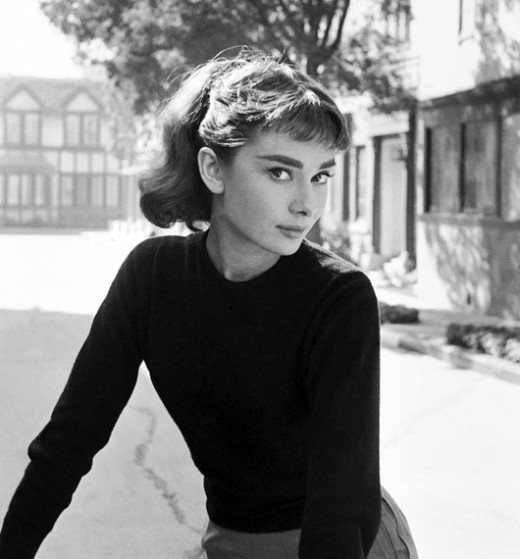 My Beloved Audrey
or
Kate the Great
BTW - a recent dinner table conversation at our house had us unanimously agreeing (a rare thing indeed!) that we are all Kate crazy and we can abide no Kate critique. Take a run at Pippa and Camilla if you must, and by all means, go for Charles, but leave our girl be!
But as always I got off-topic!
I love to copy the style of other bloggers and get outfit ideas, since you know I can be challenged in that area. My best ideas are almost universally someone else's! I guess this is the universal truth about fashion: someone already had the same thought or a variation of it before you ever thought it up. I imagine it is 10,000 BC and I am saying to my husband, while I carve a picture of prehistoric bubble necklaces on our cave walls, "Did you see what Blanche over in the next cave wore when we all went to pick berries yesterday? That deerskin dress is SO last year.."
Some bloggers' outfits are amazing, but my body type is so different than theirs. While I draw inspiration from them, I cannot easily copy them so blatantly! Yes, I am speaking to you Dani!!!
In the last three weeks alone, I have stolen twice from the lovely Andrea of the
Tweed and Toile
blog. If you recall, I was recently inspired by her being inspired by Gwyneth Paltrow being inspired by J Crew (you try saying that three times fast!)
here
. This outfit was much complimented, which makes me think the following:
1) hmmm - should I take it as a sign that the outfits that are loved are typically stolen ideas? Um, yes, I should..
2) at least I am stealing from stylish people...
Andrea has lovely style and when I saw this
outfit
, I knew I would have to copy it as it looked so good on her!
So today was the office Christmas party - it is a casual, festive party, during office hours, and involves me making a speech to rally the troops around peace, goodwill to all men and women and well done all despite no money! So I knew it was time to try out Andrea's wonderful outfit:
I know - we are back in the bathroom! I am sorry but it is THE best lighting in the house at 6:30 a.m.!
This is a mixture of old and a little new: Old J Crew navy schoolboy (I get so much wear out of this!) , J crew factory shirt, old Talbots red satin belt, new JC factory skimmers in plaid and Joe Fresh Viv knockoffs! I am wearing lovely new smashbox lipstick in "fig" - which I love and which was a gift from someone very special!
Now I am no skinny minnie like our Miss Andrea, but she always comes up with interesting combinations that can easily be stolen for your own purposes - so thanks, Andrea!
So today's question: Are you a copycat and whose style do you copy?
It is snowing madly out this evening and I am off to take a bubble bath! It is now7 days till Christmas and the JC promos are relentless!!! Soldier on, dear friends - and the rumours that Mickey is trying to get rid of stock before the end of the world are simply that - just rumours.
I still can't figure out why he hasn't called....
Have a lovely, lovely day and remember: there is plenty of room for you in town to set up shop - I have decided we need some museums...
Stay safe out there!