Oh Happy Day!!!!!
I got home late today as work was a bear, put on my jammies (after eating a bowl of cereal for supper - any of the rest of you do that?) and guess what???
I now have 50 followers!!! Well knock me over and say boy howdy! I never thought I would have one follower (well I was pretty sure Dani and Tabitha would follow me as I asked them pathetically to do so...) so imagine my surprise that you all just keep showing up and some other people keep stumbling upon Nigel and I as well!!! So thank you number 49 and 50!! You are most welcome here and I am blowing you kisses! (and you all thought I would become snobby with my success!!! Au contraire - my gratitude and chattering knows no bounds!)
In honour of this momentous occasion, I have decided to offer a random list of things that are making me smile these days and would love to know what you are loving as well!!!
These are in no order, but they are making me happy:
peppermint mocho Kahlua!!!
This is a limited edition item. The label is so pretty!! I think you could drink it whilst wearing this peppermint concoction from Madewell: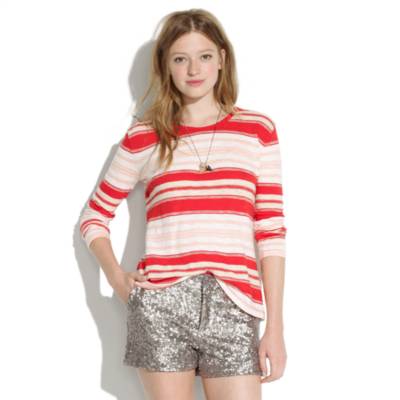 The Madewell Laid-Back Tee and Disco Shorts here
Well you know I had to buy it! No - not the outfit! I know some of you really like my legs, but trust me, that would not be pretty! The Kahlua! I am imagining sipping it by the tree or pouring it over the ice cream I plan to eat in solidarity with the melting ice caps.
For those of you with wrapping genes, can't you imagine wrapping the bottle up and tying candy canes and holly to it? How fun!

Dave Brubeck
Source:

Dave sadly died today, one day shy of his 92nd birthday. But Dave basically lived for 92 wonderful years and he made some of my most favourite music and I gotta be happy about that! He was always smiling when he performed. Sadly, I never got to see Dave perform in real life, but one of my best buddies did a couple of years ago when Dave was 90 and said he was amazing!
If for some reason you are not familiar with Dave, download his seminal CD, Take Five, pour yourself something smooth (I will even open my new Kahlus and share it with you!), and enjoy....
This is one of the CDs I am taking with me to the desert island, so that the husband and I and george and nigel can have some good music! Wouldn't THAT be a dance party!
The Kennedy Center Honors
Oh, I know it won't air until December 26th, but I was tickled pink that David Letterman, Led Zeppelin, Buddy Guy, and Dustin Hoffman and Natalia Makarov were all honoured by President Obama.


David Letterman still cracks me up

I would like to do a poll about how many people necked while slow dancing to "Stairway to Heaven" in junior or senior high school or how many boys only know how to play this on their guitar

Buddy Guy is WAY cool

Natalia Makarova personifies elegance

Dustin Hoffman is one of my favourites. I could still cry thinking of "Kramer versus Kramer" and since I have had so many instances of feeling like Dustin as Tootsie when modelling outfits for you all, I can attest to his bravery.
I will be taping this show on the 26th and absolutely savouring it!
So that is my happiness list for the week!!! Thank you all again for the wonderful advice yesterday about the new outfit! It was so appreciated! You guys are awesome and back the red delicious went. I am more Honey Crisp anyway....
Happy Day and Stay Safe out There!