Happy Saturday!
I missed Friday as I was so busy on Thursday night. My dear son was emcee at a school event, so we went to watch him do his "schtick". He is very witty. The only downside was that it was a "Battle of the Bands" event and I can say with certainty that speed metal is NOT my thing....
Also, many thanks on your sleeping ideas! I am going to begin to put some of them in action this coming week!
So Thursday night my JC Box arrived from the big sale of a couple of weeks ago,
One of the things was supposed to be a Christmas gift for me from my husband: Collection Nora calf hair ballet flats.

These were lovely but....
The calfskin is soft and feels luxe.
The colours are lovely and true and they are the right length, but...
They fit very wide on the foot!! Both shoes did this. If I sized down, they would be too short. I tried them with tights to see it made any difference, but it did not. Given how expensive these are, this is not worth settling. I have never found J Crew's ballet flats to fit wide before, so I am quite disappointed, since as you know, I was hoping to wear these with my Kate Spade zebra clutch. But que sera sera, back they go....
And they will not travel alone! Also in the box was the collection satin pencil skirt. Though this is polyester, I really loved the colour and the sheen. When it went on sale and then a % off that, I decided that it would be a reasonable price to pay for a pretty little party skirt.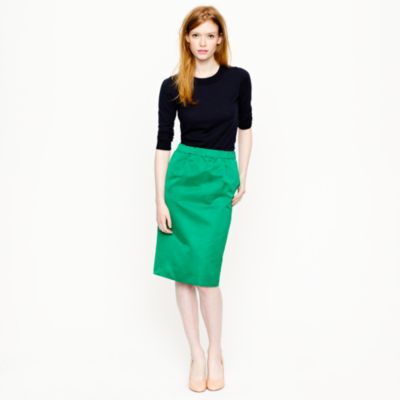 get yours on sale here
There were problems immediately out of the bag. For one thing, the zipper was a bugger to get all the way to the top and this was even when it was off the body. Poor construction drives me mad and I knew this would be an ongoing frustration to me:
The colour is indeed lovely - it is a heavy satin and feels very taffet-y.
There are pockets on the side, but to be honest, that just seems to add bulk to the sides of your body....
And after wearing the skirt for only 5 minutes, it was already very wrinkled:
And the sad pictures on the body:
I find that it didn't fit as well as my other JC pencil skirts and seemed to fit more like an a-line, although these pictures don't really show that - it is very wide on the sides and not good for my body type.
So back it goes this morning!
I have had one successful shopping experience. Two weeks ago, I decided I could use another dressy black blazer, as I did not want to wear the same blazer two days in a room around my dad's funeral. I stopped into one of our local shops and found this lovely from Canadian designer Robert Kitchen:
It is a lovely textured blazer - the leopard print is raised and the material feels very luxe. The collar is exaggerated and very chic. The buttons are a lovely silver.
I really like this blazer and it is a unique piece that fits very well and is very flattering.
Today we are off to the long-awaited 50th birthday party for Barry. We will be dining in a converted rail car up river. The chef is apparently fantastic and it should be very intimate, as there are 6 couples going and the restaurant only seats 12 or 14 people. I can't wait and will take some pictures for you!
BTW, you may recall my little incident with the phantom blouse on the JC site earlier in the week. Well it showed up again and i have ordered it, since as you recall, I have been looking for a dressy blouse in ivory or white.

Collection Silk Georgette blouse - gets yours here
I am hopeful and not hopeful, if you know what I mean, given my recent JC experiences. I have truly sent back more than I have kept recently....
I hope you have a fabulous Saturday!!!! Stay Safe out there!