Having made it this far, I am now ready to make "the list" - what I am missing in my wardrobe that is
a) either an obvious gap or
b) would take my wardrobe to the next level as per my style vision
Making the list was was not so easy!!!!!
What I had to guard against:
Looking cute.
Don't laugh! When you are a tiny, happy woman with more whimsical tastes, you run the constant danger of looking cute! I no longer want to look cute. I want to look elegant. This will require constant ongoing editing......I also have to remember that I am short - Fred reminded me of this today. Sometimes, I forget, because I have long legs compared to my height. If I lost 25 pounds and was 20 years younger and they created a new category, I could be a petite super model!
Loving shopping and shopping too much.
I realize that I shop way too much. I spend too much money. I get caught in the excitement of
SALES and NEW RELEASES!
I have a great job and am nowhere near the poor house, but I need to dial it down, if for no other reason to TRULY enjoy the clothes that I have!
So with these two issues firmly in my mind, I am ready to keep going....
According to Fabulous Florida Mommy,
Step 4
: Make a 'Fall Shopping List' She says:
This is going to be the list that has all the items you need to complete your outfits from Step 3, as well as any other items you may need, or even simply just want. For example, I like to write down everything I need/want to add to my wardrobe, and then pare it down as the season moves on and more merchandise is introduced by retailers. (As you will see in Step 5, I do put the most needed/wanted at the top of the list to get them crossed off first, then move on down the line as my budget permits.)
In
Frock Philosophy
, Dani recommends that we identify our daily uniform.
My daily uniform has to be for the office and would include suits, lovely skirts, very nice sweaters, pumps or boots and nice accessories. The underpinnings - blouses or very nice quality tshirts - must go with it all, but ideally can stand on their own merit and be used again for dinner parties or the weekend.
For weekends, my daily uniform consists of more casual skirts and tops, jeans and pairing some of my lovely shirts or sweaters (as well as the odd sequin top!) with a saucy capri (pompon capri - I love you!) or bright trouser.
Dani also has some great suggestions for dressing for your decade:
Why not approach a new decade in celebration, with a wardrobe overhaul? Perhaps you want to minimize what you own as you near 50, or maybe you want to finally indulge your weakness for pretty shoes.
She also cautions us that once we have our basics in place, to get off the cycle of buying the "new" constantly:
If left to my own devices I could spend each season culling the old and bringing in the new, all new, all fresh pieces for my wardrobe. Resist the urge. Part of the satisfaction in building something is to create a solid base for your life and your finances. You've solved your "what to wear" problem and the pieces you have chosen should last many years. Allow yourself to drop out of the cycle of retail.
And once we have our basics, she suggests we choose 3 pieces for each season. I am almost done with respect to basics (But loving clothes like I do, and knowing my personality, I am thinking
5
items!)
Soo...what do I think I am missing?
1. A spectacular white blouse for dressy events and even for the office. I have two really nice white button down blouses that are in perfect shape, but I need a
truly beautiful
white blouse:
I see a few options:
The Brooks Brothers Luxury Fitted Pique Dress Shirt - $148 US, for sale here.
The Brooks Brothers Non-Iron fitted stretch dress shirt - $98 US, for sale here
The Brooklyn Blouse by Judith and Charles - see it on their website here
I was also looking at the J Crew Thomas Mason boy blouse - anyone see these IRL?
2. Another very dressy blouse that I can wear to work with skirts or suits, but also pair with jeans, dressy capris or some of my party frocks:
Two items in consideration at this point:


collection silk crepe tshirt:



3. Another fall/winter dress coat. The red Cinzia Rocca I described in yesterday's post is divine. I love, love, love it. I had another Tahari coat, but it was past its "best before" and was released to the universe. I think I need two coats in order to switch it up from time to time and the red coat hits me mid thigh - a longer dress coat might be nice...
Options I am considering:
The icon trench in wool-cashmere in navy: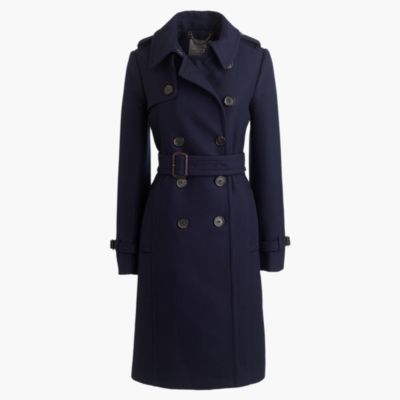 or something very colourful:
The pink coat above, which is apparently an alpaca-nylon blend and in the $600 CDN ballpark (gulp!). see where it hits the model? At 5'2", that would hit me below the knees for sure!
My dilemma - is having a red coat and a pink coat too much???? Navy would be elegant. The pink would be special...
I am also contemplating a new pea coat since as you know I gave away my red one..
in the running:
The Majesty peacoat: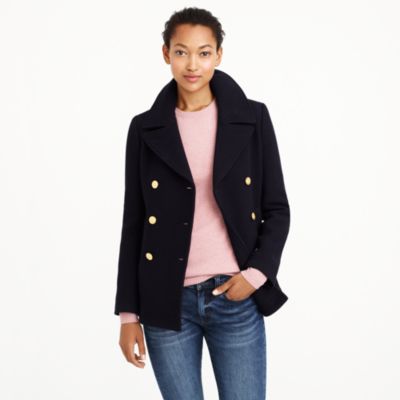 for sale
here
.
or the LL Bean Peacoat, which is significantly cheaper and for sale
here
: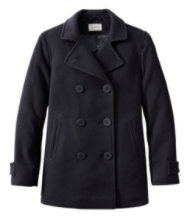 Any experience with either of these?
3. Day dress for work that can go into the evening
Sometimes, I just don't want to wear a suit. Sometimes I need a day dress to wear to weekend events that are not overly formal....
I originally contemplated the Jule Dress in the retro jade, which is so pretty. It may be my #2 dress later in the season if it goes on sale. But it wasn't quite what I was looking for...
I actually found my fall/into winter dress today - it is an amazing Judith and Charles black shift with an amazing hem that has that rich blue that is in my fall/winter colour story. The size 6 fit like it was meant to and I so I bought it. I will take a picture of it and post this weekend. I LOVE it and it is elegant! I believe I can wear it as a little black dress, make it more formal with a black crepe wool blazer, casual it up with my little byzantine cardigan. I am very excited and worth every penny!
4. Party Frock - Long Sleeve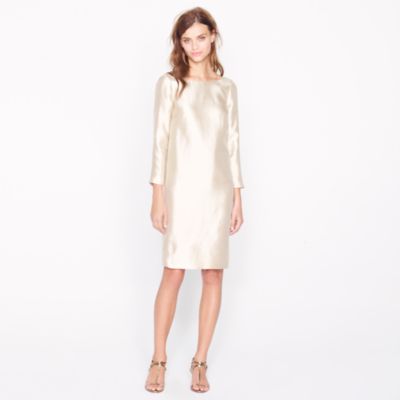 organza sheath dress. buy it
here
. I think this is beautiful and lovely. I love the champagne colour, but the blue is also lovely!
I am also contemplating the suggestion of a lovely party wrap, and will keep my eye out for one.
5. A colourful shoe and bag
I tried on the shoe below in poppy, but my heart was with the dusty jade and I think it would my accent shoe for the fall - so elegant! All of my winter shoes are black or brown or navy. For someone who loves colour, I could use some on my feet!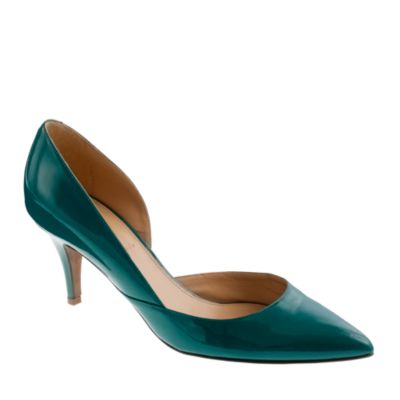 Valentina pumps, dusty jade. Buy it
here
.
However, it is prohibitive, price-wise - $278 CDN and I have to agree with StrayCat, for the quality, I will wait for a good sale. In the interim, I picked these up at the mall today and they are so comfortable and will be that fun pop of colour for the fall at a significantly lower price!
You can gets yours
here
.
Likewise, I love the brompton mini-hobo in rainforest green: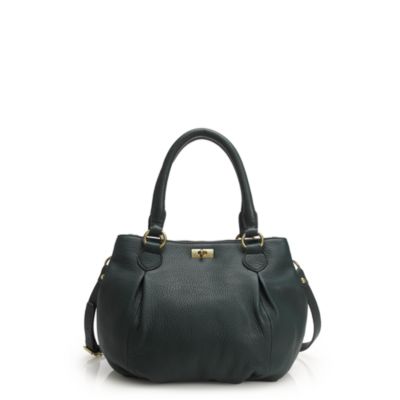 I am not 100% sold on this and may try and find a cheaper version. I doubt this will go on sale soon...
6. Dressy Boots. You saw the riding boots. However, I also need a pair of lovely dressy leather boots. I threw out my old dressy boots I would wear in the office - they were worn out.
perhaps something similar to this?
7. Other - this is my junk drawer category - room for one or two dressy skirts or blazers as they get released over the fall/winter, a new winter sweater, a dressy holiday blouse, etc.
Okay, am ready to go on to the last step: Priortize. FFM says:
Step 5: Prioritize. Now that your 'Fall Shopping List' has been made, the next step is to PRIORITIZE it! As lovely as it would be to purchase everything on the list, for most of us this just isn't realistic, and that is why it is so important to prioritize. Not only does this help to keep you focused on the items you really need/want, but it will also help to keep your budget in check (more to come on that later) as the season actually arrives.
I am pretty sure she was talking to ME here! I have never met her in person, but I am pretty sure I can hear her say: "WMM!!!!! NO! It can't ALL be priority #1!!!" And you can hear my whiny response... "Can't it all be #1?"
But it can't be! This was as hard a part of the exercise as the other steps, perhaps harder, as this is where the rubber hit the road!
It is like wrestling with your worse, more gluttonous, self. It took me several days to do this in an honest and thoughtful way!
Cue trumpets:
and Dancing bears:
This, dear and patient readers, is my fall/winter shopping list, priortized:
A dressy white button down blouse - LOOKING!
Another, non-white, dressy blouse - LOOKING!
A Day Dress - DONE!
An extra dress coat - LOOKING!
A navy pea coat - LOOKING!
Black Dressy Boots - LOOKING!
Coloured shoe and bag (must wait for a sale of some sort as these are fun but not a necessity!)
Dressy dress or party coat/wrap (same as #7 - I can survive the winter without this but if a lovely one goes on promo it will be mine!)
My version of the junk drawer - I am allowing myself one item per month, no more, but not until I have acquired what is on the list above. Must fit in colour story. I know myself and this will actually serve as a nice pressure valve! In some months, this could simply be a tshirt or chinos. If I am really good, there will be some months with NO purchases!
So there you go! 4 days to make a fall/winter shopping list! All items are lovely and thought out and moving me towards my goal of dressing elegantly in my 50s!
I skipped ahead to #7 when I saw the suede blue shoes! BAD WMM!! but they were a great price, so I am rationalizing them in my head!!
Thanks for taking this journey with me and an especially loud shout-out to Miss Fabulous Florida Mommy and Miss Dani BP - I OWE YOU!!!!!!!!!!!!!!!!!!! You are real inspirations to us all!!! Much love!
WMM
PS - I promise we will skip all steps in spring and go right to the list! I know this was probably a bit tedious for you all, but was really great for me to actually live the experience of methodically going through the steps!!