The picture of the dancing bears in yesterday's post made me think of the circus.
When I was a kid, we did a pilgrimage each year to Boston to see the Ringling Brothers Barnum and Bailey Circus.
It was so magical - we would go to the old Boston Gardens, eat cotton candy and popcorn till we were staggeringly full, and be mesmerized by the acts!
One of the greatest thrills of my life was seeing the great Gunther Gebel Williams with his tigers.
Of course, times change and circus acts with animals are not particularly popular with the public now for many reasons, but at the time, for me, the whole thing was amazing!
So when I noticed this book at the local bookshop last fall, I was immediately intrigued: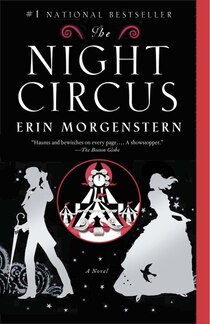 About The Night Circus
The circus arrives without warning. It is simply there, when yesterday it was not.
The towering tents are striped in white and black, no golds and crimsons to be seen. A black sign painted in white letters hangs upon the gates.
"Opens at Nightfall. Closes at Dawn."
The Author, Erin Morgentern, takes her readers on an amazing adventure of magic and intrigue and love set against the backdrop of Victorian England and the mysterious night circus! It is extremely well written and reminded me a bit of another book I really love, Jonathan Strange and Mr. Norris. I began this book one evening at around 7 pm and stayed up till 2 am to get through it all as I was completely sucked in to the amazing world that she creates!
The author has a great website, which you can check out
here
.
If you read this and like it, let me know! It was really wonderful and is out in paperback as well now!
If you have not read this book and are looking for a really fun and immersing read this summer, this is the book for you!