This is a topic that I think will be ongoing for me, hence the subtitle "Beginning a Dialogue"
I have been thinking a LOT about aging, style and appropriateness this summer as I begin the overhaul my wardrobe.
What is appropriate when you are turning 50?
What are the rules?
Are
there rules now? How do you know if you are crossing a line and about to become a creature of ridicule? How do you know if you are becoming so staid and dull that people are relegating you to the category of "tasteful, but not interesting"?
Helen Gurley Brown died this week. For many of us of a certain age, Helen was either a cheeky heroine, exhorting women to pursue career, family and sex with gusto, or a skinny woman who defined herself solely as to whether or not she was still sexy.
She favoured bright colours and mini skirts well into her 80s:
Was she appropriate for her age? This is a trick question, I think, since Helen would NOT have wanted to be appropriate anyway, but was she, from a style perspective? Or did she slide into Iris Apnel territory, so over-the-top that she became stylish in the end?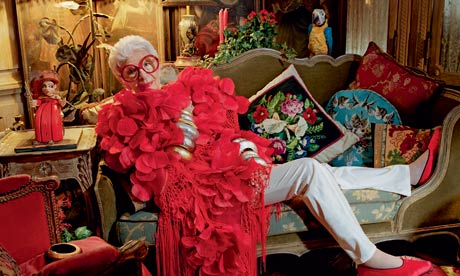 Folks, I admire Iris, but I do not want to be her. I want to be more like Tabitha's mother when I get to my 80s, who always looks so lovely in the pictures that Tabitha posts over at the amazing blog
Bourbon and Pearls
.
Okay, I have started this discussion at the FAR end of the bell curve, those outlier years at the end of one's life. However, I do so for a reason: I think the way you start to dress in your 50s likely sets the stage for the last 30 or 40 years of your life. How you choose to present yourself as a maturing woman simply gets more and more magnified, until you end up as Iris or Helen or my gal, Lauren Hutton, who will be 70 next year:
You all know that I love a lot of "more". But as I am about to move into my 50s, I am more and more covinced that I need to make everything simpler: my style, my life, my perspective.
Simple clothes, well constructed. Beautiful fabrics, well draped.
I cannot do Forever 21. My day of trendy clothing is coming to an end, I think.
I was struck by this last night when I was reading the sneak peeks of tomorrow's J Crew rollouts over at Rynetta's wonderful blog
jcrewismyfavstore
. The new J Crew french hen sweaters are very fun. But I am sure they are too young for me.
But am I right? How do you know for sure? My gut tells me that the pink sweater to the right is lovely and fun and will make my style and skin pop. But if I wear a french hen on my chest won't folks be thinking "why is that 49 year old woman wearing a french hen on her chest?"
Would Lauren Hutton wear a french hen on her chest? I have googled and I can find no evidence of Lauren wearing critters on her chest in the last 20 years.
I think in your 20s, 30s and early 40s you are able to get away with a lot, style-wise. I think you can be cute and fun with your clothes.
But I think that as you age, you need to dial that back. Your clothes need to step back and let "the you-ness" of you shine. The you that has wrinkles and sagging body parts yes, but even better: the you that has experienced a lot and is a lot more confident and feels sexier than she did when she was 20.
When I was a kid, a 50 year old woman wore a polyester house dress, support hose and started her day in curlers whilst frying eggs and bacon for her family in the morning. In my wedding pictures, my mother and mother-in-law both had short grey hair bordering on curly perms. They were 51 and 48 years old respectively! I think that woman is gone.
She is replaced by a woman who will wear jeans until the day she dies, who wants to remain in style. She has read the articles that tell her to hang up the mini skirts and the bright makeup. But she is unsure of some things related to style because the rules are changing so quickly and also because most of the rules are being thrown out. Remember when there was only ONE skirt length in any given season? No white before the May long weekend or after Labour Day? Now we are expected to make our own rules, but we are judged harshly if we fail (hence the dawn of the "What not to Wear" type program). My mother did not have to worry about such things - all women wore the "uniform", more or less, and some just wore more expensive versions of the uniform. But now we make our own uniforms!
I know I need some help along the way - this blog is my dialogue about lots of things in my life that interest me - fashion and style is definitely one of those things.
Aging gracefully and stylishly. What do YOU think?