Okay - as I mentioned last night, after the initial excitement of the rollout for me (do you see a trend? I am a sucker for some good hoopla!), I revisited my "list" and what I really wanted for the fall.
You will recall the list (God - I am reading
Les Miserables
and am starting to think and talk like Victor Hugo!):
A dressy white button down blouse - LOOKING!
Another, non-white, dressy blouse - LOOKING!
A Day Dress - DONE!
An extra dress coat - LOOKING!
A navy pea coat - LOOKING!
Black Dressy Boots - LOOKING!
Coloured shoe and bag (must wait for a sale of some sort as these are fun but not a necessity!)
Dressy dress or party coat/wrap (same as #7 - I can survive the winter without this but if a lovely one goes on promo it will be mine!)
My version of the junk drawer - I am allowing myself one item per month, no more, but not until I have acquired what is on the list above. Must fit in colour story. I know myself and this will actually serve as a nice pressure valve! In some months, this could simply be a tshirt or chinos. If I am really good, there will be some months with NO purchases!
As faithful readers (okay - maybe some of you are not faithful as much as curious, respectful and just wondering what I am going to blather on about next...) you know that I already picked up a day dress. If you missed this lovely tale, feel free to circle back and take a gander
here
. I hope to get another nice dress later this fall and winter during one of the big sales, but I am content with this.
I have yet to find the #1 item on my list - the fancy white blouse - I plan to look in France, but I suspect that I will not find this elusive item till October, when the fancier party blouses are released in advance of the holidays.
Which left #2 - another, dressy, non-white blouse. I looked at many items all over the web, but have settled on a blouse, which if it works, will work well with the rosy pink/burgundy colour story and my blue colour story and look equally elegant with jeans.
The Collection scoopneck top in silk scarf foulard: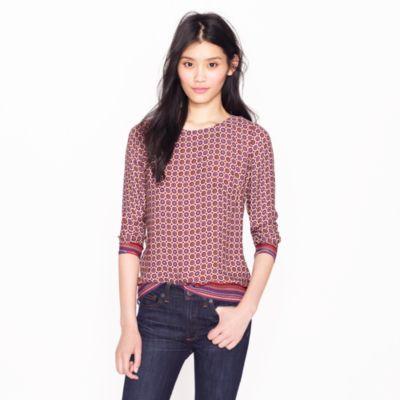 It is described thusly:
"Pulled from the storied archives of Italy's Ratti print house, this intricate foulard print was designed back in the '50s by Mr. Ratti himself as part of his original scarf collection. In a sleek scoopneck silhouette, it's absolutely effortless."
Well, I am not really familiar with Mr. Ratti, but I do love a good story. And as for its effortlessness, well, I have been all through the site twice and that felt anything BUT effortless..
With my 20% coupon and my $25 reward card, this will come in at slightly more than $200 CDN, which I do not consider terrible if this is a truly lovely blouse (which only I, and the purolator man who delivers the package while I am in France, will be the judge of). If it doesn't work, well, no harm, no foul...
I am still searching for boots - none of the JCrew quite fit the bill. and frankly, I have very thin legs and feel the need to try the boots on in person!
I am also waiting for some reviews of this year's majesty peacoats and Dani's review of the wool icon trench, so those will be september orders for me, depending...
In the interim, I going back to the shoe I so loved in Boston and which will look amazing with my new minnies in boulevard green and my green accent colour story:
The Valentinas in dusty jade. I love these! And with the 20% off and knowing that they fit already (if you recall I tried on the poppy version of these!) I consider them money well spent! and they are on the list! If their brompton bag hits a sale, that may come home as well...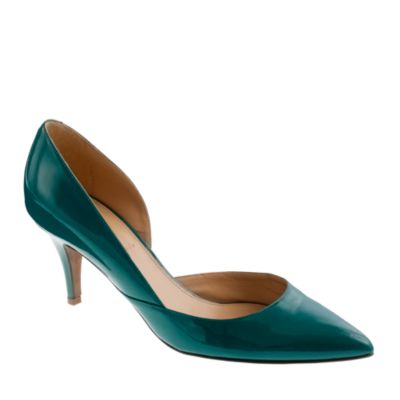 And that is it! Thank GOD for the list.....It is keeping me very focused.....