Stocking stuffing is serious business to me. I learned at the knees of my mother, who did not believe in a sensible stocking...
No, she (and I!) was firmly in the camp that believes that shampoo is not what one wants to see on Christmas morning.
I do recognize that my desire for the fun and frivolous and quirky puts me in the minority camp, though I read with interest last night that the British Royal Family delight in giving each other funny or odd gifts and I have become increasingly certain that my daughter is supposed to marry Harry and that I am supposed to become part of "THE FIRM". I did meet Charles once and had a (very) brief conversation with him, and I can imagine him still pining away for me to be his in-law all these years later...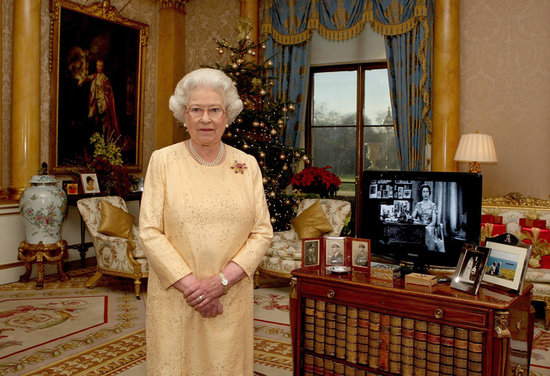 you can't see, but it's me on the screen back there...
You can read all about my future Christmases
here
.
In the meantime, I will continue to get ready, and for me that involves a good stocking. What do I include in my stockings? Glad you asked!
candy, preferably chocolate and preferably filled with liqueurs
A Terry's chocolate orange (oh wait, this isn't all about me, is it?)
British Magazines! Oh how I love them! France magazine is lovely as well!
Toys, trinkets, funny bits and bobs
One thing that has been in all of our stockings for the last few years are the cheeky finger puppets sold at our local toy/art store by the
Unemployed Philosopher's Guild
, whose motto is "The unexamined gift is not worth giving", which I wholeheartedly support!
Below you can see some of the finger puppets, which are also conveniently magnetized, on our laundry room fridge:
Hail, Hail, the gang's all here: Nelson Mandela, Dorothy Parker, Shakespeare, Jane Austen, Ernest Hemingway, Herman Melville, Leif Ericsson, Abraham Lincoln, Geronimo, Obama (twice - we were excited Christmas 08!) and Pavlov's dog. I often wonder what kinds of discussions/arguments/petty jealousies emerge when we are all tucked safely into our beds. Does Obama go hang with Mandela? I am sure that Dorothy and Jane are side by side with caustic asides for Leif, who doesn't know any better, and Hemingway is constantly beating his chest and hitting on them. Meanwhile, Lincoln and Geronimo are having deep conversations with Melville and Shakespeare cannot decide whether it ought to be a comedy or a tragedy and depending on the night in question it easily slides from one to the other.... And all Pavlov's dog wants is supper and there is a constant pool of water in front of the fridge...
Other goodies I would buy in a heartbeat from this site:
The Ministry of Silly Walks watch.... God I want this... I am putting this on the 2014 list right now!
However, if you are feeling particularly depressed these days, things just aren't going your way, I recommend the Sisyphus watch instead:
How about a Pink Freud tshirt? I SOOOO see Tabs rocking this one out from her 70s and 80s days in London, Baby!
If you are a 60s baby like me, you are going to want to ask Santa for the Shot Into Space shot glass set, commemorating the 6 animal pioneers who did the heavy lifting for the astronauts who came later..
If it seems tasteless, you just need to come cuddle up with me on the couch...
Sometimes one does need to be practical, and what better to keep track of the pills that the doctor is giving you for your - ahem - ailments than your own Pandora Pillbox?
I've always liked Paper dolls and who wouldn't want to dress your own Freud?
You just KNOW that my Freud would always be in the bustier with a Mohawk..
How about a Captain John Locke Picard tshirt?
And is the Immanuel Kant finger puppet is waiting for our own mop philosopher to snap it up?
or perhaps she'd want the boxed set?
Oh there is something wickedly funny for every taste!
Who doesn't want a Harry Houdini mug where Harry disappears?
And since we are all likely to get slippers from old Aunt Mabel, why couldn't they be Freudian slippers?
I would be happy to see a Charles Dickens or Virginia Woolf finger puppet poking out of the top of my stocking...
So this weekend, when you are taking your last look around, don't be shy about dropping that quirky thing into your loved one's stocking, that thing that's likely to make them laugh out loud and remember that Christmas is not just for children, it's for cheeky bastards as well.....
Merry Christmas Stocking!
And in honour of this, let's make a cocktail:
Why not put some baileys, some Kahlua and some peppermint schnapps into the stocking and then whip up a batch of
Christmas Cookies!
Recipe
1 ounce peppermint schnapps
1 ounce Kahlua
1 ounce Bailey's
Combine the ingredients in a
shaker
with ice. Shake thoroughly, then strain the ingredients into a chilled
martini glass
.
num, num. num..
How about you - are your stockings all ready to be stuffed? Have a happy Friday and stay safe out there!
Also - the
blog giveaway
of allegedly fabulous prizes is still on, and if you want details and want to enter, by all means click
here
!