The
conceit of this 1946 film is simple (and has been copied many times since):
Would the world really be better if you'd never been born?
How many of us have melodramatically opined that same sentiment in our lives?
Director Frank Capra took a small short story,
The Greatest Gift
, and crafted it into a masterpiece of angst and ultimately, inspiration. Jimmy Stewart didn't win his Oscar for the role of George Bailey, he won it for
The Philadelphia Story
, but this is acting: the upstanding fellow who always does the right thing and yet is so bitter about doing so gets under our skin. This to me is the full-meal-deal Christmas movie - no saccharine here and if you think the ending is schmaltzy, well it's our just desserts from sticking it out with this man who is constantly seething under the weight of his obligations and his belief that every opportunity has passed him by.
The choice of Jimmy Stewart is inspired. In 1946 he was freshly back from the war, and I have often suspected that his war time experiences infused the part of George Bailey in ways that might not have been possible before the war. The rest of the supporting cast is pitch-perfect: Donna Reed, Thomas Mitchell, Lionel Barrymore, Beulah Bondi, Henry Travers, Gloria Grahame. If there was a Screen Actors Guild Award for best ensemble in 1946, this cast would have won it.
After the overly sweet confections we've been subjected to for the whole month of December, this is the movie to sit down to watch if you want to remind yourself that a) the little things matter and b) good story and acting matter.
Everyone in our household loves the film. Barry and my son have been known to act out the line between Peter and Harry Bailey on many evenings when dear son is heading out to socialize:
"No gin tonight..."
"Aww Pop!"
"No Boys - not one drop!"
So many lessons...
Choosing to the right thing is not always easy and it often pisses you off..
George can't help himself; he is always going to do the right thing. And usually, that right thing is at the expense of his own happiness. So many stories and movies depict characters happily doing the right thing, happily sacrificing their dreams;
It's a Wonderful Life
shows us the other side of that coin - the one where we do the right thing because that's how we were raised, that's our innate character, but we don't have to like it....
I'm shakin' the dust of this crummy little town off my feet and I'm gonna see the world. Italy, Greece, the Parthenon, the Colosseum. Then, I'm comin' back here to go to college and see what they know. And then I'm gonna build things. I'm gonna build airfields, I'm gonna build skyscrapers a hundred stories high, I'm gonna build bridges a mile long...
But there are other rewards, Donna Reed for example...
When George is wooing Mary, he asks her what she wants and offers to lasso the moon for her. Later, this becomes a point of pain for George, who feels he hasn't lassoed anything but a rickety old house, a business that struggles to make ends meet. He's a failure compared to his war hero brother Harry or his rich friend Sam Wainwright (HEEHAW!). What he fails to understand, until it is all taken away, is that he has already lassoed the moon, he just didn't know it...
There are Mr. Potters everywhere
There is no grand comeuppance for Mr. Potter at the end of the film. He will continue on his merry way, trying to spin webs and capture others' dreams. But he is a weaker man and if he is technically correct that George is worth "more dead than alive", his inability to understand what worth really is, and that not everything in life can be commoditized, leaves him marginalized and alone. I always tell my kids that it is awful to have people be jerks to us but the worse thing is to
be
the jerk. We can walk away from them,
they
carry their pain with them wherever they go...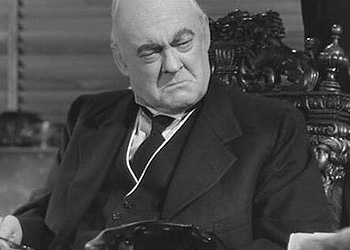 How many lives DO you touch?
It isn't until Clarence grants George's wish of never being born that George realizes the impact that he has had on others. I think many of us are guilty from time to time of thinking that our lives are small or dull compared with the exciting lives we see being led by others in the blog world or on Facebook. And yet we neglect to recognize or underestimate the impact that we have on those whose lives we touch now or touched in the past.
I was reminded of that twice this week. The first time was when our own beloved Tabitha re-entered the Kingdom of Blog, clearly shocked by how sad her early retirement had made her loyal followers. She may profess to lead a quiet life, but it's a quiet life I want to hear about! And it is a pretty interesting quiet life...
The second time was an email I got this week out of the blue by a former staffer who wanted me to know what a difference I had made in her career. To say I was gobsmacked and touched would be an understatement. We touch more lives than we think we do and each word out of our mouth, each stroke of the pen, each action we undertake has many ripples in the grand pond around which we paddle. George Bailey shows UP from the time he is a young boy, and that makes all the difference in the lives of those around him.
Money is not everything, Character is
We forget that sometimes, surrounded as we are by media and others who tell us that having this thing or that thing will ascribe us with status. I forget that from time to time; I think that if I had this purse, or that coat or a bigger house or whatever I would have it all. Things are the flotsam and jetsam of our lives; they come and go and in the end, we cannot take them with us. The kindness and love people have shown me in my life are more real than any purchase I could make; when we think with fondness of special Christmas gifts we have received in our lives, what we are most often thinking of is the love of the parent or friend or family member who took the time to find that thing which makes our heart sing. The email I got this week is now forever embedded in my DNA, like other kindnesses and kind words I have received, I will carry it forward with me for the rest of my life and it will shape me and my actions in ways that the finest sweater or purse could never.
George forgets what true wealth is until in an hour of need it shows up, un-asked for by him, at his door. His brother Harry toasts him as the "richest man in Bedford Falls" and Clarence inscribes Tom Sawyer with some of the truest words ever:
I am most convinced of a higher power, a higher
something
, when I see the kindness and goodness of people stepping up to help in the hour of need, whether a small need or a disaster. I see it over and over again and it always humbles me. Thanks to the gift her receives from Clarence, George sees this before it is too late, before he has wasted his life in regrets and what-ifs. For it is in the mundane where the beauty is: the breath of the person in bed next to you, the smile of your mother, the laughter of your children or of a friend. This movie reminds us that these are not to be squandered, and that ultimately, it is the journey that matters.
If you haven't seen this film, take a gander. If you have watched in the past and dismissed it, take a more critical look. In 1998, the first year the American Film Institute created their list of the top 100 movies of all time,
It's a Wonderful Life
was number 11. It is higher than that on the Wendy list, and I do well to watch it each Christmas Eve, reminding myself of the quote I love so much by Laura Ingalls Wilder:
These Happy Years are Passing by, These Happy Golden Years.
Yes George, it is a wonderful life...
Have you seen this movie? What lessons have you gleaned from it?
Still not too late to enter the blog giveaway - pop over to last Friday's post and let me know you want in!
Have a great day and stay safe out there...