Next week we begin a round of Christmas movies, but I'd like to talk about my favourite movie today.
In my opinion, it is almost a perfect movie: well acted, well written (every other line is a quote that has become part of the collective zeitgeist of popular culture over the past 70 years.) and well directed, this movie is a little jewel whose shimmer can never tarnish...
What's to love? What's not to love....
1) even tough guys play "the song"
For me, it was Andy Gibb in 1978 and I was in love with a boy who really couldn't grow a moustache. For movie stars like Humphrey Bogart, it is one of the greatest songs of all time, "As Time Goes By"...
Never has any actor so exemplified the wronged lover than the hangdog Rick Blaine. He is a mass of throbbing pain when Ilsa (Ingrid Bergman who is luminous) shows up; this is a guy who's become too cool for school as a result of a broken heart. Friends, this is called nursing a drink and a grudge...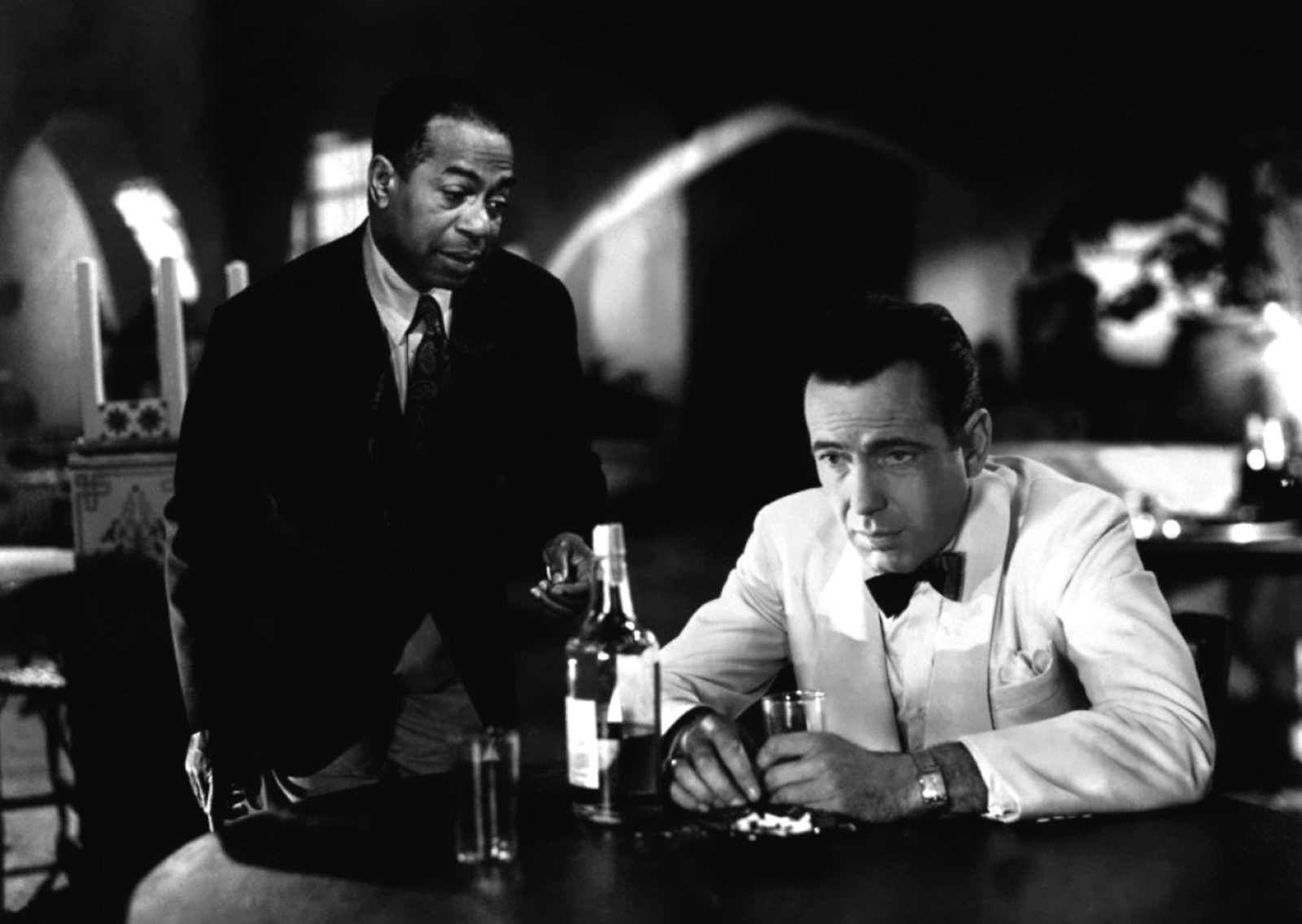 "Rick: You know what I want to hear.
Sam: [lying] No, I don't.
Rick: You played it for her, you can play it for me!
Sam: [lying] Well, I don't think I can remember...
Rick: If she can stand it, I can! Play it!"
2) You say you stick your neck out for nobody, but really, you stick it out for everybody
In fact, our hero turns out to be the biggest bleeding heart ever to appear in the movies, despite his protestations otherwise.
Captain Renault (the sublime Claude Rains) accuses Rick of being a Secret Sentimentalist and he is absolutely right.
By the end of the movie, he has pretty much saved everyone.
3) Everybody Goes to Rick's
It's a bar! A place to gamble! A waiting place to get out of Europe! A place to hide secrets! A place for romantic rendezvous...In short, this was the 'it' place and no wonder, the way our hero slouches so pleasingly against the bar...
Rick's Café Americain
has it all and is as much a character in the movie as any of the people.
4) You have to love a man who remembers what you wore:
Dear God! My husband doesn't remember what I wore this afternoon!
5) When things get tough, a good quip is worth its weight in gold...
Sure, the Nazis are breathing down your neck, but Rick never loses his cool. Take a page from his book and never let them see you sweat...
6) A sense of time is over-rated:
Especially if you are running the town....
And scruples are optional....
7) And if you are going to fall in love, Paris is the place...you can regret it together in the rain later on....
Sure the Nazis are coming. Sure you think your resistance-leader husband is dead. These are desperate times, who can blame you? Later when you meet again, you will both be full of heartbreak and regrets, but you will have the best line ever when you look back at those desperate days.
Rick: We'll always have Paris
And haven't you said that yourself at least a couple of times?
8) In the end, you will always do the right thing...
Let the girl go, thwart the Nazis....Even if it breaks your heart to do it. Because, dammit, you are a good guy....
9) But you will have friends who will turn out to be good guys too, despite their bad boy persona...
Sure, Rick's killed the bad Nazi, but that guy had it coming and it was for the greater good. Turns out that Captain Renault is a sentimentalist at heart, too. He gives the now infamous command "Round up the usual suspects" and Quentin Tarantino's future movie is born...
10) There are other kinds of love, not as good as the love of Ingrid Bergman, but not bad...
Sure she's gone. You've saved the resistance, you've saved the girl, you've got rid of the bad Nazi. And it turns out that the guy you used to just get a kick out of is a kindred spirit, And thus, one of the greatest movie endings of all time:
Louis, this is the beginning of a beautiful friendship
Never has two men walking off into the mist been so beloved (although I would have liked it if that had happened on Brokeback Mountain!)
If you have not seen this movie, I implore you to add it to your Christmas list. This is the greatest movie and funny and sad and inspiring all at once. It never gets old. I leave you with a taste...


Have you seen Casablanca? Do you love it as I do? Have a great day and stay safe out there!