You didn't have to be American to have felt the after-effects of the assassination of President Kennedy.
I was only 10 months old at the time; I do not recall the day it happened of course. But I recall the aftermath. My parents were young and idealistic - for they and their friends, there were many dinner party conversations that revolved around "Where were you when you heard Kennedy was shot?" I never really understood that feeling until September 11th, 2001.
There are greater minds than mine that can explain the resonance that that act of terrible violence had upon America's psyche. The death of hope, the death of dreams, the birth of an unsettled time in American history.
All of these are true, I guess, in their own way. But they are not the truth. The truth is more complex and more personal I think.
There is a certain thing that happens when one dies tragically young. They are forever young and beautiful and in your mind, you are often frozen in that time with them. There are no pictures of an old chubby President Kennedy, just as there are sadly no pictures of an old Bobby Kennedy or an old JFK Jr.
JFK was not a perfect president, nor was he a perfect man; the historians have made that abundantly clear. But there were areas where he acted with great integrity and great honour. There were areas where he fired our imaginations to dream bigger and dream equally. There was a promise of something more and that promise was struck down on that fateful day in Dallas.
Kennedy ended his inaugural speech on January 20th, 1963 with the following words:
In the long history of the world, only a few generations have been granted the role of defending freedom in its hour of maximum danger. I do not shrink from this responsibility—I welcome it. I do not believe that any of us would exchange places with any other people or any other generation. The energy, the faith, the devotion which we bring to this endeavor will light our country and all who serve it—and the glow from that fire can truly light the world.
And so, my fellow Americans: ask not what your country can do for you—ask what you can do for your country.
My fellow citizens of the world: ask not what America will do for you, but what together we can do for the freedom of man.
Finally, whether you are citizens of America or citizens of the world, ask of us here the same high standards of strength and sacrifice which we ask of you. With a good conscience our only sure reward, with history the final judge of our deeds, let us go forth to lead the land we love, asking His blessing and His help, but knowing that here on earth God's work must truly be our own.
The history of JFK (and of Bobby and even of JFK Jr.) is really the history of the great "what if" - what if the shot had not met its intended target? What if?
Much has been made of the defining image of John-John saluting his father's casket going by.
But I am often struck by the funeral cortege itself, the rider-less horse....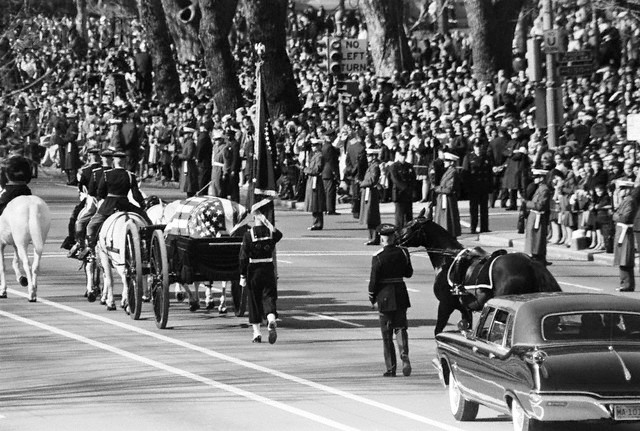 and Bobby and Jackie and Teddy walking behind, followed by other dignitaries.
It touches me because I believe that the American people, and many other people from across the world, walked behind that funeral cortege in spirit on that day as well. And they have been walking behind it ever since.
A Man May Die,
nations may rise and fall,
but an idea lives on
John Fitzgerald Kennedy
UPDATE:
I have just heard that beginning at 1:40 EST, CBS.COM will be livestreaming the 4 days of coverage of Kennedy's assassination and events leading up to and including the funeral in real time, as it appeared on TV during those 4 days 50 years ago.
Those interested can check it out
here.