Happy Monday!
Today we're going to talk about some life lessons I've learned from one of my favourite movies:
You've Got Mail
.
This to me is a quintessentially Autumn movie - despite ending on a fine spring/summer day - for our two characters meet cute during a neighbourhood fall fair.
The movie has been made successfully several times:
The Shop Around the Corner
with Jimmy Stewart and Margaret Sullavan (which I also own and highly recommend):
For Me and My Gal
, with Judy Garland and Van Johnson (not quite as good, but I own this one as well and which is most famous for the final scene, where Miss Liza Minnelli makes her movie debut as - what else - Judy's daughter...):
But of all of them, my heart belongs to
You've Got Mail
. This is a nearly perfect movie in my eyes. The two leads, Tom Hanks and Meg Ryan, are perfectly cast in their roles and they make you laugh out loud and break your heart. The supporting cast led by Greg Kinnear and Parker Posey, are pitch-perfect.
And there is so much to learn from it:
1) Small Can Survive, but only if it really wants to...Sometimes, you need to let go...
The first time I watched this movie, I was ferociously against Fox Books and broken-hearted when our heroine Kathleen closes up shop. Of sure, she starts off putting up a strong offense, but then that peters out. But why does she fail? It is easy to blame the conglomerate, but in subsequent viewings - and trust me when I say
viewings
- I've come to the conclusion that keeping the shop open is more about Kathleen's mother and keeping her memory alive than it is about Kathleen herself. In the end, the shop closing allows her to pursue her dream as a children's book writer, something that she would never have done if the shop had stayed open...
2) You can Make Real Friends Online
Well we all knew that don't we, but in 1998, this is a radical idea. As Kathleen says so astutely in the movie:
The odd thing about this form of communication is that you're more likely to talk about nothing than something. But I just want to say that all this nothing has meant more to me than so many somethings.
Sister - you said a mouthful.
3) On the other hand - there are a lot of creeps....
In anticipation of later episodes of Catfish, Kathleen and her friends wonder about who her mysterious online friend is, as well as the significance of the name he has chosen to use, NYC 152:
Joe Fox:
Mr. 152 Felony
indictments
.
Kathleen Kelly: Mr. 152 insights into my soul.
Joe Fox: Oh yeah. No competing with that
4) a Bookshop is the finest place to hang out in NYC or any other city in the world...
Didn't you want that bookshop to be real? I did! The happiest place in the world for me to hang out in is a bookshop, whether it is a small independent, like the one portrayed in the movie and that exists in the downtown of my city, or a big conglomerate. I have decided that there could be no Christmas for me if there were no books - they are what I love best in the world.
You walk into Kathleen's shop and you just feel cozy and happy. Having Jean Stapleton there doesn't hurt either...
5) There will always be Early and Late Adopters
While Kathleen and Joe are early adopters to online chatting, Kathleen's boyfriend is not, still carting around his typewriter.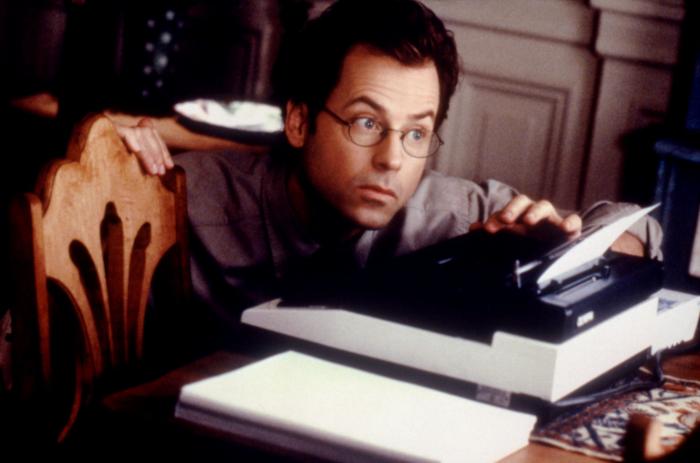 6) That New York City apartments are the best in the world.
Oh you Gotham-ites can cry foul, but in my imagination you all live in brownstones with charming trim and nooks and crannies.
So charming....
7) Family is important
Sure Joe is the product of a broken family and multiple stepmothers. But he's in the family business, obviously loves his father and his grandfather, and loves to spend time with his Aunt and his brother. That's a good man.
8) So is being friends first.
Kathleen and Joe start out liking each other, quickly become enemies and then over time, become good friends again. That's a good way to start a relationship I think*
*except for the whole secret thing - just sayin'
Kathleen Kelly: I hope your mango's ripe.
Joe Fox: I think it is. Hey, you wanna bump into me on say, Saturday around lunch time? Over there?
9) Sometimes you gotta make a course correction...
Kathleen realizes that she's really in love with Joe before she goes to meet the mysterious NYC 152. This causes her a lot of pain and the relief (coupled with confusion) when she finally meets NYC 152 is demonstrable.
Joe Fox: Don't cry, Shopgirl. Don't cry.
Kathleen Kelly: I wanted it to be you. I wanted it to be you so badly
I wonder how many dogs were named Brinkley after this movie came out?
10) Everything in life is better if you play Over The Rainbow
Judy Garland knew this. Rufus Wainwright knows this. I know it and had friends sing it at my dad's funeral. The final scene of the movie ends with that and I choke up every time....
That's what I've learned from
You've Got Mail
- would love to hear your thoughts!
Have a great Monday and Stay Safe Out there!