Ah we move from plaid to sparkle to velvet, the fabric of opulence and richness.
The perfect holiday decorating fabric:
The loveliest fabric for dresses for mothers and daughters:
Trousers can be lovely and I actually like these ones from J Crew that were just released today: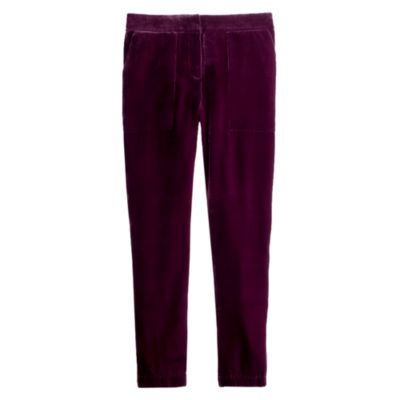 A waistcoat for a man is lovely:
And I love my green velvet Cole Haan Loafers:
Right now, I have almost no velvet in my closet. I thought I had remedied it earlier this fall when I bought the following dress from Brora:
I took a chance and ordered the size that they told me would fit. It was a dismal failure. You cannot wear this dress if you have much of a chest, sadly. It hangs in my closet, bullying me. I should have returned it and missed the first window, so now I am going to write to them to see if they will still take it and give me a credit - if not will sell it. sigh.... If you are a UK size 12 and love this, let me know - yours for a song....
But I am undaunted and I know that there is a velvet dress out there for me somewhere! Likely not in time for Christmas though!
How about you? Do you like to deck your hall with velvet come Christmas?
As always - stay safe out there?