Well not entirely true, but true enough...
Thought it would be fun to have a semi-regular feature where I take a movie I love and what I learned from it.
Today: The Wizard of Oz!

1. Every action has a consequence...
Dorothy almost loses Toto because she doesn't keep him under control; Yes, she is a little girl, but really, if you knew Elvira Gulch at all, you'd know she meant business!
2. A pretty dress can make a handsome woman look truly beautiful
Oh sure, she's pretty. But you see the dress coming and you go, "Wow - who's that?"
A really beautiful dress will do that for you. And fairy wings. I am pretty sure I need fairy wings! Every woman should have one dress that people see you in and go "Oh My God - She's Beautiful!"
3. Sometimes you have to spend a little time with someone before you know if you can be friends.
Dorothy isn't sure about any of her travelling companions in the beginning, but after getting to know them, realizes they are the three best friends a girl can have. Sometimes you meet people in the beginning and you aren't sure about them, only to discover that they are pretty amazing.
4. Leave no Man (or Lion) Behind
They're off to see the wizard, and they make sure they all get there. This is the ultimate dream team - they work together to help each other achieve their goals, even if they're afraid.
5. There are always flying monkeys...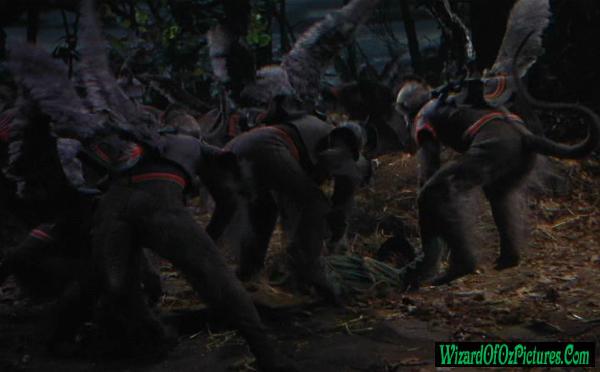 You may wish there weren't, but there are. And they often wear suits. Keep your head down! As David Letterman once so famously said: "Flying monkeys is scary!"
6. Never Be Afraid to stop for a spa day...
You're tired. You're about to go see the Wizard after all, and that old bugger is going to make you go after the Wicked Witch of the West. But take a break. As Billy Crystal once said "It's better to look good than to feel good"!
Destiny and death will just have to wait until you re-group. Don't be afraid to say "I need some me time"...
7. Shoes Make the Outfit
But you already knew that...
8. It's Not Easy Being Green
If a fantastic dress makes you look and feel beautiful, imagine if you had to wear black and had green skin in a world that valued pink...
Oh I know, she was bad. But maybe if she'd had that spa day at the Emerald City, she might have gotten to know the others and cut them a solid...
9. Don't do other people's dirty work
If somebody wants you to do something for them that they are unwilling to do themselves run, don't walk, the other way. Oh sure, our friends were successful and beat the odds, but most of the time, if people want you to do something that they aren't willing to do themselves that should be your sign that they are either a) lazy b) mean c) afraid or d) trying to get you to fail.
and finally...
10. You always have the power
Dorothy only has to click her heels three times to go home. The Scarecrow was always smart, the Tin Man always had a big heart and the Cowardly Lion was always brave.
You can change your circumstances, but most of all - you can change your perspective of the situation. Right now, I am focussing on being brave in my life. If I tell myself I can do it often enough, I usually find enough gumption to do it.
As the song goes,
"And the dreams that you dare to dream really can come true."
Hope you enjoyed this! Next week: Gone With The Wind! Have a great Monday and Stay Safe out there!