Happy Friday! We are now well and properly into October, but someone forgot to tell Mother Nature around here. It was 22 C here yesterday! Such a lovely treat for a place that soon enough will be inundated with snow and ice! I will take it for as long as it lasts!
I also finally started to use some of the apples we picked last Sunday - baked both an apple pie and an apple crisp. It wasn't a perfect pie crust - it was one of those bloody pie crusts that did NOT roll smoothly. But I am a good patching artiste, so I made do!
Today's post is inspired by a pair of earrings I got in the mail this past week from J Crew - the flower drop earrings: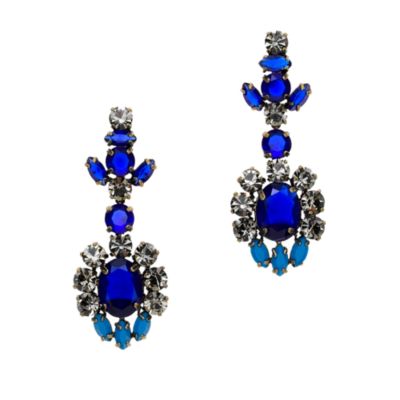 These were originally $90 CDN, then went on sale for $60CDN, then 30% off that and I had a credit, to I think I paid $30 for them, which I was perfectly okay with paying. They arrived in a HUGE J Crew box, which did seem kind of a waste to me.
I was drawn in by the blues, not having earrings with that blue in my costume jewelry collection, and with my red hair they seemed a no-brainer. For the price. I have to emphasize that point, as I think I would NOT have been happy had I paid $90!

Pretty blues!
This picture shows you the length...
They are quite heavy on; I wore them last night and by the end of the evening, my ears were itching a little - a problem that I often have with cheap jewelry. Some of you will be able to give me a good explanation for why that is.
The bling-y costume jewelry that is EVERYWHERE, and so cheaply done, inspired me to dig out and fix some antique pieces, one of which I have had for 30 years that my mother found for me while travelling in New England.
These pieces are at least 60 years old, but maybe one of you can place them better than that? My mother bought me the gold and crystal set at a really nice antique store in either Boston or Burlington and gave them to me one Christmas while I was at university.
I purchased the blue necklace about two years ago at an estate sale. The lone blue earring I have had for 30+ years - I bought it at a vintage shop. It originally had a mate, which was lost in one of the many moves Barry and I had in the 80s. I still wear it sometimes by itself or clipped on a necklace or a sweater!
Both necklaces were not working for me however - they fit more like chokers and I do not have a choker neck. I feel like I barely have a neck at all and it is definitely not made for chokers! I had my ace jewelry repair guy add 6 inches of extenders to each piece and now they nestle nicely just below the throat.
There are no pictures of me wearing these because I woke up late this morning and my hair is a mess, but I will try and take a picture wearing them this weekend - maybe at the same time I prance around in that little blazer I doctored up!
You know, I really need a new camera - hmmm - good Christmas gift for Barry and I to buy each other!
Anyway, the picture above captures the glittery-ness of these, but the blue necklaces almost seems to have a greenish to it in that picture, but it is definitely blue.
The craftsmanship of these old pieces is exquisite - they do not feel cheap at all - they feel lovely and timeless. I guess the whole point of this post for me is this - if you are looking at all of the cheap bling that is out there in the stores right now (similar to my J Crew piece above) - why not consider going to a local antique shop or show or online and buy good quality? I think I paid $100 for the blue necklace and it is so much prettier IRL than the J Crew piece. It is a Sherman piece - on the
web
I found the following description:
Gustave Sherman, the famous Canadian jewelry designer, was known for using only the finest Swarovski crystals in his pieces. He also used a rhodium backing on his pieces, which gave them lasting quality. A well cared-for piece of Sherman jewelry can look just as good at age fifty as when it was originally crafted.
The link I shared above has many lovely pieces for sale and I think any would be a lovely addition to your wardrobe - I am definitely bookmarking this site and others for possible purchases when I get caught up on my clothing budget...;-) Sherman opened his business in 1941 and his pieces are now highly covetable.
I mean look at the aurora borealis brooch below for $135CDN:
How divine would that be to wear?????
And I now want to get my mitts on one of the maple leaf brooches below:
So for less than many are paying for pieces on J Crew and other retailer websites, you can buy some really lovely and timeless quality pieces, not simply trendy! I have been wearing my newly fixed pieces a lot lately - depending upon how you wear them, they can be either a bit of fun bling or some seriously classy bling.
Guess Mama McLeod knew what she was about!
In honour of my mother and my newly-wearable pieces, and of the apples that need to be used up downstairs, let's make a Bling-Bling cocktail, shall we?
Bling Bling shaker Cocktail Ingredients
Instructions
Mix all ingredients in a shaker with ice and shake. Pour into sugar rimmed shot glasses and add a piece of fresh apple over the top of the glass.
This will make 6 shots. Drink the shot and then eat the fresh apple
I am
so
going to the Happy Store and making this for watching the episode of Scandal that I taped last night! YES!!! I missed you Olivia Pope!!!
Have a happy Friday and stay safe out there! Barry - I hope you read this post!!!!!!