Hi all,
I don't know where the days are going, but summer is swiftly fleeting here. There is a grand rumour that it is about to be very hot this week and I am not complaining...
Thought you might be interested in our next stop en route home last week after our visit to Campobello Island.
As we headed up route 1 towards Calais, we came upon the sign for
Eastport
. I asked Barry if he'd ever been. He had not and I was sure I'd not been there for at least 30 years, so we turned right and headed out to the ocean.
We could not have been more charmed.
If you'd asked me prior to last Tuesday to describe Eastport, I would have said "fishing village". As of Tuesday, I would say "vibrant artist community". The streets are lined with funky artisan shops, antique shops, little restaurants.
How about that bench to the right?
I don't know about you, but it so wonderful to see a vibrant downtown!
There is a lovely walkway along to the wharf
Every shopkeeper that I chatted with was friendly and interested in why we were in Eastport. My favourite shop was a little candy shop called Sweeties Downeast, which is run by the loveliest woman (and her two terriers) who moved to Eastport from Pennsylvania for the lifestyle.
I admit to buying a bag of popcorn and a bag of rock candy for my kids (they are 19 and 22 so I am sure they were not waiting for rock candy, but I was quite taken with it, because it looked like real polished rocks!)
After that we wandered over the
Tides Institutes and Museum of Art.
Located in an old bank in the heart of downtown Eastport, it is a charming and friendly place.
The view from the window above the sign:
Sadly, they were just in the throes of dismantling a wonderful exhibit by S
hoshanna White.
The images were haunting and would be a wonderful addition to any collection.
Upstairs, the gallery is a warm welcoming space and it is obvious that it is home to a vibrant community of artists and art lovers.
We also stopped into the
Eastport Gallery
, which was also home to some beautiful pieces.
Now that we have discovered Eastport again, we will be back soon. Apparently, early September is Eastport's
Pirate Festival
, when the town swells to 15,000 people.
I don't know who came up with the idea for this festival, but it looks like a rip-roaring good time!
any excuse to wear a puffy shirt, I say!
Where would I stay?
Well the
Kilby House Bed and Breakfast
looks charming:
As does the
Commons Eastport
if you are not a B&B person (put Barry in that category):
nice morning breakfast view
Eastport is about 1/2 an hour from Calais, 10 minutes Lubec and around 1 1/2 hours to Bangor Maine.
About 20 minutes further south from Eastport, you will find Machias Maine.
When I was a kid, at least once every August, my dad would put us all into the car and we would drive the 45 minutes down the coast to go to Helen's Restaurant in Machias.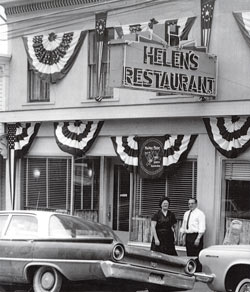 the original location - that looks like the old car parked out front! ;-)
It was, my dad contended, the home of the best blueberry pie in the world. This was a man who knew his blueberry pie, so that's saying something...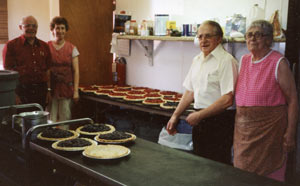 look at the pies! yum...
Helen's has moved, but the
pies
continue:
if you click on pies link above, you will see that the blueberry is all caps, an indication to me that Helen's recipe endures
We didn't get down to Helen's on this trip, we ran out of time, but I see a late September/early October road trip for pie in my future...
After leaving Eastport, we drove 1/2 an hour around Passamaquoddy Bay to St. Andrews and had a mid-afternoon lunch at
Kingsbrae Gardens's cafe
, probably my favourite spot to eat in New Brunswick when it comes to a view.
We settled under our favourite apple tree and ordered some libations and a good meal:
New Brunswick's own Picaroons beer and the end of my sauvignon blanc..
Barry deep in thought after a morning spent with Presidents and artists...
Don't sit under the apple tree with anyone else but me...
It was the perfect end to a leisurely day.
Doing both sides of Passamaquoddy Bay is certainly do-able in a day, especially if you are only an hour away, but I highly recommend making a weekend of it and really enjoying the pace. Driving up both sides of the St. Croix River is a feast for the eyes as well, and not to be missed.
This is the area of my heart. I grew up in the middle of this area - St. Stephen - and I firmly believe there is a little house waiting for me down there in my later years!
And if you are coming, let me know - would love to meet you for a piece of pie...
Have a wonderful Sunday and stay safe out there!