Last week a good pal of mine sent me a copy of a
TED talk
by Nick Hanauer about how the super-rich ought to be careful - the income divide between the rich and the poor is at perhaps its worst, and eventually people's frustration will get so great that it will bubble over. He cites examples that are remarkably similar to France in the few years leading up to 1789.
This talk has apparently been quite controversial and no wonder - much of our definition as to who we are as societies is built upon the concept of capitalism and growth, growth, growth.
I am not anti-capitalism. Although I do admit for a good dollop of socialism especially as it relates to health care.
I do wonder, however, if our current way of living is in fact sustainable and if economic growth as we know it, can possible be sustained. And I am mindful that first world economies are built in many ways on the backs of third world ones.
The internet certainly contributes to that. We are invited to purchase things we might not have even known existed 40 years ago - luxury goods (which the rich would say now - and probably rightfully - are no longer truly luxury) are a click away. The great maw that is the internet must be fed and many have the insatiable appetite to see where the rich and famous live, vacation, whatever.
What made me think of this this morning?
well the blog
Political Style
did a piece this morning on the closet of all closets.
I am not going to question whether or not the individual in questions, whose name I frankly have forgotten, should or should not have a closet that is 3000 square feet.
For all I know, the person is extremely hard-working, charity-driven and wonderful. I am sure they are.
But I admit to discomfort about this "merchandising" of our lives. The gap between these people and myself is the equivalent of the gap between myself and someone working for $2 a day in a factory making many of the things this person and I buy.
It doesn't seem so far-fetched to think of the people who can't pay their bills or are racking up debt to stay in their homes as being as being not unlike those in France who watched the court of Louis and Marie Antoinette and of the very rich with growing frustration.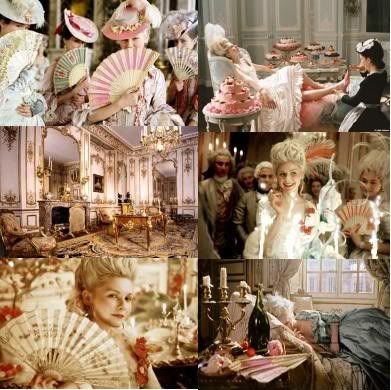 I am reminded of the line in Howard's End "The poor are poor. One is sorry for them, but there it is."
I don't aspire to a 3000 square foot closet. Hell, my house isn't even 3000 square feet. But I can't help but wonder how long this can all go on before it is corrected, though perhaps the next time it is corrected, it won't be by the stock market.
Interesting debate for sure.
Have a great Monday and stay safe out there!
xoxo wendy