Ah the jacket/blazer.
There are some on whom the blazer is a thing of beauty. So "je ne sais quoi", so effortlessly chic.
And then there are the short women with large chests.
These are the women for whom the jacket becomes just another bulky layer, just another way to shout to the world "look at me! all of my weight is up THERE!!!" You can see the arrows pointing at you from every direction.
There are exceptions of course.
A really expensive, well cut jacket of a lightweight material, can hold it all in AND add shape, all while skimming over the girls in the most becoming of ways.
That jacket/blazer, my friends, is like the unicorn, and when you find it you must buy it forthwith and be glad. You can even gloat a bit to your busty pals, feeling their steely gaze of contempt and remorse upon your contained self.
But for me, for most of us, the solution is the sweater jacket/blazer.
A knit version that adds little bulk, skims and supports, makes you feel dressy without feeling like the Michelin Man.
I have a few of these beauties in my closet and I have seen a few more that can go casual or more dressy depending upon what you pair them with.
Fossil has introduced the
Erin Sweater Blazer
, which comes in 3 colours. I am choosing to showcase the Dani BP colour story one: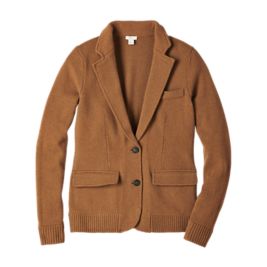 I have no experience with Fossil clothing, so I cannot recommend or not recommend this, but I think it is awfully nice and seems very fall-ish to me.
Banana Republic has a number of sweater jackets in their fall rollout:
Moto Sweater jacket
Textured Moto Jacket
It appears that BR is all over the moto jacket, which I don't mind at all, as I quite like it.
Other options:
How aboout the Brora Biker Jacket:
It does seem as if the whole world has gone Sons of Anarchy, doesn't it?
Talbots has a nice version:
Teacups - I noticed Talbots has a sweater with teacups!






For those whom money is not an object, I think the Balmain version below would be a dandy:
or this Loro Piana cashmere number:
And I would love Smythe's chubby faux fur sweater/jacket. I have seen this in person and it is magnificent!
I am still interested in the BR grey moto jacket, but I can wait for a sale..

For me, in the end, a knit blazer is a wonderful thing. It has only taken me about 20 years to figure that out!

How about you? Any one else a knit jacket/blazer fan?

Hope you have a wonderful day - stay safe out there!

xoxo wendy