Well Happy Saturday! And that means - more odd ramblings about disparate items I am thinking of!
1) Javier Bardem
We watched
Skyfall
again last night. I find Javier Bardem's villain just so perfect and feel badly that he didn't make it to the shortlist for the Oscars!
How did they make this gorgeousness
Into this?
Oh I know - makeup. But he completely disappears into the role and pretty much steals every scene is in, which is a great tribute when you are acting with Judi Dench and Daniel Craig!
2. Sandwich Suppers
When we were talking about books last week, I happened to mention Maud Hart Lovelace's
Betsy-Tacy
series, which is an amazing group of books that start out as children's books and then change as the main characters age, until the books are really young adult/adult fiction, ending in the first years of Betsy's married life. In my opinion, the series is the equal of the Anne of Green Gables books or the Little House books and I cannot recommend them enough, but it is critical that you start at the beginning to get the whole story. I started them with my daughter when she was around 9 or 10 and then she continued with the latter books when she was ready. They have also been re-released by Harper Collins with the original illustrations, which are very lovely.
So anyhow, every Sunday night, Betsy's father, commandeers the kitchen and makes trays of sandwiches for the family and any friends they would like to invite along. This is quite a tradition in the book and I thought of it last night when we made our Chicken Caesar Salad Sandwiches.
We make these sandwiches every 5 or 6 weeks - they are a great favourite of all - everything is prepared in advance and each person makes their own sandwich to their own liking. It is also very nice in the summer when you don't feel like cooking..
My recipe:
1. fry up 8 slices of bacon and let cool
2. Buy a store cooked BBQ chicken and cut all the meat off into bite-sized pieces (oh you could make your own chicken but this is supposed to be easy!)
3. Slice tomatoes - I usually assume that there will be 3 slices per sandwich
4. wash and then tear up a small bowl of romaine lettuce
5. Shave large slices of parmesan cheese
6. prepare your caesar salad dressing of choice - we like a creamy one - but I will leave it to you to determine your recipe of choice! Place it in a nice little pitcher
7. have "stations" with all of the fixings above at strategic places around your kitchen island or counter
8. Cut a baguette cross-wise into 4 pieces. cut each of the 4 pieces in half length wise - butter lightly and then toast quickly in oven.
9. Once you have your toasted baguette - make the sandwich! I usually go in this order: chicken, dressing, bacon, cheese, tomato, lettuce
10. Wash down with drink of choice!
I always feel very much like Mr. Ray when we have these and everyone loves them! But beware - these are messily fun to eat!
D0 you ever eat sandwiches for supper?
3) An Update on Spring Shopping Shenanigans
As you know, I had whittled my core shopping list for spring to three central items:
1) a new, mid-sized purse
2) a new dress
3) new shoes
At the advice of people in the know of these things - GetFreshPress and Lois Joy Johnson (Wardrobe Wakeup Author) - I have decided to give Banana Republic leather purses a try this Spring. My budget this year, while more than reasonable, is much less than last year's due to renos and people in university. So investment bag is just not in the picture for me this year! But I still want a nice one! GF mentioned the BR Melina bag and I went to take a look online and fell in love with the bag below, priced at $240 CDN:
I love that it is neutral and I love the details. But here is the best thing. It went on sale 40% off on Valentine's Day, so with taxes and free shipping it came in at only $164 CDN! And the even better thing is that it will arrive well in advance of my trip to NYC and can be returned for free, so if it turns out to not be so lovely in real life, I will simply return it and look in NYC. If I do like it, I will have gotten a lovely leather purse that is helping center my spring colour story...I will certainly do a review when it arrives this week and let you know what I think!
And finally, in response to your glowing comments of a WMM living in the neutral zone, and having been working in my closet, I have decided to gradually add more neutrals to my wardrobe. What I really wanted was a soft cashmere cardigan in a camel or flax colour to go with my various navys and ivories this spring and summer. So lucky me - the JCrew cashmere cardigan in heather flax popped back on the sale this week, and with my rewards and credit, came in at a whopping $28 CDN. I am looking at this as a very sensible choice. It is clear to me that I OD'd on the JC colour spectrum last year and while I love colour and always will, I want to break away from that to a certain extent and have some neutral pieces in my wardrobe. I have navy and black and grey neutrals, but very little in the camely-beige-ivory category and this sweater will help.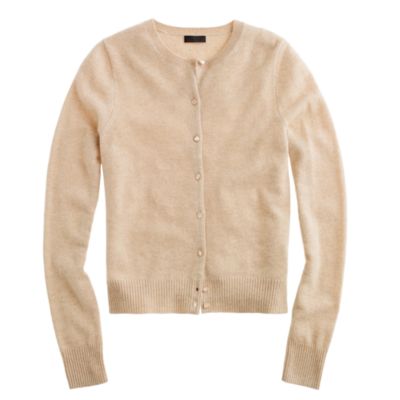 So keeping it honest with you all, I have thus spent $192, taxes in, of my spring shopping budget. that leaves about $400, unless I am able to get a bit more funding from consignment. Will keep you posted and would love your thoughts!
4) Polka Dot Blouses
Do not ask how, but I have two navy and white polka dot blouses:
this one:
and this one: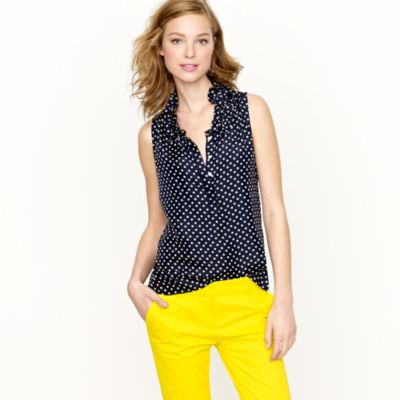 They are both silk and both nice. But I really do not need two navy polka dot silk blouses unless you can convince me otherwise :-) My tendency is to go with #2, as it is more casually dressy. But would love your thoughts! As you know, I am working to lighten my load these days and two of the exact same kind of blouse in exact same colourway seems superfluous to me.
5) And the purge continues...
This week, I did the linen closets. I am sorry to tell you that I will no longer be able to outfit every bed in my subdivision. I cleared out 2 LARGE bags of linens, sheets, old towls, old curtains. It felt magnificent. Isn't it funny how we hang on to things "just in case?" Well, for me it is not funny! I guess we all have a little hoarder in us (not your mum Tabs!) and she needs to be shaken up now and then!
So those are my Saturday musings! What do you have on tap today? Stay Safe out there!