Happy Sunday All!
The sun is shining here this morning, having dumped 2 feet of snow on us again! Not as bad as some folks are having it and I am not complaining as we had power the whole time, which again, is better than many folks had!
As you know, I am actually on a budget for this spring's wardrobe purchases. Having a budget, which in my case is around $500-$600, is requiring me to be very judicious in my choices and filling in gaps. I have many nice pieces already in my spring closet from the last two years, so I really need to focus on those things that would make the items I already have pop.
I also need a plan before I go to NYC and have gob-smacked by every shiny object. Apart from the list below, I am allowing myself $100 for something unexpected. It doesn't sound like much money and that is a good thing!
I decided to go with Dani's advice and develop a colour story, which I did try to do last year, but to quite mixed results as I kept shopping EVERY time I saw something lovely and so have a multitude of colours already - greens, corals in light and dark hues, blues, pinks, yellows.. The list goes on and on...
My primary colours for spring into summer will be blues - navy, royal, peri. Other colours I will look for are ones that are complementary in nature - a yellow, a coral.
I know that it will NOT be warm enough for bare legs until May. No matter how much I want it to be. No worries about looking for a nice pair of sandals for my spring list - won't be used till late May. That will have to come out of my summer shopping budget!
I am also unsure as to what I will be doing work-wise come spring. I need things that can do double-duty, which means they must be comfortable! Since I already have blazers, and since blazers are expensive, I think I will focus on getting one or two new cardigans that can be dressed up or down.
I would like a new pair of comfortable shoes that can be dressed up or down. I would like to find a couple of inexpensive nice scarves that pull it together. However, I have a LOT of scarves, so I may be okay there!
The list:
1) a comfortable spring skirt, not a pencil skirt. I will be on the look out for a swingy type of skirt that is not constricting at all, something like (but not this one) the skirt below in terms of shape but in my colour story:
The alternate here is a fun patterned blouse - options:
The Sera in Medallion Paisley:
I have had good luck with these little silk chiffon camisoles from JCrew. or the painted Carousel shell from Anthropologie, which I have blogged about before:
2) a new dress from Nougat London
I have quite fallen in love with this brand (if you recall, I bought 3 dresses by them last year!) and am waiting to see the spring picks. They typically are pricey and run in the $250 range in summer, but I have a $50 store credit for where I usually buy one, so that may work out if one is nice. Unfortunately, Nougat London has not released their spring 2013 preview, although the teaser on their facebook page shows a floral sheath which looks like it could work:
3) 2 cardigans
I think I will go buy my old Jackie standbys here, which I will watch for on sale: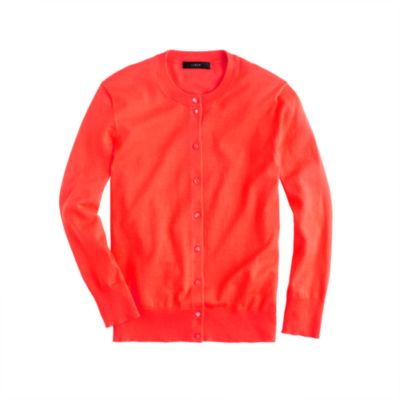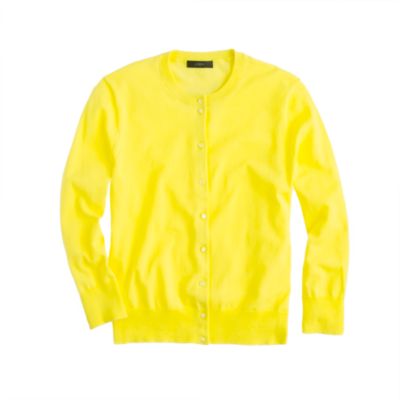 The neon rose and lemon pulp cardigans could be a nice offset for all of my blues. These are currently on promo and if there is a president's day sale promo, I will jump on them and call it a day for cardigans.
4) Something embellished - you know I love my embellishments. I keep looking at the sweater below, the reviews have been good and it would go with many items already in my spring wardrobe - navy tweed pants, silver cotton trousers, etc.
This one I will watch for on sales. We are never, ever, ever, paying full price for JC again....(sing it sisters)
5) A spring purse
I would like a light coloured smaller purse for spring. I really like the Brompton straw mini, most of all because it is a faux straw and therefore a little tougher. However, I am going to haunt my local winners, as I may be able to score something very similar there, such as the London Fog purse I got last fall which looks brand new 6 months later.
6) shoes
If I do well on the other items above, I am hoping to get a decent pair of comfortable shoes, but there will be no Chie Miharas this spring (although I absolutely must try to find a place to try them on so I know my size and can watch for sales this summer!)
However, there are two pairs of shoes I am eying at French Sole to try on while I am in NYC, which I think could be a smashing addition to the Spring wardrobe, both neutrals but from the opposite end of the colour scale! These are both flats, which is good - I am every colour of pump required for work - nude, navy, black, chocolate, silver, etc. I want comfort that I would also wear with a dress.
The Penelope

or The Henrietta:

The Henrietta's are about $80 cheaper than the Penelopes, but I may like the former slightly better...However, I already have black ballet flats that would fit the bill. The Henriettas also come in a golden ivory mottled hue which is lovely as well.
Update - just found out that the French Sole Store in NYC is not the same as the French Sole Store in London, which is the website I was looking at... Darn it - this could require a mule...
Sooo.. How does it all stack up?
Skirt - $80 max if I can find one I like

dress - $230 max
cardigans - $0 (I have a $100 JC store credit)
sweater - $100 max (need a promo and a percentage off..)
purse - $100-$200 (revised to $80)
shoes - $200-$250
total: $860 at the upper end! WHOOPS! Too much! Okay - I will look for a purse for around $80 at winners or at outlets coming back through Maine. That takes it to $720. Hmm... i know I want a dress and I know I want good quality comfortable shoes...(of course the french soles may not be those so we will have to see..) I may hold off on one of the cardigans till summer purchase... Regardless, I will stick to my budget!!!
So what do you think? Am I missing something? If I am it will be exchanged for something else. I will most definitely stick to the budget this year!
Have a most happy Sunday and stay safe out there!!