Happy Groundhog Day!!
I actually have a groundhog living under my Gazebo. We call him Brownie. He is quite cheeky; last summer I caught him up on the deck eating parsley out of a pot, just as daintily as the little fellow above. Another time, I caught him eating one of my echinacea flowers. While I am well aware of their healing powers, I wonder what they do for groundhogs? I didn't see him for a few days afterwards...
And when I think of Groundhog Day, I immediately think about the movie with Bill Murray, where a weatherman is forced to revisit the same day over and over again:
Dearest friends, I
AM
that man when it comes to the things that make my heart sing fashion-wise. I want to be refined (well not really refined per se), more elegant. I want to choose the tasteful bag or shoes. And typically more and more I do. But, in a moment identical to the moment I had last fall, I had a good set of the gimmees over the following, completely unnecessary, item: The
Kate Spade Radio Samira
: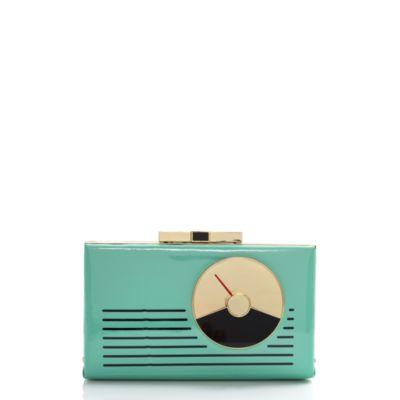 You remember last fall? When I lusted after the obscenely expensive clutch shaped like an old station wagon? No - well you can revisit THAT post in all its glory
here
. Oh I never got it in the end - if you recall I went for the longer-lusted-after "I Married Adventure" book clutch, and I almost snatched the wagon clutch up during the sales, but the $50 delivery charge is brutal! But I would be lying to you if I said I never "stopped by" the sale section now and then and called it home, like the little boy calling to Shane at the end of that movie "Come Back little clutch, come back.."
But enough of what could have been! Must buck up and get back on topic!
Oh yeah - we were talking about a clutch shaped like a transister radio. With the clever name of Samira, derived, I believe, from the Arabic word for evening conversation. Clever Kate!
As soon as I saw this clutch, I was immeditately transported back to my junior high years, where I would lay in bed for hours listening to WQDY radio ("The Voice of the Valley"), especially on Monday nights, which was dedication night, where I hoped that someone would dedicate Captain and Tenille's Love will Keep us Together. Sounds like the 50s huh? Well small town New Brunswick was still in the 1950s in the early 1970s! Radio was King in our town - the only other source of enternatinment was a movie theatre and a billiard hall across the river in Maine. To quote Queen:
I'd sit alone and watch your light
My only friend through teenage nights
And everything I had to know
I heard it on my radio
Kate describes it thusly: inspired by old-fashioned handheld radios, our designers took to their sketchpads and dreamed up this darling patent leather handbag—a gorgeous gadget indeed, and sure to be a conversation starter at your next cocktail hour.
It even has a long gold metallic strap to make it easier to carry. Sorry the picture is so small for this one.
It appears from the site that a pink one will be coming soon. But my heart is with the turquoise blue.
But the price - $298!!!! Plus shipping and duty! That would be a third of my Jan to June clothing budget! And wouldn't it be more sensible to get a purse like this: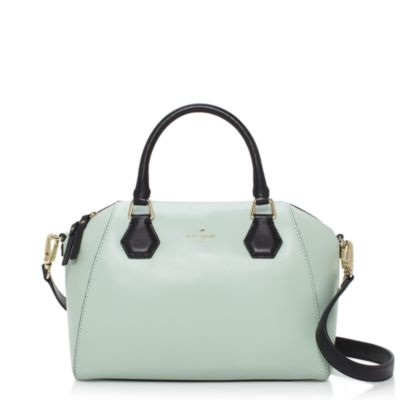 The Catherine Street Pippa gives one the same colour, plus is more refined.
Don't worry - I am not going to buy the transistor clutch. Not yet, anyway. But there will be a sale... and i will be in NYC....and the stars may align...Or I will just made do with a pop of colour from this little newly released bracelet:
But tell me, why oh why am I always attracted to the whimsical accessories in Kate Spade????
To change the topic dramatically, DH and I watched the first two episodes of House of Cards last night. For those of you who don't know, this is a 13 episode series, commission by Netflix, directed by David Fincher and starring one of my favourite actors, Kevin Spacey. What I have seen thus far is rivetting. The series is based on a much-lauded 1990 British series, which I believe I may have seen when I started reading about this version, but can recall no real details about.
From what I can see, the series is getting good reviews (we personally loved what we have seen thus far) but the greatest debate has been about how people will watch it, since Netflix released the entire series on the same day. Will they binge watch, or will be they be like Barry and I, doling it out one or two episodes at a time to make it last? Has anyone else watched it yet? What did you think?
The Greater Journey: Americans in Paris by David McCullough
I may have mentioned this book before, and I think Dani was the one who recommended it, but I am abolutely loving this history of the generations of Americans who went to Paris and then returned to the U.S. and how they shaped the history of both countries in so doing. I am only up to the 1840s, but have decided that David McCullough, who is turning 80 this year, should have written the history of EVERYTHING (and I think for your Americans he very nearly has!) because his writing is so good and you actually feel as if you are there walking the streets of Paris with these great men in women and when you move on to the next era, you are said to let them go. I felt like weeping when one of the characters dies of fever. That is good storytelling and I wish I had read this before I went to Paris last summer, although it will make it all the more interesting when I go again!
So how is your Saturday going? Has your groundhog seen its shadow? Anyone else pining for a transistor radio purse or perhaps a real one? Seen House of Cards or reading any good books? Do tell!!!
And as a parting gift today, I am dedicating the song Radio Gaga to you all, sung by one of the all-time greats, Freddy Mercury
Have a wonderful day and stay safe out there!