I was reminded this week, as I often am, of how it is the small things in life that can bring us the most joy. Our happiness does not depend on the material things we own (though they can be pretty swell), but from a contented recognition of the myriad of little things, simple blessings, that when taken together form a pattern of contentment and a quiet joy.
Those are the things in our lives we ought cling to; our financial, physical, professional lives are every changing. We can no more hold on to them than we can catch the wind in our hands.
I saw an interview last year with Shawn Achor, the best-selling author of
the happiness advantage
.
I confess I have not read his book, though I have seen him interviewed several times and was always impressed.
One of the key things that Achor found in his research was that happy people are grateful. And gratitude, like all of our muscles, can be worked on and improved. A key exercise he has readers and patients do is that each day for 21 days, they must record 3 news things they are grateful for and why they are grateful. Since they must be three new things daily, it is not possible to fall back upon the rote "I'm grateful for my health, family, etc". It requires a specificity that challenges the person to think.
I do this regularly now and it does build one's resilience, since to be human by definition means that one will always be subjected to stresses and bad luck and change.
I was thinking of this today when my hummingbirds arrived home. They arrived, as always, without fanfair; if I could the trumpets would have blared and they would have been announced like Cinderella at the ball, such is the esteem in which they are held here. But this morning, standing there looking out the front window, still in my bathrobe, the male hummingbird flew up and for a good 30 seconds, hovered in front of me outside the window. Neither of us spoke, since at that moment neither of us were capable of speaking, least of all me. I had one of my three things at seven a.m. and I was all the better for it.
There are people far richer than I, but this morning I felt rich indeed, because I felt grateful.
And in honour of my returning friend, shall we have something sweet?
The Hummingbird Cocktail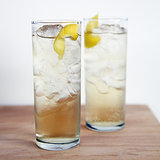 Ingredients
2 ounces brut Champagne or dry sparkling wine
1 1/2 ounces St-Germain
2 ounces club soda
Lemon twist, for garnish
Directions
Stir sparkling wine, St-Germain, and club soda together in a tall ice-filled Collins glass, mixing completely. Garnish with a lemon twist.

If you haven't thought of three things today, happy hour is the perfect time to do so!

My list is easy:

1) my hummingbird encounter
2) a lovely conversation with a dear friend
3) knowing that there is a lovely Cote du Rhone awaiting me for dinner....

How about yours?

Have a lovely Friday!

xoxo wendy