I know, I still haven't written my post on the recent style consultation that has so simplified and clarified my clothing life, but I promise I will.
However, today is another example of happy simplicity. When I got dressed this morning - which by the way was another cool, rainy, blustery Spring day - I decided I needed a little lightening. I actually have a pedicure booked for this afternoon and am looking forward to colourful toes, although I have painted my fingernails a lovely frosty lavender:
All those notes are little stickies that I write for myself
when an idea hits while I am drafting!
The colour is an older shade by Butter London called Lillibet's Jubilee.
I don't think it's available anymore, but I do find that Butter London does those metallic shades better than anyone!
Anyway, I am very creamy today, so creamy I remind myself of a crème brûlée with the reddish toffee topping...
God, that makes me hungry...


Anyway, here's Wendy as a crème brûlée:
Sorry for the blur of the smartphone...




I'm wearing Joe Fresh trousers and the J Crew Factory Cotton Teddie sweater: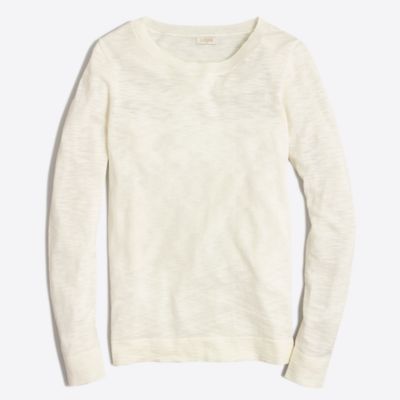 I paid all of $30 for it and it was just the ticket for these cool spring days.
I'm wearing my Stuart Weitzman wicket flats purchased last year. That was a good purchase, as they are a lovely golden-y metallic shade and go with everything.
I also dug out an old string of pearls and a dainty pearl drop earring:
Simple, comfortable and flattering - it hits all the marks for me and is certainly brightening up my day.
And no - I haven't abandoned colour, but I am using it a little more judiciously these days. I'll speak more to that when I write that darned post!
I also find the tonal dressing very pleasing for a shorty such as myself.
And speaking of crème brûlée, how about Ina Garten's recipe for it? This is one I have used many times, always to excellent results! You can go see it
here
. I love Ina
crème brûlée
Ingredients
Directions
Preheat the oven to 300 degrees F.
In the bowl of an electric mixer fitted with the paddle attachment, mix the egg, egg yolks, and 1/2 cup of the sugar together on low speed until just combined. Meanwhile,
scald
the cream in a small
saucepan
until it's very hot to the touch but not boiled. With the
mixer
on low speed, slowly add the cream to the eggs. Add the vanilla and orange
liqueur
and pour into 6 to 8-ounce ramekins until almost full.
Place the ramekins in a baking pan and carefully pour boiling water into the pan to come halfway up the sides of the ramekins. Bake for 35 to 40 minutes, until the custards are set when gently shaken. Remove the custards from the
water bath
, cool to room temperature, and refrigerate until firm.
To serve, spread 1 tablespoon of sugar evenly on the top of each
ramekin
and heat with a kitchen blowtorch until the sugar carmelizes evenly. Allow to sit at room temperature for a minute until the caramelized sugar hardens.
Propane Gas Torch Safety: Propane gas torches are highly flammable and should be kept away from heat, open flame, and prolonged exposure to sunlight. They should only be used in well-ventilated areas. When lighting a propane gas torch, place the torch on a flat, steady surface, facing away from you. Light the match or lighter and then open the gas valve. Light the gas jet, and blow out the match. Always turn off the burner valve to "finger tight" when finished using the torch. Children should never use a propane gas torch without adult supervision.
Anything big going on in your world today?
xoxo wendy