When last we spoke I was eating buttercream frosting. It was good. Too good. But never mind...
I have been meaning to share how much I love the
J Crew Indigo Stripe t-shirt
- it really is divine - so soft and just the loveliest shade of blue...
From the website: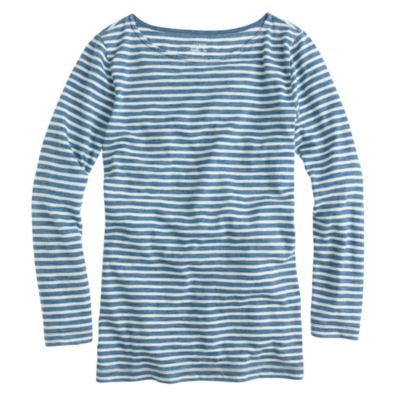 Since it is on sale today for 25% off in few sizes, thought I would spread the love! I'm wearing it above with my Joe Fresh wide-legged trousers and my old J Crew navy featherweight cashmere cardigan.
As promised, I finally remember to take a picture of myself in the leopard print coat I bought at the end of February before I headed to NYC:
I like the coat because it is a very muted leopard print, and being darker, looks better with my colouring. I think. There is lots of camel, brown, black and grey, and it kept me plenty warm during my trip and looked good with a dress and with the grey and black Ponte pants I wore. Since I wore my burgundy Aquatalia boots, I chosen a raspberry coloured scarf to wear with it.
For you Jennifer!
The coat was from a store called Le Chateau and was actually made in Canada,
as are a lot of their clothing, apparently
I have been thinking a lot about style, thanks to the Spring weather and Jennifer's lovely new blog series
Women with Confident Style.
Now that the doldrums of winter have passed, I have turning my attention to my wardrobe and thinking about what did/didn't work last spring and summer and the kind of clothes I want to wear now.
I have a serious crush on navy these days, blue of any kind really, as evidenced by this season's shoe purchases and my new theory dress.
But I do feel that I am still transitioning from my workdrobe, and still kind of missing the dressing up.
I think I went completely casual for awhile, likely in response to the suits and pencil skirts, but I am missing dressing up, so have been taking pains lately to start putting on the dog again.
I want to be comfortable, since I spend so much time sitting at a desk writing, but I want to feel like me again, and I think the pieces I have purchased this Spring, which I would describe as being in the dressy-casual vein, are slowly but surely getting me there.
What I also realized was that I tended to not wear some of my nicer things because I was "just home". But then they sat there, unloved, and what good is that? So I am trying hard to try to wear them and trying hard to try to add the extras again - the necklaces, earrings, bracelets - that I always loved.
While I wait to find my style guru in Jennifer's series, I am starting to see how this new homedrobe is going to work and what I do and don't feel comfortable in, which, as Jennifer would say, is a good thing, since being comfortable in your clothing, physically and spiritually, gives you confidence.
I also want to give a shout out to the
Chic at Any Age
blog, which today has the most fabulous post on what women 50+ want from their retailers. This has been something I have been thinking a lot about lately when shopping. I walked into a local shop here lately, one that is targeting itself to the older woman demographic, and was horrified to see that everything was billowy and boxy. I have tried both and they look wretched on me. I do not want to dress dully, but I also do not want to dress in a way that is inconsistent with who I am. And frankly, I'm not loving a lot right now. So bravo to both of these wonderful blogs for raising issues that are definitely on my radar these days!
So - how is your spring shopping coming along? Do tell? I am still on the lookout for another dress and maybe a skirt.
xoxo wendy