Well it continues to be freezing here, -24 this morning, but the universe is laughing at us, as Monday it will be +6 and then -11 the next day. Whiplash I tell you. Thank you global warming...
In these dark, cold days it is important to keep one's chin up. Luckily for me, right now I have two chins, so there is even more to keep up. However, the new regime is going along nicely and I am confident by the time I am in Florida I may be able to fit into my pants without holding my breath and cursing.
I thought that I might share my plans to make January a little warmer:
Flowers
Many of you are like me: you buy flowers at the grocery store weekly. However, it is even more critical to do this in January; we need that colour and life in our homes. May I recommend that you choose the most riotously colourful flowers you can find, the ones that might even, dare I say, border on tacky or genetically modified - like say those horrid blue carnations? You need to smile in January. Now is not the time for good taste.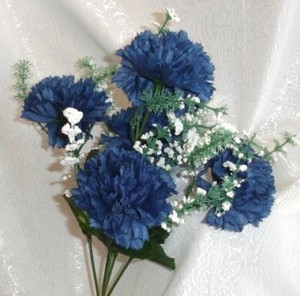 Tea
I drink herbal tea all year long, but I double up in January. There is something so soothing about sipping a cup of tea while reading a book. For me, the ideal January tea is something with a hint of cinnamon or vanilla or peppermint - doubly cozy. Right now, I am still making my way through my box of Stash's White Christmas tea, which is quite delightful, along with my Christmas in Paris Tea.
Barry gave me a Downton Abbey teapot/cup for one for Christmas and I have been using it faithfully!
And speaking of that...
Downton Abbey
Starts here in North America tomorrow night. No spoilers from our UK friends!
I am as giddy as a schoolgirl at a One Direction concert in anticipation!
I have even done the Which Downton Abbey Character Are you
quiz
, and while I was sort of hoping for Lady Mary, I am Anna, which surprised me, as she is such a good person...
Did I mention that Barry also found me a Downton Abbey Christmas ornament? Well he did...
Oh Matthew - at least you will always be on my tree....
It is not too late to binge-watch the first three seasons and catch up!
Dinner Parties
It is important to get yourself invited out to dinner in January. You are likely on a diet. If you eat at someone else's house you are not faced with
a) the wine drinking whilst you cook
b) the wine drinking whilst you clean up
c) the wine drinking with the leftovers
Luckily for me, I have secured us a dinner invite with good friends this evening, so I am feeling very virtuous indeed!
Eat More Vegetables
I am not a fan of over-the-top dieting or healthy fare. Moderation in all things, for me, and I hope to find the moderation in me soon... However, one way to recalibrate is to eat more vegetables. And the best way to eat more vegetables is to get out your cookbooks and find some yummy recipes that make eating those vegetables fun. Okay - maybe not fun, but for sure satisfying. My goal in January is to eat my way through all of the vegetables (save peas and beans, which do not agree with me at all and I will not share more details and you will be glad I will not...) and last night we did kale, and carrots and celeriac. Three different recipes, all great.
I am loving Kale chips these days, though Barry and my daughter curse the smell they make, which is delightful to me, less so for them.
Put a rainbow of veggies on your plate this month and you will find a spring in your step for sure.
And finally, I recommend (besides exercising, which is always good):
A good book:
There is nothing so delightful as curling up with a good book in January. Hopefully, Santa bought you a stack for Christmas. I am currently reading
The Goldfinch
(I know - late to the party!) and a middle grade novel,
Fortunately the Milk
. Oh and a book on healthy eating. sigh..
But in the end, I recommend the flowers the most. You NEED the flowers. Everything else is just icing on the cake... Cake - hmmmmmmm......
Have a great Saturday and stay safe out there!!!