I don't know about you, but I am not enjoying:
a) the wonderful pictures of bloggers and friends who are frolicking down south; and
b) the wonderful pictures of blogger friends who live in warm climates (yes, I am talking to you, the lovely Jennifer and the lovely Kim!)
The exclusion to this are the "Down Unders" - they'll get theirs soon enough... :-)
Those of us trudging through -28 temperatures and record snowfalls are dreaming of wearing anything but wool right now, but frankly that's all we
can
wear.
In the last two weeks I have worn my Joe Fresh winter white cords 6 times... they keep me so warm...
My happy uniform of jeans and cords and JCrew long sleeve cashmere tees layered over tshirts is even wearing me down these days, so I have decided to do some dreaming. Many things I like in my wardrobe are being by-passed these days; what was warm enough to wear in early December is not making the cut in Forevuary.
I have also noted with interest my mistakes of last fall, although happily, they were limited (likely due to the fact I bought so little). The minimalist/yoga styling of the Brynn Walker dress I purchased last fall has been worn but twice; I never get excited about wearing it, despite the fact that it is comfortable and flattering on

And while my November clothing purge was epic and made me happy, I see that I am still finding my style sea legs here in my 50s.
What I am especially seeing now is that I am no longer interested in trends.
Truthfully, I am not jumping on anything right now as I have no interest in shopping, but I know when I dig out my spring things, whenever that actually happens, I will want to add a couple of things to the list. And there is my upcoming trip to New York where something will spring out at me!
The conundrum is always this for me: the things I like the looks of versus the things I will actually where, visually demonstrated below:
The reality is that most embellishments simply overwhelm me, except if they are on my feet or on my ears.
And I cannot justifying buying or dressing for a life I no longer have - I think I have only two pairs of fancy pants left. I only have one suit left and that's it - no interest in getting another.
When I look now at my
Styles I love
Pinterest Board, I see lots I adore, but in reality would mostly just wear these kinds of things:
Mostly, what I want is
comfortable
chic. I am discovering that this is a hard category (at least for me) to shop within - it is so easy to get swallowed or to get too sloppy.
I did check out the most recent J Crew rollout, but what caught my eye was not any of the fun stuff, but these featherweight cashmere cardigans: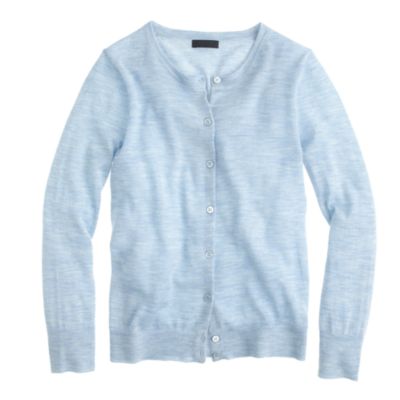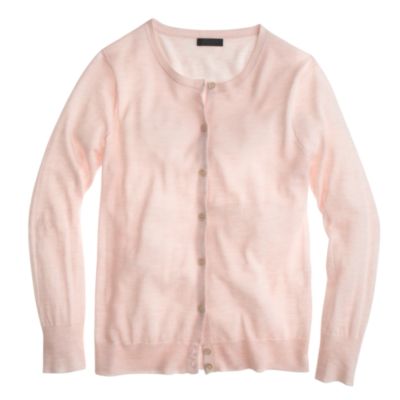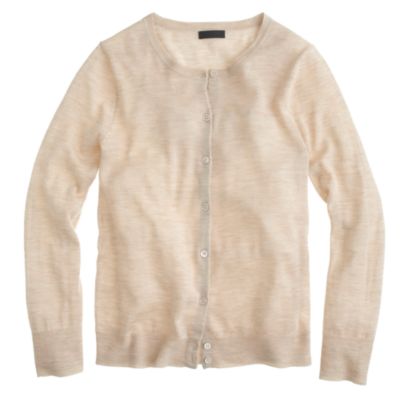 And this Theory dress is very appealing:
I can't tell if this is age, lifestyle or simply fashion-fatigue related, but my clothing purchase wishlist seems to veering towards Meg Ryan in
You've Got Mail.
But here's my question - what brands carry this kind of very simple style, besides Theory and Emerson Fry (whose aesthetic I somewhat adore but who seems to cut their clothing for someone who is not me).
I have been checking various labels and am not being very inspired, but I know you all have lots better mojo than me when it comes to this kind of thing.
All I know is that 7 years ago, you could have pegged me for a J Crew girl the whole way, with Theory suits at work. And while I will never give up the crew, I am no longer that person, due to so many reasons.
I am also not the corporate woman I was.
And it turns out I am not as funky as I thought either.
My friend Louise
wrote
recently about how going to Parsons has broken her of J Crew but also made her realize she's no longer sure what her style is. I can relate, although check out the exquisite dress in that blog post of hers - Louise - that is REALLY my style!
Maybe, I need to start having some things made!
Maybe I need to just wait for Louise to graduate and start her own line!
I will tell you one thing I NEVER get tired of:
this skirt by Ralph Lauren! Whenever I pass it on my Pinterest Board I swoon.
Surely, between Louise and Ralph I would be all set?
How about you? Anyone else in the same boat these days?
xoxo wendy