Long Time No Chat, and yet, so much to tell!
First: My bloody laptop has been acting up, which is something you don't want to have happen when you are writing a book. I think (!) all is well now. We will see!
Last Friday night, a bunch of us hit a BeeGees/Abba Tribute concert. I could tell you how much I adore the BeeGees, how they have a special place in my heart, how Maurice and Robin are forever missed, as are white suits, but my words would be pale imitations of the feelings I express on the dance floor.
Yes, I was Ah-Ah-Ah-Ah Stayin' Alive! This the grade 9 in me coming out and I have no shame whatsoever about it!
Moving on...
Don't you hate it when you spend money on things you get no visual benefit from? We recently had a leak in our roof. The leak caused problems with the insulation over the kitchen. The repairs cost about $1500. I believe they put insulation up there, I mean, they brought in a long hose and men wore suits that looked remarkably like the sperm in Woody Allen's movie Sleeper, but one can never be sure, especially me, as I refuse to look in that attic.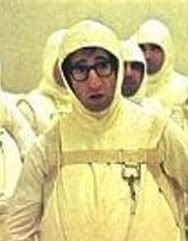 It's kind of like when we spent $10,000 to redo our septic field. The only people who found it rewarding was ourselves; everyone else just sort of assumes people can flush the toilet...
We have begun our Christmas decorating! The tree went up last night, and for the first time in many years, I added tinsel. A tinsel-less tree is considered more tasteful I know, more au natural, as are fairy lights and matching balls. But my Christmas is not really tasteful in any way except that I am a loving person, so what the hell, I tinselled up!
A smaller tree than usual due to its new home; I actually left maybe a hundred ornaments off.
Really, I should be living larger!
By the way - the tree has a dowager's hump. Is that good luck?

The homemade ones make me smile!

Paddington, bought by yours truly when she was16.
Am I going to the movie when it opens? Does a bear...

Tweedledee and Tweedledum. Bought in Oxford, England in '08.
Don't you love buying ornaments when you travel?

Dobby from Harry Potter
Just because.
There is quite an assortment of different ones like this
as the kids get a new ornament every season

I also decorated my newly painted chandelier and I tell you, these decorations are never coming down!
I am late planting my paper whites. Thank goodness a friend brought me an Amaryllis a couple of weeks ago and it is gorgeous!
It is always 5:18 here. That makes it cocktail hour, right?

I am draping myself appropriately in sparkle. The silver sweater below is a $35 treat from H&M. I Love it!
Oh... Sparkle....
Are you doing any baking yet? My daughter made these chocolate crinkles, the recipe for which can be found in the December issue of Cooks Illustrated, a magazine my good friend Martine has introduced me to. I recommend changing the espresso powder to decaf coffee. Just sayin'... Last time she made them I was up two nights in a room. What? I was supposed to eat 3 at a go? Huh!
Crackling goodness....
Did I mention I made pork belly a couple of months ago? Likely not, because it was wretched. So different than what I ate at Chateau Lake Louise... sigh....
To end this post on a happy note, I leave you with one of our new favourite ornaments, made by my daughter last Christmas (she is 22 mind you):
Merry Christmas Gary Busey!
If you don't know who Gary is, by all means do a YouTube search.
We love Gary and all his gloriousness here chez Wendy's!


More to come lovelies....
xoxo wendy