My sincere apologies for promising a review of the J Crew
Ludlow Pants in Gold Linen
: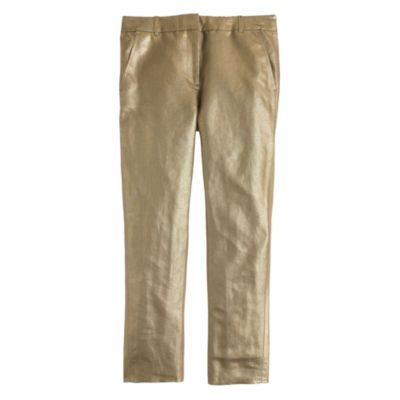 There are several reasons for my delay:
1) I forgot
2) when I remembered I was dithering because
a) I had ordered the wrong size - a 12 instead of a 10
b) the pants are meant to worn by a woman with an ass and thighs
unless
c) you visit a seamstress and get some work done. I actually had them taken in on each side by about 2 inches, that's how baggy they were on me!
Well, I did visit same-said seamstress because I did like them.
There are things you need to know about these pants however:
1) they cannot be dry-cleaned, only spot-cleaned or washed by hand VERY gently
2) they cannot be ironed only steamed
1&2 could be deal breakers for some, but weren't in the end for me, because frankly, these are fancy pants and you're not going to wear them a lot and also frankly, I am up for a challenge!
Sorry for the loo shot....
They look kind of bronze-y above. They have a definite green cast to the gold, one that is please to the eye.
I like that they are linen. I could see wearing this with a plain white tee in the summer and strappy heels.
I did hem and haw about keeping them and spending $20 to alter them significantly, but I am glad that I did. They are different and will be fun to wear over the holidays. I am modelling them with a black Vero Moda blazer and my trust Donald Pliner Raye pumps here, but I do love them with my white cashmere long sleeve tshirt as well - so cozy and simple.
Just know that if you are a person with no butt or thighs, you will have issues unless you are buying the 00...
Hope that helps someone decide, as I know they are 30% off right now!
xoxo wendy