The rabbit-hole went straight on like a tunnel for some way, and then dipped suddenly down, so suddenly that Alice had not a moment to think about stopping herself before she found herself falling down a very deep well.
Alice's Adventures in Wonderland, Lewis Carroll
Happy Friday!
I have been terribly busy all week - lots of things going on here.
I was also 'trapped' - I was doing some family research for a character in my next book and I ended up going through three Rubbermaid bins full of my parents' papers.
It was a lot like this: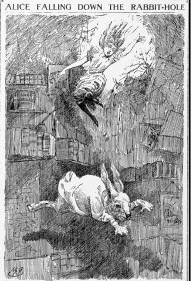 Once you start looking through things you think "Well honestly, I ought to sort some of this out" and then suddenly it is two days later and you have it semi-organized, well on its way to be being properly corralled.
My mother was a historian by training, as was her mother, so for me it was quite torturous to determine what should stay or go. The ephemera of our lives may or may not be of interest to future generations and we must use our best judgement when curating these things.
Now that I have them all sorted, they will, through the course of this winter, be transferred to archival quality scrapbooks, complete with a small history about who this person was. No one but me may ever look at these things, but at least I know I will have done right by them. When this task is complete, I will turn to Barry's and my photo albums; will future generations care to see 15 pictures of a sunset in Lake Winnepesaukee in 1987? I think not.
I did think it fun to share a couple of things that I found in the bins which I am keeping and which I quite long for in the 21st century:
Dance Cards!
I long to be invited to a dance where such things exist and am tempted to throw such an event myself as it is simply too delicious!
Ah Mum - who was Dale? If only you were here to ask....
She got invited to a lot of dances in high school and at University;
These are only a few that I found in her keepsakes.
I just love the heavy paper.
Wouldn't you love to hear Bruce Holder's Orchestra on Boxing Day?
My mother was 18 in 1952.
We live in such a casual world now and these are such a reminder for me of a more genteel time when a young man asked a young woman out to a dance and wore a suit and tie and brought her a corsage.
The other thing I found in the papers were telegrams.
Oh how I adore telegrams! They remind of more glamorous times, men and women type-type-typing into machines or receiving and printing out the messages from friends and family far away. While there were a couple of sad telegrams in the bunch, I tried to focus on the happy ones received when my parents got married or when my Mother graduated from the University of New Brunswick with her Masters Degree in History.
I love the envelopes they came in!
Getting a telegram from London in 1959 - how glamorous!
I remember the old Canadian Pacific Telegraph Building in downtown Fredericton; I believe it houses a tattoo parlour now. The irony of that is not lost on me.
It is a treat to be able to look at these items now. If they were alive, my parents would have celebrated their 55th wedding anniversary on October 10th. In their honour let's have a cocktail, shall we?
And what better cocktail to celebrate the 1950s:
The Classic Martini
The Martini is often mixed, rarely perfected. The key to an excellent martini is to ensure that it is ice cold. The classic martini has only two ingredients–so it's important to use the best ingredients you can afford. Vermouth should be stored in the refrigerator to retain its flavour. Make sure the martini glass is ice cold.
Combine in shaker over cracked ice, stir and strain into a cocktail glass. Optionally, garnish with an olive or two or a twist.
I suspect that more than one of these were downed at my parent's wedding reception at the Admiral Beatty Hotel!
Would love to hear if any of the rest of you are trying to sort through family papers and pictures these days - it's quite a job isn't it?
And who wants to join me for my fancy dance party?????
Have a happy Friday and stay safe out there!
xoxo wendy