I think as I get older I like Summer best, but then Autumn slips in one frosty night and I, like some fickle lover, embrace the season in all its gaudy, glorious decay.
At some point in Elementary School, I remember practicing
Autumn Leaves
incessantly in preparation for a music festival to be held in St. Andrews, our collective little arms desperately recreating the gentle falling of the leaves that we could see out of our window,
Autumn leaves are a-falling;
Red and yellow and brown;
Autumn leaves are a-falling,
See them fluttering down.
Tra, la, la, la, la, la, la,
Tra, la, la, la, la, la,
Autumn leaves are a-falling,
See them fluttering down.
Some were more gentle than others. Some of the boys' falling leaves were more reminiscent of atom bombs falling from the sky. Boys will be boys, and especially in small town New Brunswick, where it had not yet occurred to anyone that boys could be anything but boys.
This morning as I walked around the lake I realized that fall had come to stay, in spite of the spectacular weather we had early this week and will likely have over the coming month.
If summer is the teen movie portion of the year, all brilliant sunlight, fast cars and music meant to to make your parents blush, autumn is the Paper Chase season, where boys give, to quote Nora Ephron, bouquets of newly sharpened pencils, where preppy is the order of the day, all wrapped up in earth tone plaids, LL Bean and Hunter rubber boots.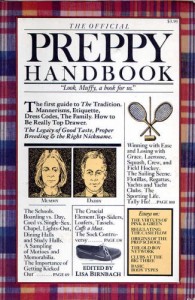 In the fall we turn our attention to more cerebral things: papers due, bills to be paid, pools to be closed up, flowers to be picked.
But there is a gaudiness to Autumn which cannot be denied. The Boho cousin of this preppy classic fashionista. For every practical loafer there is a biker boot, a fringe poncho, an unnatural hair shade.
And whereas the hot summer days are the natural home of yellows, pinks and reds gone wild, autumn is the older sister smoking
out behind the shed,
beckoning to you from, saying "take a puff, its okay: it's menthol".
The light is brilliant; laser-sharp, as if it knows this is it's last gasp. This is a season that brooks none of the sweetness of last spring. This is a season that's been around the block one too many times.
And you can buy all the new clothes you want, but what you really understand is this: there is nothing nicer than the frayed pair of blue jeans in your closet, stretched out from seasons past. And you can pretend to be an upstanding lady or gentleman, and even go to bed at 10 o'clock at night, but there is a part of you that belongs to midnight in the woods with a campfire, a heavy plaid jacket, a two-four of beer and perhaps something more to keep things mellow.
You are cherry red cheeks and noses, well padded jackets and warm woolen scarves and gloves. You are Ali McGraw in
Love Story
, never sorry. You are gold and russet and bronze and ochre. You are the most fully alive you may ever be and if you are lucky, that person you are flirting with outside your grade seven classroom is going to ask you to dance at the first social of the year. You are possibility; pliable leather that can be stretched and adjusted at will to suit your own and others' moods.
You are the smell of wood stoves burning, of mist rising off lakes and rivers in early morning, of comforters pulled up, lights turned on, pies baking in the oven.
You are in your brownie uniform, running full tilt home in the blackness of seven-thirty, which, only a month previous, was the golden hour for tag.
You are a closet cleaner, a new coat buyer, a tight-wearer. You are dreams and regrets and hope and black cats and pumpkins and birthday cakes and new teachers and kleenex stuffed up sleeves. You are blackbirds bathing in the now-forgotten swimming pool.
You can never be mistaken for winter, nor will you ever be spring again. You are the impossible blue sky, the call of geese flying south, the memory of other times. You are every teacher, every new school, every new student, every package of loose leaf paper, every bic pen. You are tomato soup and sandwiches and turkeys and ripe apples. You are turnip-coloured sweaters, horrible scarves knit by colour-blind aunts, meet the teacher nights, flannel sheets and bonne bell lip smackers.
You are autumn. And I had forgotten how much I loved you in those heady days of summer.

The Autumn

Elizabeth Barrett Browning (1833)

Go, sit upon the lofty hill,
And turn your eyes around,
Where waving woods and waters wild
Do hymn an autumn sound.
The summer sun is faint on them —
The summer flowers depart —
Sit still — as all transform'd to stone,
Except your musing heart.

How there you sat in summer-time,
May yet be in your mind;
And how you heard the green woods sing
Beneath the freshening wind.
Though the same wind now blows around,
You would its blast recall;
For every breath that stirs the trees,
Doth cause a leaf to fall.

Oh! like that wind, is all the mirth
That flesh and dust impart:
We cannot bear its visitings,
When change is on the heart.
Gay words and jests may make us smile,
When Sorrow is asleep;
But other things must make us smile,
When Sorrow bids us weep!

The dearest hands that clasp our hands, —
Their presence may be o'er;
The dearest voice that meets our ear,
That tone may come no more!
Youth fades; and then, the joys of youth,
Which once refresh'd our mind,
Shall come — as, on those sighing woods,
The chilling autumn wind.

Hear not the wind — view not the woods;
Look out o'er vale and hill —
In spring, the sky encircled them —
The sky is round them still.
Come autumn's scathe — come winter's cold —
Come change — and human fate!
Whatever prospect Heaven doth bound,
Can ne'er be desolate.

xoxo wendy