I could talk about George, but well, the wounds are too fresh.
In these kinds of situations, it is best to wish the object of one's desire well, move on and then wait patiently for him to tire of the incredibly leggy, brainy, beautiful woman he's wed.
I await the wedding photos...
Ah, but speaking of leggy femme fatales, I have been a busy bee - all of my closets are cleaned out.
I am washing all of my cashmere again and washing my summer things before they are packed away.
And I am beginning to wear (though not THIS weekend - this weekend was 80 degrees), my fall wardrobe:
One of the happiest, and least expensive purchases for this Fall was actually purchased in August from Banana Republic, which is always running excellent on line sales and free returns in Canada, which I can tell you is a very big deal!
So Friday morning it was cool and I met a friend for coffee. I paired my new sloane ankle zip pants from BR (so soft!) with a black tshirt and an old H&M moto jacket.
I know - biker chick for coffee? But so comfy and then I whipped off the jacket once it got warmer and I was Beatnik chick!
I wore the harper ballet flats again from J Crew. These are truly amazing and so comfortable!
This, or a variation thereof, is the theme of my fall. I am back into leggings, tunics, drapey cardigans, boots, the odd jean. Whilst I still love colour and the odd dress, I am not really feeling it this fall. What I am feeling is comfort and timeless and simple.
And I admit, I am loving the new look over at BR - you can feel Marissa's influence already:
I did find a nice treat at Target the other day that I thought I should share.
Sonia Kashuk is celebrating her 15th anniversary and has released a lovely limited edition compact with 5 delicious shades of red: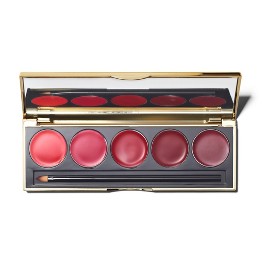 There is a red here for everyone. I am firmly convinced that a bad day can be fixed with the right shade of lipstick and have been trying every colour since I bought it a few days ago.
Oh and here's a question for you domestic divas: I pulled out a JC Cashmere pullover from storage, washed it and it has a FUNKY odour. I then washed it again - same thing. All of my other cashmere is fine and all was put away laundered. Any ideas for getting rid of the odour??????
Hope you are having a great Sunday - stay safe out there!
xoxo wendy